Taking Kingston for a spin…
In my first test for the SSD drive I bought recently I wanted to do a compare to SATA drives. In my test I'm using VMware Workstation 7 and a VM placed on the SSD drive at first. Then I'll move this VM to a SATA drive and see what's the results are. The testing VM is a Windows server 2003  32 bits.
The SSD drive is a Kingston second generation drive with Toshiba controller, with TRIM. Kingston SSDnow V+ with 64Gigs.  The sata drive is an 80 Gigs Samsung ordinary drive. I'll also try another SATA drive which is more recent and has 500Gigs storage space.
My testing software is HD Tune Pro – trial version. This trial version has the possibility to be used for 15 days and you have more options available to play with. Also you can export directly a screenshot of your test too.
At first I wanted to do my tests with IOMeter, but since I don't really know this tool yet, so I got inspired after reading several articles on Eric Sloof's blog. He has done similar testing with ESXi 4 server having a volume formated as a VMFS and VM's on it.
Also Simon Seagrave did a good job in his article by comparing results with Eric Sloof. Simon used Samsung SSD second generation and Eric used Intel's X-25.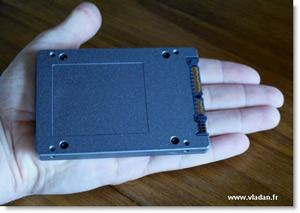 Since I'm running One box solution at home, which is multi-purpose , ecological and low consumption box, the only choice for me is to do some testing within VMware Workstation 7.
VMware workstation 7 can be used to install ESX(i) 4 as a VM and then inside you can run nested VMs… The only limitations are that you're not allowed to install and run 64bits nested VMs…. Otherwise you can vMotion nested VMs in and out as you like without trouble… 😎 Great for learning.
Coupled with an SSD drive, sometimes when you working with a couple of VMs which are on SSD drive, you don't even have a time for waiting. The VMs are so fast…
I'm using this box also for other stuff, so I did not wanted to be limited to ESX(i) 4 only.  Also, I do not need any more material like additional switch to connect a shared storage or additional NICs since I'm able to configure up to 10 NICs for my vESX(i) 4…..
I run 3 tests with HD Tune Pro Trial edition for each test and on each drive. As I see the tests rolling, I'm really disappointed with the performance on the 80Gigs SATA drive…. With each test performed there is only one VM running on the drive at a time.
Benchmark Test:
In this Read test as you can see, the SSD beats both SATA drives more that 8-9 times…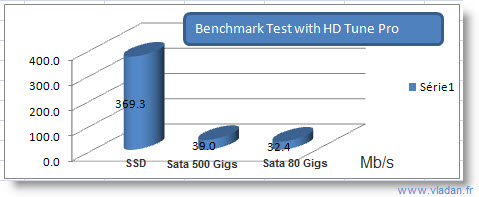 Random Access Test:
With the Random Access test, there are different file sizes tested.
512 Bytes, 4 Kb, 64 Kb, 1Mb and Random.  The SSD access was just phenomenal !!!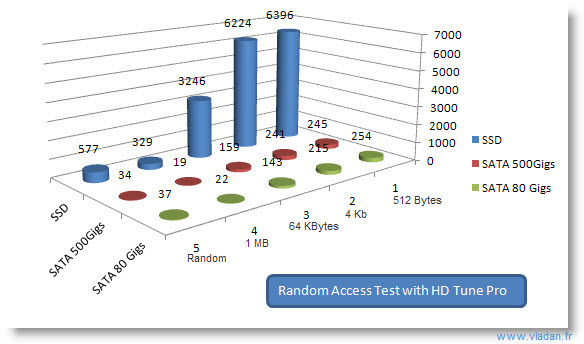 As you can see, there is not much, if not at all, any difference between those 2 SATA drives. I would have thought that the larger SATA drives would showed some more access speed, but the results shows that there is not much difference.
Extra Test.
This test wit HD Tune pro permits to see a values in IOPS for different seek methods.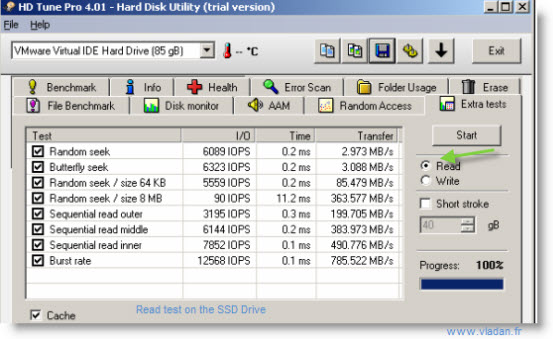 Last test – File benchmark test.
This test permits to test a speed read and write for different files. The file benchmark measures the performance for reading and writing files to the selected hard disk partition with different block sizes ranging from 0.5 KB to 8192 KB (x-axis).
You can see that the write test for the SSD drive, as expected, but still, much better than SATA, is touching the barrier of 150 Mb/s… while the SATA writes are more like 45 Mb/s…
SSD drives are having "bad" performance in writes. That's what I heard here and there, but still in my test as you can see, the write performance is like 3 times better than SATA.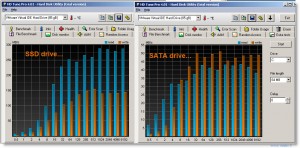 You can see all the photos taken during the testing as a Flickr stream.
Or you can visit the Flickr Page here… where are all the photos uploaded.
So stay tuned via RSS or via free e-mail subscription…