Here is a new free video from the New VMware View 5 training course released by Trainsignal.
In this video, Brian Knudston will show you How to deploy personalized virtual desktops in VMware View 5. This new training has been released just last week and I already reported on that in this article here where you can watch another free video from this training course.
It's a sample part of one video from the VMware View 5 Essentials Training DVDs.
What you'll see in this video? Depending on for which department the user works, you might be wanting to personalize the desktop this or that way in order to fit the desktop the user's need.
– personalization of virtual desktop with new desktop shortcuts
– creation of new icons and personalization of desktop backgrounds.
– some  further personnalization of the profile.
There is nearly 8 Hours (7 Hours, 30 Minutes, 0 Seconds) of videos on 2 DVDs. Multiple File Formats Make it convenient for you to learn anywhere you go! iPod Video, Mp3 Audio, .WMV & high quality .AVI video
The VMware View 5 Essentials training course sells for $397 with free shipping worldwide and direct online access. You can get $50 Off with coupon VMVIEW50 at checkout. Offer ends Feb 3rd. (info provided by @Trainsignal)
You can see other free video on how to deploy login scripts on Trainsignal's website here.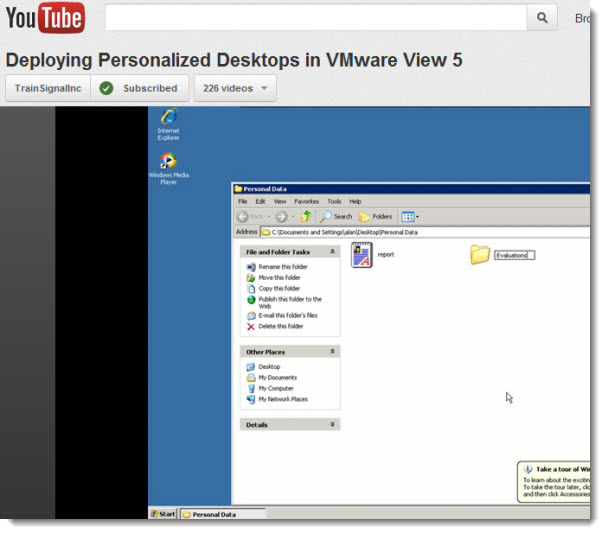 Here is the sample video from the course. Enjoy.. -:)
Source: TrainSignal