From time to time you might need to clean up the Active Directory from computer accounts which are no longer active. Computers that has been reinstalled, replaced with new ones, old VMs. In many of those case you'll might just end up with active directory full of computer objects that are obsolete. In fact those old unused accounts are called stale accounts.
AD Tidy tool
The creator of this tool is Chris Wright from the UK. There is free version and paid version of this tool. This tool is about 4 Megs in size and enables you to do many things concerning housekeeping of Active Directory. After running a report tool which brings results, you can select the desired records and do some actions, like disabling, moving, adding/removing to/from groups etc. You can also set expiration data on objects. The tool uses powerful filtering options and can do a lot of actions. You can also build your own action sequences or export pie charts.
There is a possibility to save report settings or view DNS record timestamps.  The free version is limited so not all the actions are possible:
Cannot reverse actions
Cannot use automated rules or command line
Cannot use launch external script action
Custom LDAP attribute definitions cannot be added
Can only export to CSV file.
But still, after installed, there is a nice GUI tool. The image was taken from my freshly installed Microsoft Windows 2012 AD server, so there aren't any computer accounts (almost) yet. You can click to enlarge.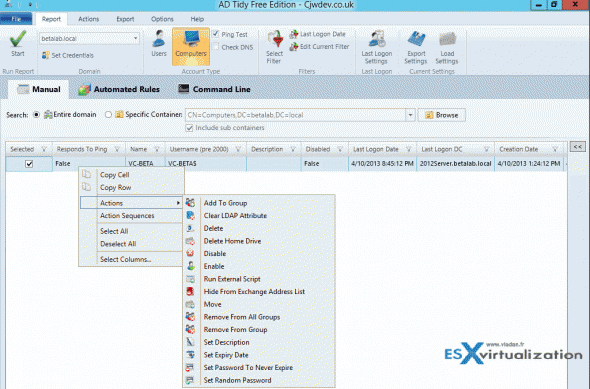 How to find inactive computer accounts in Active Directory with the AD Tidy Tool. The Features:
Report on both user and computer accounts
Search entire domain or select a specific OU
Multi-domain friendly – specify any domain and optionally use alternate credentials to connect to it
Get account last logon information from all DCs or select specific DCs (using either lastLogon attribute or lastLogonTimeStamp attribute)
Choose to only find accounts that have not logged on for a specified number of days
Confirm whether or not computer accounts are still active by using the Ping test and DNS record timestamp check
Powerful filtering capabilities let you filter results accounts based on name, group membership, expiration date, LDAP attribute, and more
Export report results to CSV or Excel XLSX file
Save report settings to file so that you can reload them whenever you want  or share them with colleagues
Option to reverse actions that were previously performed (Standard Edition only)
Command line support and Automated Rules allow for automation of account clean up tasks (Standard Edition only)
The standard edition is now available to purchase here.
The free edition can be download here: https://www.cjwdev.co.uk/Software/ADTidy/Info.html
This tool will be definitely added as a free tool in my Free Tools Page.
Enjoy..