During the recent pandemic situation, many organizations how important it is to support their employees to work from remote locations. The majority of organization were simply not equipped with hardware for Virtual desktop infrastructure (VDI) which is costly, and also, their support IT staff were also not trained for such a situation. That's why Desktop as a Service (DaaS) providers are getting more and more popular.
DaaS solution providers compared to traditional investment into a physical hardware and physical VDI infrastructure, are cheaper and more flexible. DaaS providers are gaining a traction not only because of a pandemic situation, but also that many businesses finally understood the real value of remote working.
Remote desktops are helping to limit the impact on productivity. Every time that an employee has the possibilities work from different than traditional office location, there is a benefit for the business.
Virtual desktops are secure and flexible, maintained by a DaaS provider that takes care of the technical and logistical aspects, including the onboarding, maintenance and 24/7 support.
One of those providers is Anunta with their DesktopReady that uses Microsoft technology to provide build, scale, operate and easy to use cloud desktops specifically to SMBs. They offer a custom Windows 10 desktops built on the Azure platform and is powered by Microsoft's Windows Virtual Desktop. A standard set of applications is usually pre-installed on each virtual system, but customization is also possible.
I'll list some of the principal factors that are usually useful to look for when searching for DaaS provider.
Virtual Desktop Support
The support desk is one of the most important factors. It is one of the main benefits of a DaaS desktops, it's because usually they are provided with support so your IT team does not need to build and maintain the solution on-premises.
Some DaaS vendors don't have "in-house" support so they call other vendors to complete their business package. So, you should always choose a DaaS provider that also provides support, so you privilege a single vendor that can fulfill multiple needs.
Usually, fast connectivity and high bandwidth servers shall be used to provide the best performance, as well as security across the whole chain.
A 24×7 support system available for the users together with ticketing, chat, email and remote session support. For enhanced security you should be looking for Multi-factor authentication.
Backup and Recovery, including Disaster Recovery
Your DaaS provider should have a disaster recovery solution and guarantee you that it is able to recover your files in case of problem. Anything can happen. A ransomware or virus destroys your employee's desktop so you have to have a solution how to recover the files that has been modified or obtain a guaranteed Recovery Time Objective (RTO) and Recovery Point Objective (RPO).
Usually, the cloud provider can restore the full virtual desktop by using Azure backup or you can granularly restore file versions if you're using solutions such as Microsoft OneDrive.
Integration and compatibility
You should check whether your DaaS provider can ensure that you can use your custom software including video intensive applications or GPU-intensive applications. You should verify whether your application has special hardware audio/video requirements and test it on few virtual desktops to see if it fits your needs.
Even applications for graphic designers such as Adobe Photoshop, 3D modeling, machine learning for researches, are available with Anunta DesktopReady. They use automated provisioning service that can be ready within an hour after placing an order.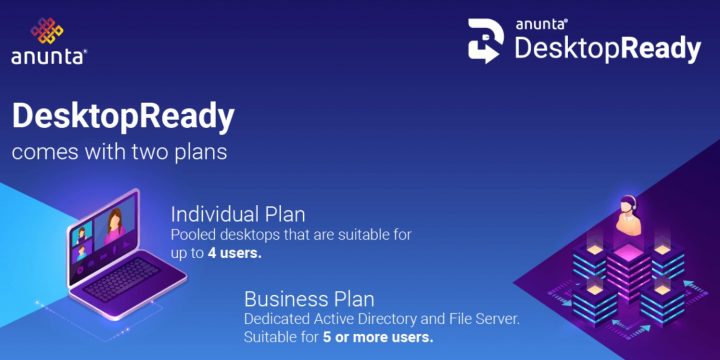 You should also verify whether during the onboarding process you can have enough time for testing and compare the results with your current on-prem solution (if any).
It is really the last thing you need is to find out that you'll need to switch for new headsets to make the new desktop platform to work.
Multi-device access and non-Windows endpoints with devices such as Android tablets, MAC devices or iPhone and Chromebooks. All those devices might be used within your organization so you should ask your DaaS provider if those are also supported.
The Cost
An important factor is the overall cost of the solution. You have many tools to compare the different costs for cloud desktop solutions, but you should always compare what's comparable. Add all the costs that will be part of the package. Your future DaaS provider should be able to justify the cost by offering service of excellence with monitoring and support, updates and upgrades, maintenance, bandwidth, security, and compliance.
You might be tempted to try a low-cost provider but you might be mistaken and lower price can also indicate fewer features or bad security infrastructure.
A cancelation policy might also interest you as you might not be satisfied with your DaaS provider, after a couple of months. Ask whether they support a cancelation and what's the cancellation fee for the rest of the period when you want to end your contract before the anniversary date.
Final Words
The process when you or your company needs to select a DaaS provider involves huge planning ahead but for long-term benefits with fast and secure solution.
When asking and testing different DaaS providers, you should ask about their product roadmap. It is important to know what innovations or enhancements they've introduced within the past few years and take into considerations how long they're already working as a DaaS provider.
You should also be curious and how they work with customers to improve their overall offering. Remember, you'll get something slightly different from each DaaS provider on the market, and you want to make sure your chosen solution provider meets your needs of today and is aligned to continue to grow with you in the future as this technology continues to advance.
You should evaluate the above factors and create a checklist. With this checklist, you can find a provider that makes sure that your requirement is met.
If you are one of the businesses that need more personalized service before and during the deployment, Anunta can also help to create and manage custom desktops and applications. This can be some design consultation services or different use-case verifications. Many clients also do not know how to choose, create and deploy solid virtual private network (VPN) and security tools. Usually is best to leave the work to be done with a single service provider instead of coordinating everal providers.
Go and test Anunta DaaS via Scheduled Demo.