VMware vRealize Log Insight (VRLI) is a monitoring application that is able to ingest syslog data and analyze it and make it easily consumable. In this post we will show you how to setup VMware vRezalize Log Insight 8.8 on VMware vSphere 7.
vRealize Log insight can also ingest files such as logs or Windows events. Many people do not know this but it's super exciting and super important to have the analysis done by a product that has machine learning capabilities instead of manually checking them.
VRLI is able to do a real-time and archived log management, especially for VMware environments. It features a machine learning-based intelligent grouping and high-performance search that helps with faster troubleshooting of your physical, virtual, and cloud environments. vRealize Log Insight can analyze terabytes of logs, discover structure in unstructured data, and deliver enterprise-wide visibility using a modern web interface.
How to setup VMware vRealize Log Insight 8.8 – The steps
First, download the product from MyVMware. It's a virtual appliance distributed as an OVA file. Then deploy it to your infrastructure with the settings you need to match your network.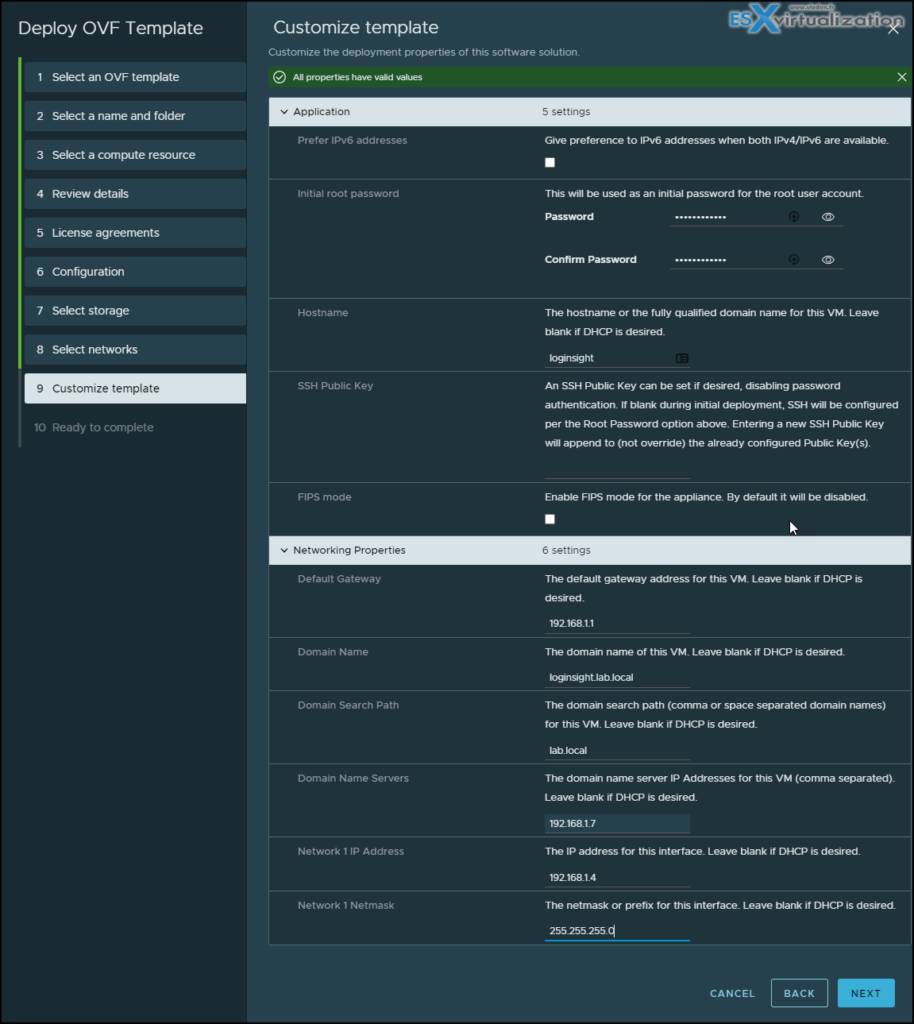 Then wait untill the deployment finishes, then login via the management URL that shows via the console.
After loging in, you have a setup assistant that guides you through the process of the initial configuration.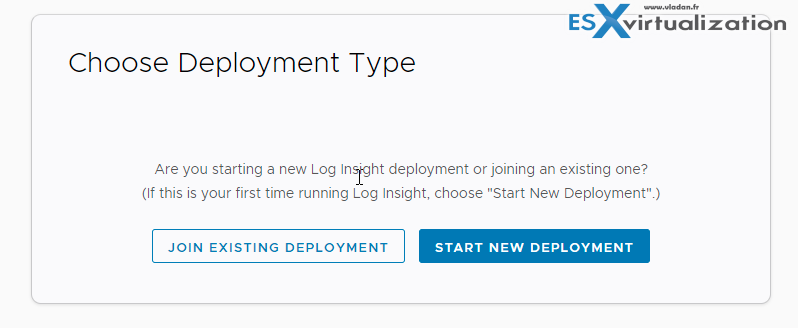 Create a new user and assign a password. You're asked about email as well.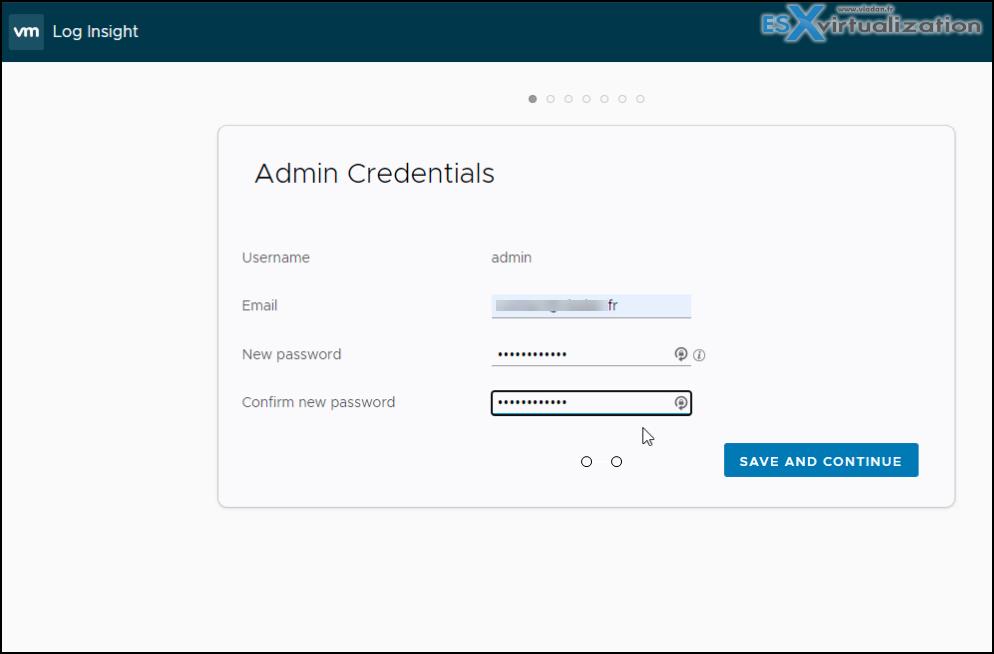 The NTP servers comes pre-filled so it saves few seconds…..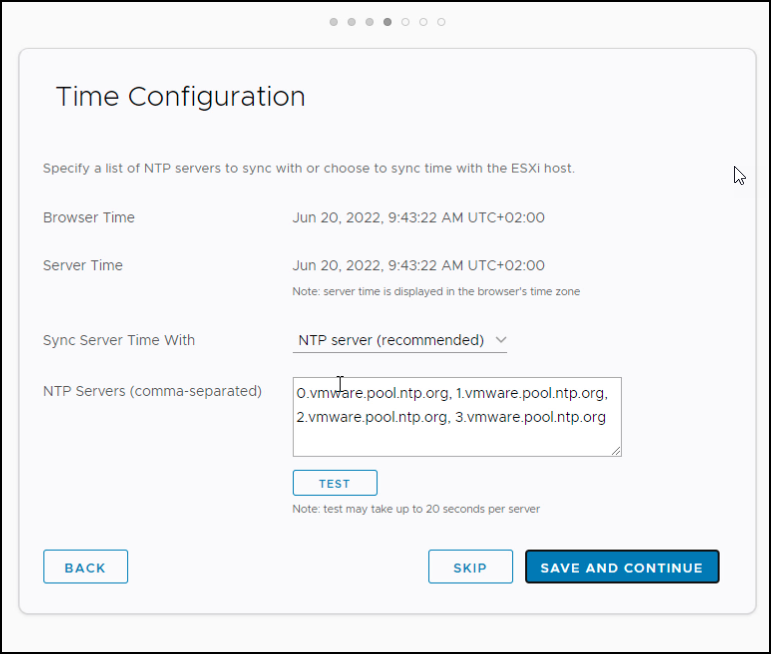 After few more screens which some of them are optional (like setting up SSH) you're done with the main setup.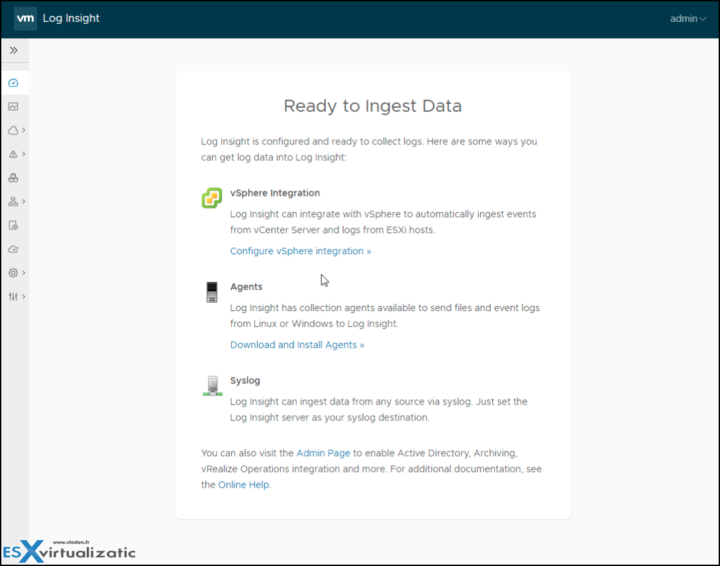 Then click the vSphere link to continue with the setup. You'll be askeda bout the IP address or hostname of your vCenter server, the user name and password.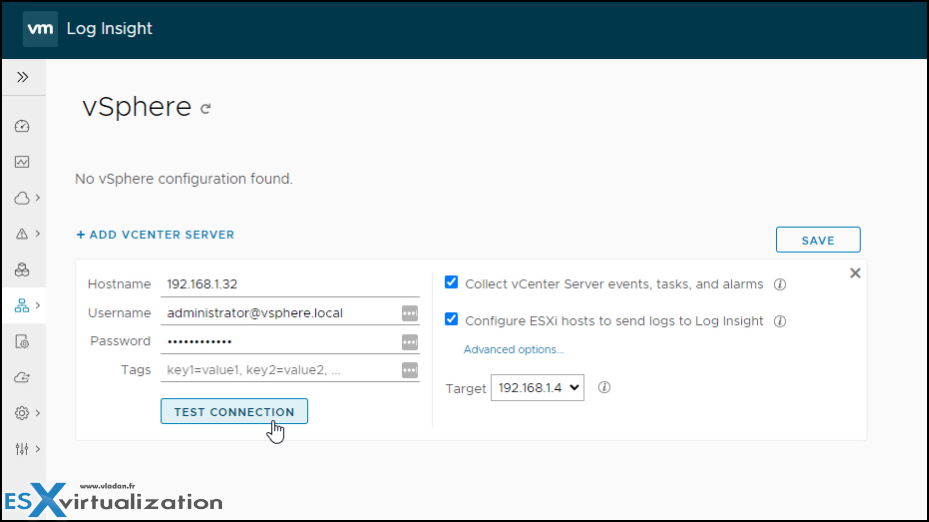 Now click the Save button to save the config and click on the dashboard to see the main screen.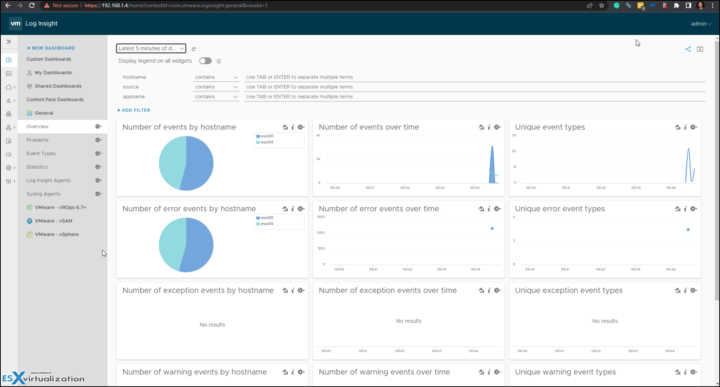 Installing Agent
Basically, the system is able to deploy agents to Windows or Linux systems (RPM, DEB or BIN formats).
01. Expand the main menu and navigate to Management > Agents.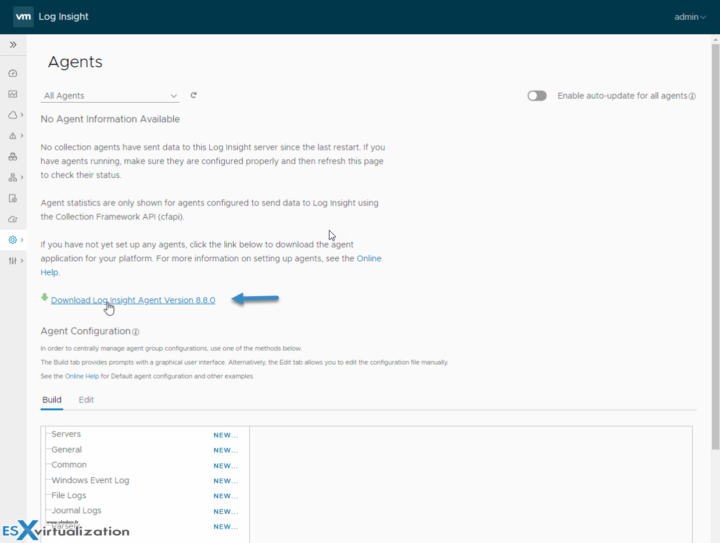 02. Scroll to the bottom of the screen and click Download Log Insight Agent Version X.Y.Z.
03. Download an installation package by selecting it from the pop-up menu and clicking Save.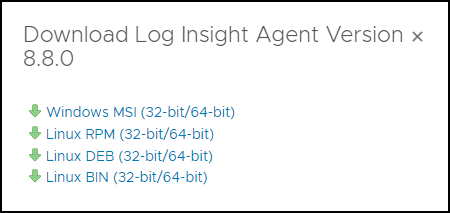 Note: In my case I have not been able to reach the server (as below screenshot), but still the agent was detected on the Loginsight dashboard. I don't know if it's a bug or if this is a normal behaviour.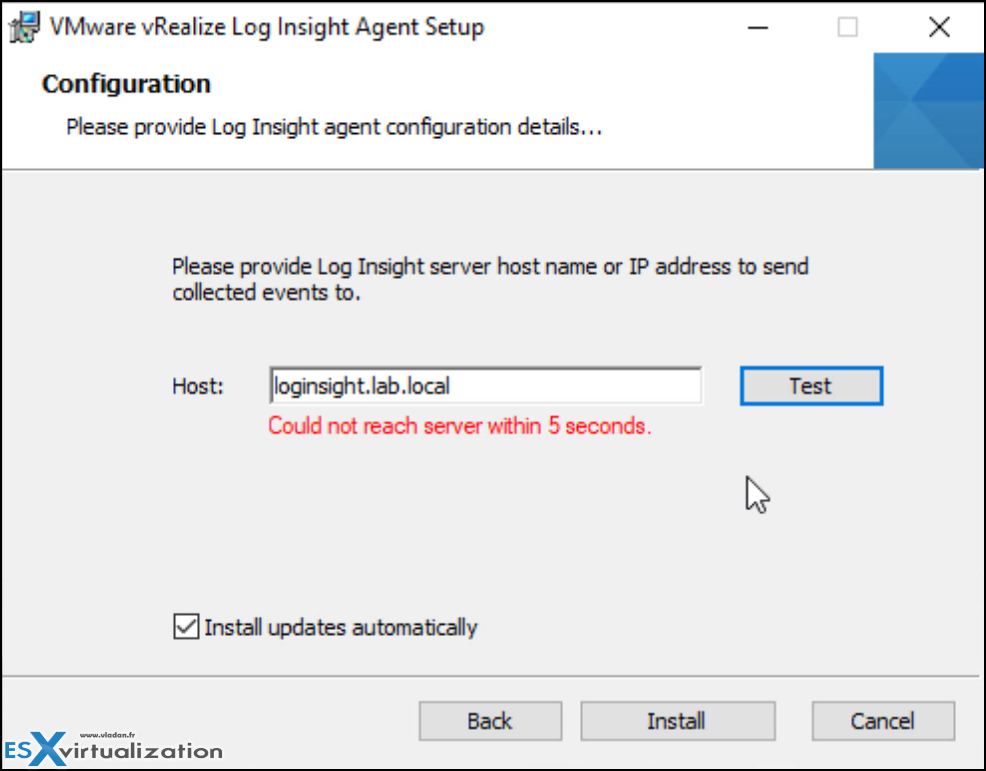 The agent runs as a service…

Here is the screen where you can see the agent was deployed on my Domain Controler.

What's New in vRealize Log Insight 8.8?
Here are some of the key highlights of vRealize Log Insight 8.8 that will help you leverage log data more quickly, accurately, and powerfully than ever before:
New Left-Side Navigation: vRealize Log Insight now provides a new user interface with a left panel to enhance navigation across different avenues of the product.
Direct Log Forwarding to vRealize Log Insight Cloud: You can now configure log forwarding from vRealize Log Insight to vRealize Log Insight Cloud without the need to deploy any additional Cloud Proxy. Once forwarding is set up, login to vRealize Log Insight Cloud to view the forwarding status.
vRealize Orchestrator(vRO) Webhooks: You can now use a predefined template to create vRO webhooks.Note: Ensure that basic authentication is enabled in the vRO side for sending webhook notifications from vRealize Log Insight to vRO.
vRealize Orchestrator(vRO) Webhooks: You can now use a predefined template to create vRO webhooks.
Limit Query to a Specific Index Partition: You can now limit a query to one or several index partitions. The new filter is available in the Explore Logs, Alerts, and Dashboards pages.
Alert Exploration: You can now view the recent history of each user-defined alert. You can also bulk-enable alerts by providing one or more email IDs, webhooks, and activating notifications to vRealize Operations.
Syslog Forwarding Improvements: The RFC compliance issues related to PRI version and SD part during syslog forwarding have been fixed.
New Content Packs: The following content packs have been added.

Jenkins content pack
vRO 8.0+ content pack
Download trial of VMware vRealize Log Insight here.
Final Words
The product itself is a very clean and robust, giving you a good visibility on what's happening under the hood within your environment. However, some users says that the license cost for any other monitoring tool is too high compared to this product. It integrates with your VMware environment for infrastructure alerting and monitoring, and ingests logs from many different products in your environment.
One of the most valuable possibilities is the fact that vRealize Log Insight is able to ingest different log types from many different products within your environments. The installation is very straightforward and fairly simple for small environment. If you're installign a cluster of VRNI it'll probbably take you longer, but at the end, it only depends on the number of nodes you're deploying.
Monitoring and backup of virtual and physical infrastructure is one of the first tasks that IT admin has to do. To maintain its operability and function no matter what. Many backup and monitoring solutions that are on the market helps with this job that is getting more and more complex over time. The software editors are trying to simplify their products by providing additional functions to their software. One of the editors is Nakivo which has their Nakivo Backup and Replication not only doing their dataprotection jobs, but also recently added VMware monitoring to the suite. You can monitor and optimize performance of your environment and proactivelly resolve issues. You can have a look at the details and download a free trial of Nakivo product here.
More posts from ESX Virtualization:
Stay tuned through RSS, and social media channels (Twitter, FB, YouTube)