There is a new update for VMware vCenter Server 7.0 U3e, as you might have already spotted on your vSphere installation while connected via your vSphere client (this notification is by default). This new update of VCSA 7.0 U3e is a maintenance update that brings patches for vSphere with Tanzu.
Mostly vulnerability patches but also some resolved issues for vSphere with Skyline. Apparently, some of the Skyline APIs cannot be discovered so the Skyline collector cannot gather the data from the vCenter Server and ESXi hosts.
Quote:
The issue occurs because in certain environments Skyline Health cannot discover the APIs it needs to collect data from the vCenter Server system and ESXi hosts.
So VMware says that "vCenter Server 7.0 Update 3e delivers new features and fixes for VMware vSphere with Tanzu. For VMware vSphere with Tanzu updates, see VMware vSphere with Tanzu Release Notes."
What's New?
New Features
Added Network Security Policy support for VMs deployed via VM operator service – Security Policies on NSX-T can be created via Security Groups based on Tags. It is now possible to create NSX-T based security policy and apply it to VMs deployed through VM operator based on NSX-T tags.
Supervisor Clusters Support Kubernetes 1.22 – This release adds the support of Kubernetes 1.22 and drops the support for Kubernetes 1.19. The supported versions of Kubernetes in this release are 1.22, 1.21, and 1.20. Supervisor Clusters running on Kubernetes version 1.19 will be auto-upgraded to version 1.20 to ensure that all your Supervisor Clusters are running on the supported versions of Kubernetes.
Screenshot from the lab showing the notification of the new updates.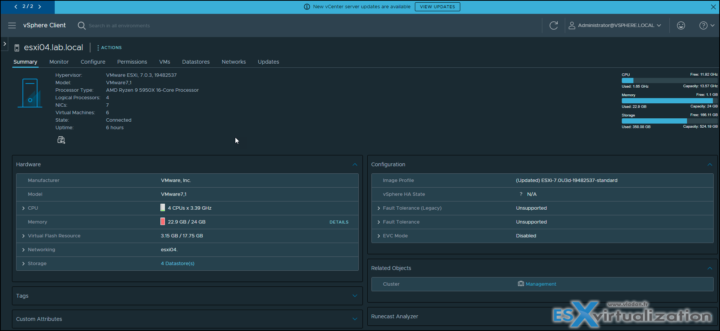 From the release notes:
Patches Contained in This Release
This release of vCenter Server 7.0 Update 3e delivers the following patch:
Patch for VMware vCenter Server Appliance 7.0 Update 3e
Product Patch for vCenter Server containing VMware software fixes, security fixes, and third-party product fixes.
This patch is applicable to vCenter Server.
| | |
| --- | --- |
| Download Filename | VMware-vCenter-Server-Appliance-7.0.3.00600-19717403-patch-FP.iso |
| Build | 19717403 |
| Download Size | 8272.2 MB |
| md5sum | 3d4d977acd6072ff61db4a36909702e5 |
| sha256checksum | 6d67067d565fd530a6d047b079efff9019bdf28c63d04a904c43bcdf202d5c5d |
Download and Installation
To download this patch from VMware Customer Connect, you must navigate to Products and Accounts > Product Patches. From the Select a Product drop-down menu, select VC and from the Select a Version drop-down menu, select 7.0.3.
Attach the VMware-vCenter-Server-Appliance-7.0.3.00600-19717403-patch-FP.iso file to the vCenter Server CD or DVD drive.
Log in to the appliance shell as a user with super administrative privileges (for example, root) and run the following commands:

To stage the ISO:
software-packages stage --iso
To see the staged content:
software-packages list --staged
To install the staged rpms:
software-packages install --staged
Well this was it from the patch release.
Keep you systems safe and remember, before patching, create snapshot or File-level backup first!! (You'll have to check the box "I have backed up my VCSA" anyways).
If your vCSA has internet access (normally it should have), you can simply connect to your vCSA virtual machine via the port 5480 and check for the updates as normally. This is pretty straightforward and does not need many details.

That's all folks. Have a great WE and stay tuned for more.
More posts from ESX Virtualization:
Stay tuned through RSS, and social media channels (Twitter, FB, YouTube)