Step by step setup Windows XP mode.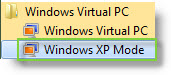 The same way you're using VMware Workstation, you can use virtualization features with Windows 7 by installing an Add-On for Windows 7 – Windows 7 XP Mode. You'll be able to run your your outdated software, which is not compatible with Windows 7.
In fact you must install not only Windows 7 XP Mode, but also Virtual PC on your machine. First, you must check that your hardware and OS is compatible with XP Mode.
Here are the Steps for the setup:
01. Download this little tool called havdetectiontool.exe to identify if your computer is able to run XP mode and if your version of windows is supported.
Processor: Processor capable of hardware virtualization, with AMD-V™ or Intel® VT turned on in the BIOS.
Memory: 2GB of memory recommended.
Hard disk requirement: 20MB hard disk space for installing Windows Virtual PC. Additional 15GB of hard disk space per virtual Windows environment recommended.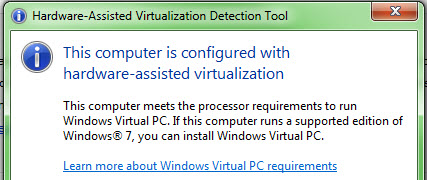 02. Download And install Windows XP Mode first. Please note that the Size of the file varies (depends what system you're running). Download Virtual PC for Windows. Choose the right OS from that page. Once done the both downloads, install first the XP Mode and then Virtual PC on your machine. Reboot your sytem.

You can only run Windows XP mode on some versions of Windows 7 – it's not possible to run on Starter, or Home premium for example…

03. Launch Windows XP mode from your start menu for the first time. You'll be asked for a setup credentials if you want the integration features to work smoothly.

04. Then you will see an initial screen during which the Windows XP Virtual Machine is actually setup….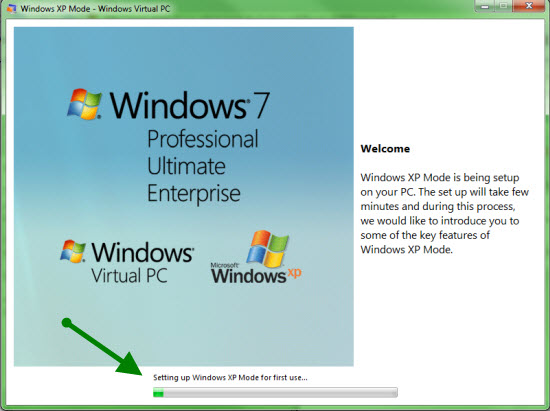 Note the integration into windows explorer on my machine…

Right click on Settings gives you the options for that VM… See the integration features, which enables you the sharing between your System and the VM. The VM can access anything the Real system can, like in VMware Workstation 7.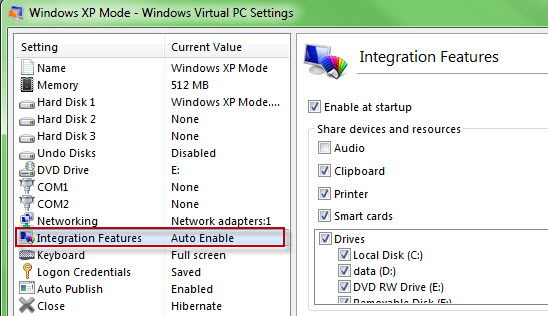 At the end you'll end up with Virtual PC running Windows XP. Note that there is no need to enter any serial number for that VM during Install…