Windows Server 2016
Hyper-V Free
New Microsoft Licensing for virtual infrastructure (and vMotion):
Windows Server 2012 are Physical Processor based lic. where single license covers two physical CPUs.  Two editions (Standard – which allows to run Two VMs with 2 CPU each and Datacenter – unlimited number of VMs).
Remember about you can only reassign the Windows license once every 90 days with the Standard edition. That applies to using technologies like vMotion on your virtual machines. If you license Datacenter then you have unlimited virtualization rights and do not have to worry about reassigning Windows licenses.
Free downloads:
Free Tools
Free Microsoft Online Labs:
Free E-books and Study Guides:
In case you're in preparation for 74-409 Microsoft Certification exam, you might want to check out this Free Study Guide – Microsoft's certification exam 74-409: Server Virtualization with Windows Server Hyper-V and System Center,  written by Orin Thomas (@orinthomas).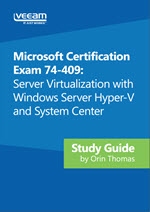 Here are The Chapters:
Virtual Machine Settings
Virtual Machine Storage
Hyper-V Virtual Networks and Virtualization Networking
Implementing Virtual Machines
Managing Virtualization Hosts and Infrastructure
Hyper-V Failover Clustering and Failover Clustering Roles
Virtual Machine movement
Montitoring and Hyper-V Replica
The guide has 8 chapters to learn about server virtualization with Windows Server Hyper-V and starts with the different setting possibilities you have when creating VMs in Hyper-V, Gen1 or Gen2 virtual hardware and more.
The guide has many screenshots which shows the different features and configuration options, so it might be a good start for those of you who want to learn towards the 74-409 exam.

Microsoft Hyper-V 3.0 Technical Hands on Guide – The Chapters:
Introduction to Hyper-V 3.0
Failover Clustering
Migrations
Managing Virtual Machine Failover
PowerShell Management
The authors, Brian Posey, with Pete Zerger and Chris Henley goes quite deep in the topics and provides many screenshots through the document, which is btw 142 pages long.
Microsoft with the recent release of Windows Server 2012 is closing the gap and catching up VMware. This pushes VMware to innovate even more, get more free software into the basic vSphere Essentials Plus bundle. This bundle which has now several products integrated. This wasn't the case in 2011. Products like vSphere Replication, vSphere Data Protection, and features like new Enhanced vMotion, just did not existed.