How I'm using VMware Workstation 8 to accomplish my daily tasks. VMware Workstation 8 went live few weeks ago. Since then I haven't stopped to play with the software. I already wrote about the new features in detail in this article: VMware Workstation 8 – new features detailed.
Update: you might want to check my VMware Workstation 9 new features article.
The VMware Workstation is running on my company's laptop. What I did actually that I virtualized my laptop with all business applications I use at where I work. The VM is integrated in Active Directory, I'm syncing my business files, got all the printers installed in that VM etc….I basically need this environment while at my office. But, if I'm elsewhere, or doing something else, this setup could be quite heavy loaded, since there is quite a few applications installed in this system.
This is not new, the P2V was done months ago. I've been using setup like that to carry around this VM together with other VMs I use to demo at the client's sites or for DR purposes. Those VMs were located on on 128gigs SSD which was fit inside of an external enclosure and which had eSATA port. This setup was quite neat, since I had on my laptop just a clean Windows 7 system and VMware Workstation running. So the physical system boot up was pretty quick. Everything else was then separated in several VMs laying on the SSD.
But few day's back the external enclosure's eSATA port broke down, so my only solution to keep the high speed for my running VMs, was to put this 128 gigs SSD inside of my laptop, clone existing physical installation W7 system to the SSD (by using Acronis). The laptop's classic 5400 rpm SATA drive is now used through an external enclosure through an USB port for storage of ISOs and source files.  That's the setup I'm having at the moment. The 120 gigs space for an SSD is really not enough, so If you're planning setup like this, consider 256 Gigs as a smallest choice (yes I know, the SSD's are still expensive).
And now, some more geeky stuff….
How to run Microsoft Hyper-V with nested VMs inside of VMware Workstation 8.
As you probably know, it's possible to virtualize ESXi 4/5 within VMware Workstation and run 3 levels deep "inception" infrastructure.  And now you can also test other hypervisors… Like Hyper-V.. -:). And run VM in VM….
In the image below you can see that I'm running Hyper-V and inside I'm running W7 system. How it's done…?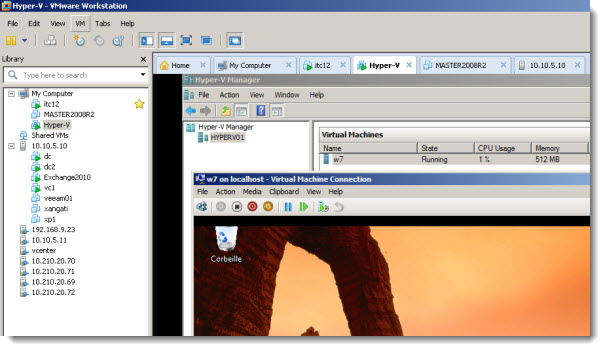 I installed Win Server 2008 Standard and added the Hyper-V role.
You have to modify the settings in the Hyper-V VM, in order to create and install a VM inside of Hyper-V.
VM > Settings > Processors – check the "Virtualize Intel VT-x/EPT or AMD-V/RVI" .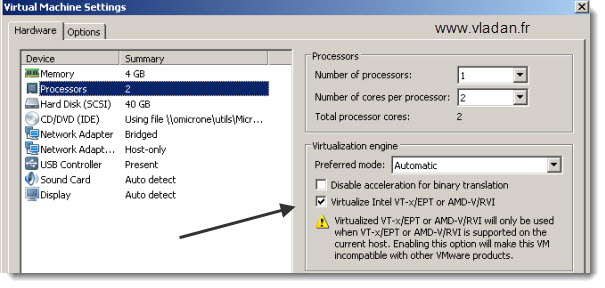 And also by modifying the VMX configuration file of the Hyper-V VM by adding this line:
hypervisor.cpuid.v0 = "FALSE"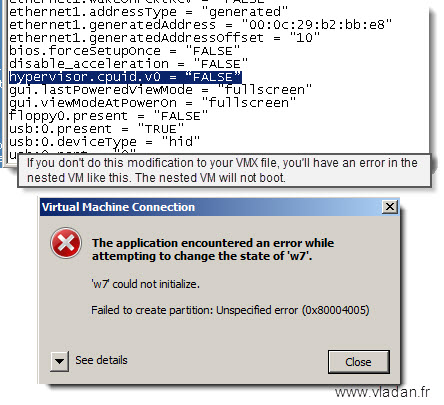 This is just for testing purposes…
Enjoy… -:)