By chance I stumbled through this free GUI utility called svfAlarms, which enables you to import and export vCenter Alarms. The author does not provide his name on his blog (he probably does not care about glory… -:) … ). But the tool is useful for persons wanting to quickly import alarms created on other vCenter servers.
Each time you export alarms with this tool, it creates an Alarm Sets.  What's that? An Alarm Set is a folder where are placed the individual exported alarms as XML files plus a single Alarm Index XML file. By default the folder is created under the sfvAlarsm installation directory. This file contains a reference to the Inventory where the individual alarms were defined. While mostly defined in root, there might be a situation when there are not only per vCenter, but also other custom alarms defined per Datacenter (there could be a situation where there is two datacenters within single vCenter). So it's quite important to read the User guide, where you'll find out how to deal with this case. You can click to enlarge.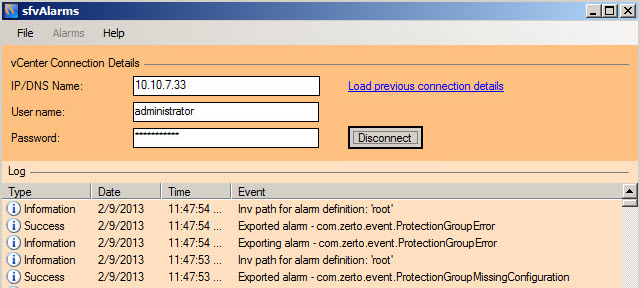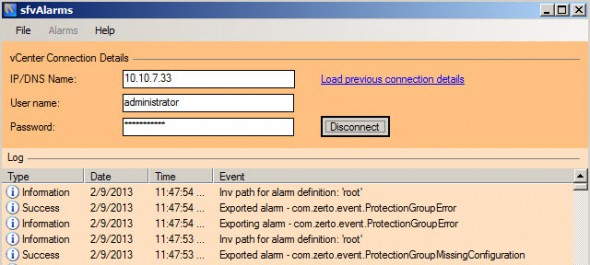 The 32-bit utility is compatible with vSphere 4, 5 and 5.1. A .NET framework 3.5SP1 is required for this tool. You can download this tool from the author's download page, where he provides also a PDF user guide. The utility is provided as an MSI package (Just to let you know, when I checked, the tool had extension *.pps and so after you'll have to rename it to *.MSI, but it installs correctly).
What are The possibilities?
Import and export vCenter alarms
Save connection information for several vCenters
Possibility to Delete all existing alarms during import (Through File > Preferences).
You can see the export directory called Alarms, which is located under the installation directory.

A quick quote from the Users Guide:
There are some 37 default alarms in vCenter 4, 55 default alarms in vCenter5 and 61 default alarms in vCenter5.1 Alarm definitions can be fairly complex and to manage and document alarms, duplicate them across multiple vCenter installations and also to keep a managed state can be time consuming for administrators. The sfvAlarms utility can help simplify the alarm management task.
To Import and Export vCenter Alarms is easy through this utility.
It's rather convenient way of save a different sets of Alarms per vCenter. The use cases are numerous. You might want to test some alarms in non production environment before going into a production environment. So this quick way you can import them into your production environment, by keeping your existing alarms untouched. Other ways of doing this would certainly be the PowerShell way….
Supported versions of vCenter Server
vCenter 4.0 U3 and U4

vCenter 5.0 U1 and U1b
vCenter 5.1
The sfvAlarms utility can be downloaded from this page.
Source: https://stripeyfish.wordpress.com/download/
If you like this post, don't hesitate to share….!!!