You could have read my detailed post How-to Install VMware VCSA 6.0 on ESXi hypervisor already. Today we'll show you how from the installation ISO you deploy VCSA by using VMware Workstation or Player. This is not supported by VMware, but it might be useful for home lab testing or "vSphere-in-a-box" demos.
I have a 32 Gb box (previously used for ESXi) which has some SSDs and which I'm using to demo VMware VSAN with VMware Workstation. vCenter was until now configured in Windows VM, but after today's post, I will also be able to quickly spin VMware VCSA to show clients Linux version of vCenter server. The 32 Gb of RAM is really necessary for nested VSAN environments running on the top of Windows client OS. But it allows demoing VSAN with 3-4 hosts as well as running your DC, DNS… and vCenter server.
How To Install VMware VCSA 6 in VMware Workstation. Let's get started.
Step 1: If you haven't done yet, download VMware VCSA ISO > Mount it (natively since W8, if you're still on W7 you'll have to use third party tool like daemon tools for example) > Go to the vmware-vcsa folder where you'll find a file without extension > Do a right click and Extract. Choose some temp folder on your hard drive.

Step 2: Right click the "VMware-vCenter-Server-Appliance-6.0.0.20000-3634791_OVF10.ovf" file and select Open with VMware Workstation. (Note that you can also double click the OVF file and the pop-up asking which tool you want to open it with should appear…

This opens up an import assistant.
Step 3: Name the new VM as you like (VCSA6 in my case) and let VMware Workstation to import this VM to the desired location (in my case it's fast NVMe drive from Samsung (The Samsung 950 pro). Do not power On the VM just yet. Open Windows explorer and locate the VCSA6.vmx file (you have to have file view with extensions On) > Add those lines to the end of the file…

As you can see the config adds static IP address, gateway, DNS servers and root passwords…
guestinfo.cis.appliance.net.addr.family = "ipv4"
guestinfo.cis.appliance.net.mode = "static"
guestinfo.cis.appliance.net.addr = "10.10.2.9"
guestinfo.cis.appliance.net.prefix = "24"
guestinfo.cis.appliance.net.gateway = "10.10.2.1"
guestinfo.cis.appliance.net.dns.servers = "10.10.7.2"
guestinfo.cis.vmdir.password = "Mysuperpassword007"
guestinfo.cis.appliance.root.passwd = "Mysuperpassword007"
The whole file then looks like this…. Click Save and exit the notepad.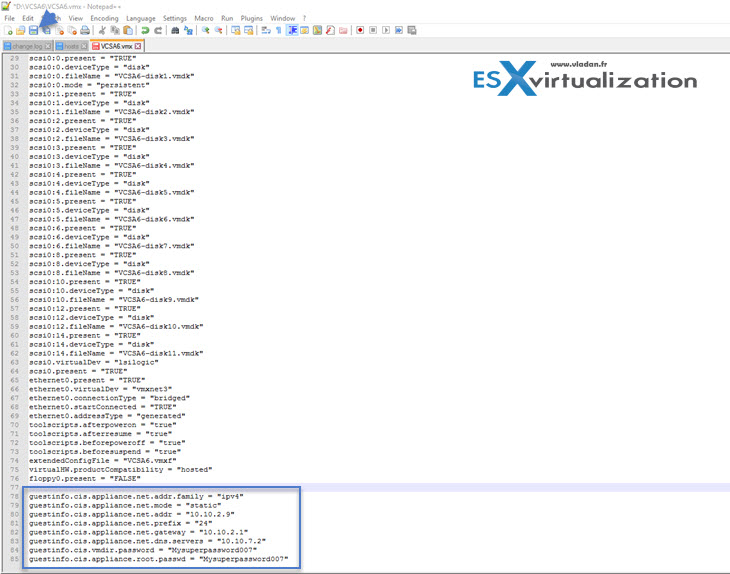 Step 4: Edit your network settings on the VM through VMware Workstation. In my case, my nested lab runs on VMNET2 and is isolated from the outside world. (I certainly do not want to interfere with other VMs in my home network, but rather create a separate "bubble" for the nested lab) … I know that many of you know your way, but I prefer to show this for folks which struggle…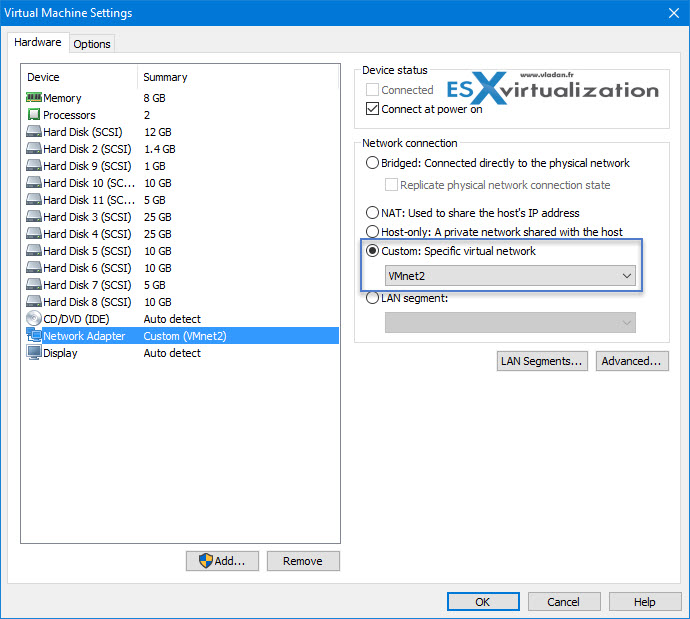 And those are my network settings (my VMnet2 network) when you go to Workstation Menu Edit > Virtual Network Editor…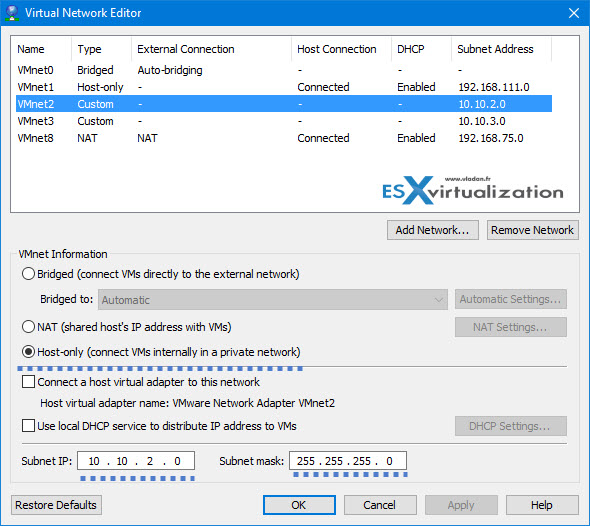 Step 5: Boot the VM > Go for a cup of coffee -:) as the process takes good 10 min to install…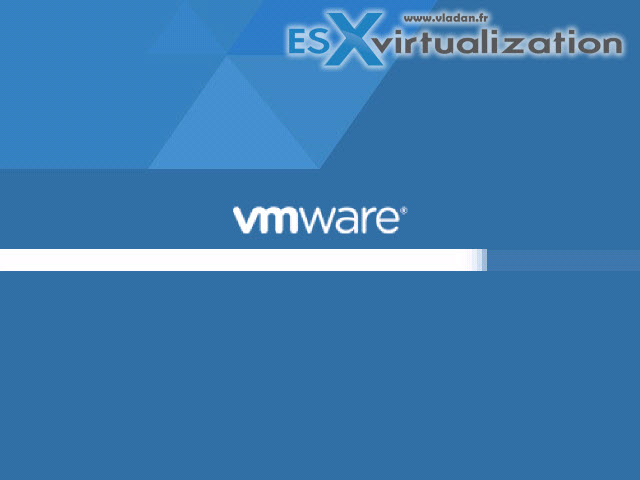 You can hit the Esc button to see the details, but that's all you can do. Just wait….
It takes a lot of time even on running the very fast (see the "fastest" Samsung 950 Pro consumer SSD). If your motherboard does not have M.2 slot you can use an adapter (ex. Lycom DT-120). Samsung has 2 models of different capacity. Mine is just 256Gb.
Samsung 950 Pro (256Gb) | Samsung 950 Pro (512 Gb)

———————————————————————–
Lycom DT-120 Adapter M.2
That's all folks… The final screen looks like this…
There are quite a few posts quite similar detailing this. I found the config on this blog, but there are other resources I'm sure as many folks tried to run the VCSA directly in Workstation without any configuration options and they failed.
Another option would perhaps be also to deploy the VCSA as nested VM on already nested ESXi, but I think that the performance would suffer. I might try in one of my future posts, just to see if it's possible to do some work actually.
I recorded a small video where you can see all the steps:
Update: You no longer need to use those tweaks. Just download the latest VMware Workstation 2017 Tech Preview and you can do that without any tweaks of VMX files. Check Deploy VMware vCSA 6.5 in VMware Workstation 2017 (Tech Preview)
Enjoy…-:)
Other VCSA Posts: