This one will interest people which want to test the deployment scenarios of VMware vCenter Server Appliance (VCSA) 6.5 in a lab without needing a dedicated ESXi host. Recently released VMware Workstation 2017 (Tech Preview) has brought a new feature allowing the deployment of VMware vCSA 6.5 via this product. So this post will detail the steps to Deploy VMware VCSA 6.5 in VMware Workstation 2017.
We'll do the post with a standard Windows domain controller which also does DNS for this workstation LAB. So before we'll start to make sure you deploy your DC with a DNS server and that you create forward and reverse DNS records for the VCSA.
Update: VMware Workstation 14 And VMware Fusion 10 Released
Depending on your lab network configuration, but for my test, I wanted to stay isolated from my wired physical network.
I created a new network in VMware Workstation via Virtual Network Editor. To do that, open VMware Workstation > Edit > Virtual Network Editor.
Click the Change Settings button > validate Microsoft UAC > Add Network
Uncheck the DHCP and put values into the subnet IP and Subnet mask, to match your environment. Make sure to validate that the radio button is on "Host-Only" as the two other options will connect you to the network (wired or wireless).
Then hit the Apply button.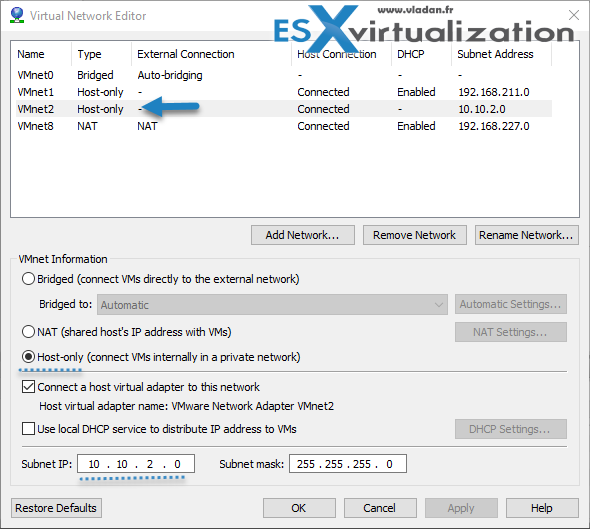 You may want to go a different way, I'm just detailing my own setup. You can perfectly go with the default (Bridged) network too if you're familiar with VMware Workstation networking features. Being isolated from the outside world is usually better when you are doing some testing at work and you don't want to create some troubles to the networking guys, with your lab.
Deploy VMware VCSA 6.5 in VMware Workstation 2017 – The Steps
Download VMware VCSA 6.5 ISO image from VMware. It is a quite large file. I assume you have your VMware Workstation 2017 Tech Preview up and running. If not, just head to Workstation community and download your copy from VMware Workstation forum.
Step 1. Let's deploy the VCSA. First Mount the VCSA 6.5 ISO you have downloaded from VMware Web site. Right click > Mount > and go back to the VMware Workstation software,  to a file menu where we'll do a File > Open > Navigate to the DVD you mounted and go to the "vcsa" folder where you'll find the OVA file.


It launches the assistant. Go and continue by accepting the licensing agreement > naming the VM > a then you'll get a new Deployment Option Window. You can choose every possible deployment option as in a real deployment via web based assistant.
Remember we have done the VCSA 6.5 deployment a while back. (on an ESXi host, not in a Workstation)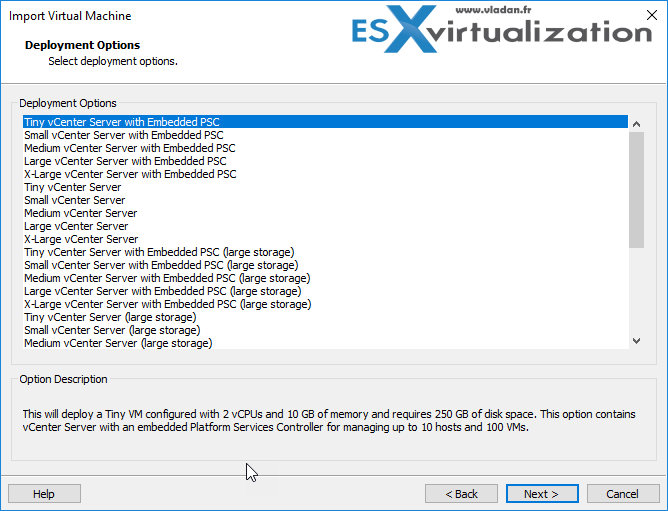 As you can see on the picture above, all the deployment options are listed. Whether you want to test multiple vCenter servers with a single PSC or multiple PSCs with Multiple vCenter servers, you have plenty of choices.
Next screen allows us to enter networking details, SSO password, root password, and also other settings important for the appliance. Note that hovering the mouse cursor over the "i" gives you important hints what to enter into those different fields.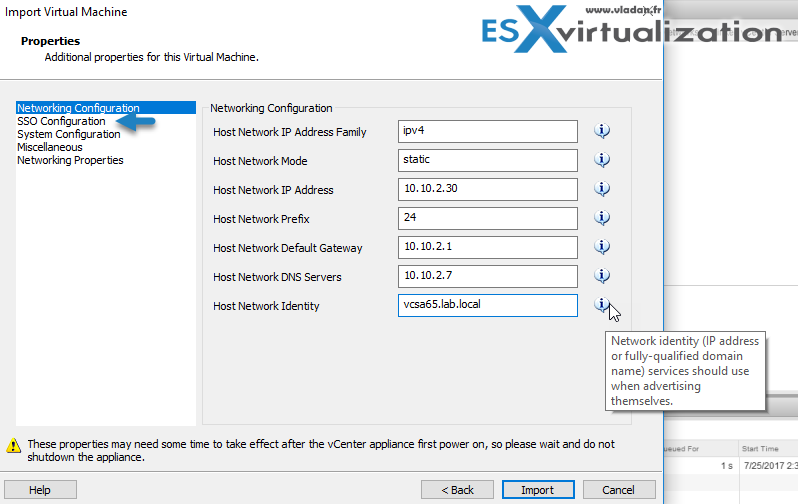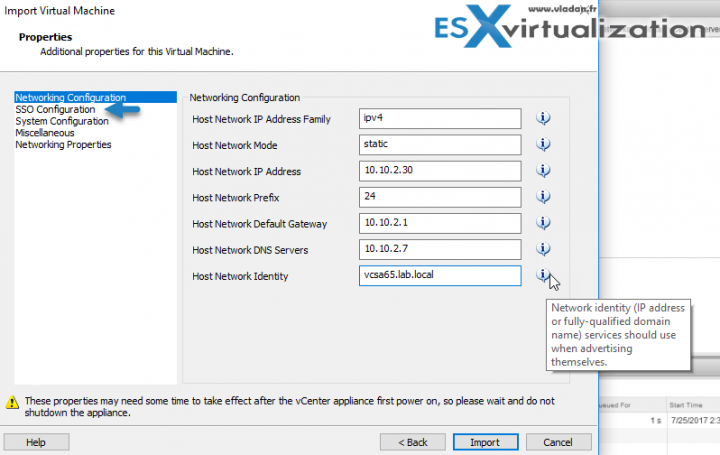 Before Click the Import Button, don't forget to click the SSO configuration, System Configuration, Miscellaneous and Networking properties too…
Then click the Import button.
I recorded a short video which details the steps:
Watch in HD and Full Screen 1980×1080. Enjoy…

While entering the information concerning the nebtios, network subnet mask etc, check the message on the Window below. It's important.
These properties mey need some time to take effect after the vCenter appliance first power On, so please wait and do not shutdown the appliance.
It is the certainly useful message as I remember in the past when all the necessary services weren't started, you basically cannot access the console. An if you reboot instead of just wait few more minuts you just lose even more time.
Remember to create the static DNS forward and reverse records too if you're not using DHCP.
More from ESX Virtualization
Stay tuned through RSS, and social media channels (Twitter, FB, YouTube)