My video showing the installation steps on how to install VMware ESXi 5 inside of VMware Workstation 8. Why would one want to run nested ESXi 5? Because of the flexibility of such a solution. You can add more NICs to your "virtual ESXi", more storage (just add another hard disk…), and more. For testing this solution is one of the most common, because you can use the desktop for anything else than just running a VMware Workstation and couple of VMs….
The process is very straightforward since in Workstation 7 the option of the direct selection of the hypervisor from a dropdown menu is present. As you can see on the screenshot below, there is a possibility to run virtual ESXi 5 and ESX(i) 4. Through the assistant of creating new VM just select the latest hardware version 8, which has been introduced in vSphere 5 and which brings new performance options and enhancements over earlier version which was a version 7. Some of them are the 2TB virtual disks, 8 vCPU or 64 Gigs of RAM….
You can actually over 600 different OS inside of VMware Workstation 8.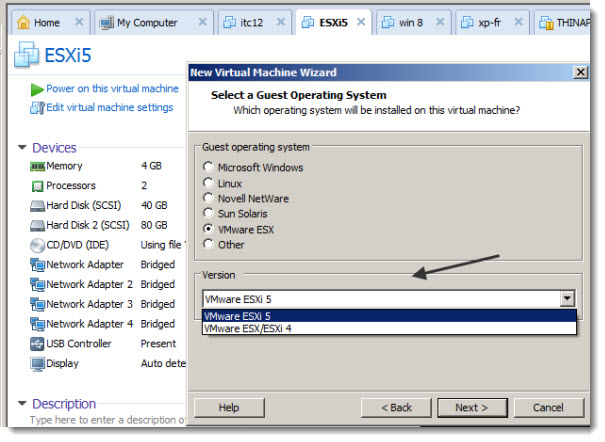 VMware Workstation 8 is a very flexible tool for that.  Just make sure that you bridge the Network adapter, otherwise you won't be able to ping that server on your network.
Here is the video…
Enjoy…-:)
I think that the sound loop is a bit annoying at the end…