What's the enhancements in Virtual Hardware version 8? VMware vSphere 4.x did introduced virtual hardware v. 7 and VMs with 256  Gigs of RAM. Now with VMware vSphere 5 it is possible to configure VMs with 1TB of RAM.. Those VMs are rather Monster VMs. Together with up to 32 virtual CPUs this is quite huge. Another new feature in the new Virtual hardware v 8 is the 3D graphics for Windows Aero support and run some basics 3D applications.. Cool.
Update: Checkout what's new in Virtual Machine Hardware Version 9 on my latest post.
Here are all the new features introduced in Virtual hardware version 8:
32-way virtual SMP. ESXi 5.0 supports virtual machines with up to 32 virtual CPUs,which lets you run larger CPU-intensive workloads on the VMware ESXi platform.
1TB virtual machine RAM. You can assign up to 1TB of RAM to ESXi 5.0 virtual machines.
Non hardware accelerated 3D graphics for Windows Aero support. ESXi 5.0 supports 3D graphics to run Windows Aero and Basic 3D applications in virtual machines.
USB 3.0 device support. ESXi 5.0 features support for USB 3.0 devices in virtual machines with Linux guest operating systems. USB 3.0 devices attached to the client computer running the vSphere Web Client or the vSphere Client can be connected to a virtual machine and accessed within it. USB 3.0 devices connected to the ESXi host are not supported at this time.
UEFI virtual BIOS. Virtual machines running on ESXi 5.0 can boot from and use the Unified Extended Firmware Interface (UEFI).
The upgrade process is pretty straight forward. Upgrade your VM tools first, and then upgrade the Virtual Hardware to version 8. Note that there is no way to downgrade back, so If you're not sure, make a snapshot before right-clicking that VM…. -:).
You can see the upgrade process on the screenshot below: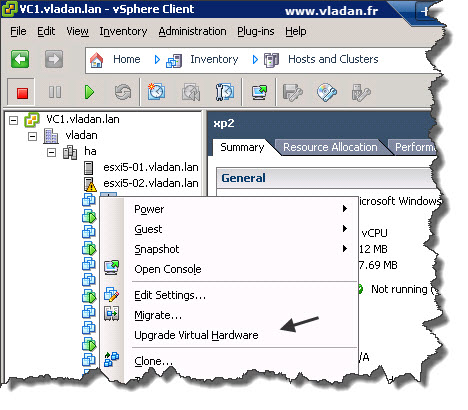 And as you can see, after the upgrade the memory limit was lifted…to 1 Tb..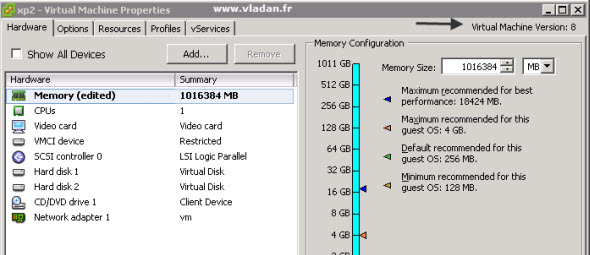 Virtual Machine Hardware Version 8
There might be more under the hood and I'm not pretending to show every single feature present in virtual hardware v 8, this will be studied later on when the official documentation for the product, and the product itself, will be widely available.
Regular readers stays subscribed even if this blog runs through some turbulence, where the author is over-helmed with new deployments and contracts,  faces technical difficulties with a comment system and not updated Feedburener RSS feed… but still loves to blog -:)
Enjoy… -:)