In the first part we successfully installed SQL Server, and created vCenter, VMware update manager and SSO databases. In this part we will create the DSNs and Install vCenter on Windows Server 2012, together with all the different components. This post is a part of multipost, where we do an Install vCenter Server on Windows Server 2012, with three separate SQL Server 2012 databases, which are hosted on Windows Server 2012 VM.  The three vCenter components which are using databases are Single Sign On, vCenter Server and VMware Update Manager. All those components points to the databases we I have installed on our SQL server 2012 in the previous article.
DSN Creation
Next step we need to do is to create DSNs. We will use the 64 bit version of DSN and the 32 bit version is still needed for VUM and SRM.
VMware vSphere 5.1 Single Sign-On DB (needs 64 bit ODBC)
VMware vSphere vCenter server DB (needs 64 bit ODBC)
VMware Update Manager DB (needs 32 bit ODBC)
Here is an outline to create a connection for VCDB. Take the ODBC 64 bit: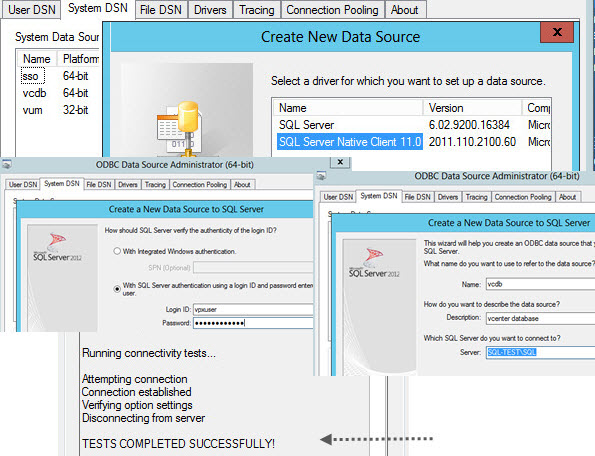 To setup the connection for VMware Updata Manager (VUM) database, use this shortcut to access to the 32 bit ODBC for VUM:
c:\Windows\SysWOW64\odbcad32.exe
Once the three ODBC connections done, you should see them all in the System DSN tab, and you can start installing the different vCenter components.
Install vCenter on Windows Server 2012
You'll start with installing the SSO. Run the autorun.exe and bring up the main Installation installation window (I do always right click and run as an Administrator – bad habit only?…).
Click the vCenter Single Sign On Install.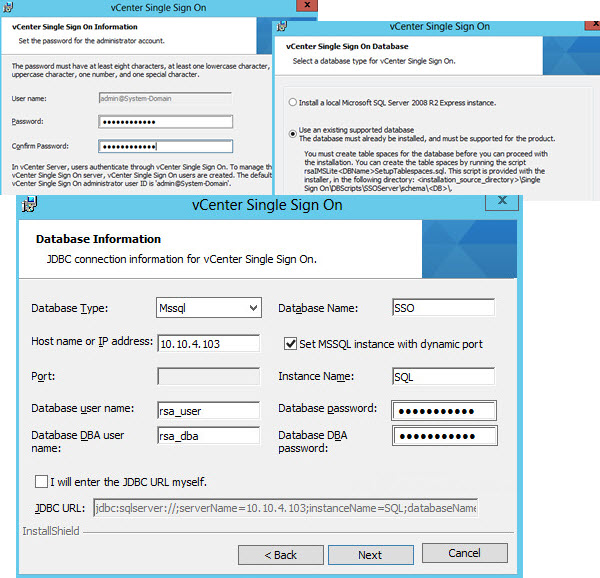 Then follow the assistant, and keep rolling with the different vCenter components. They're in the right order. I don't think it's necessary to list the installation of different components here, as they are easy to install. The only thing is to use the right odbc name for the three database based vCenter components.
In case you'll receive an error  that this or that account does not have enough rights on this or that database, it's easy to correct problem by jumping to the SQL server management studio and looking Security > Logins > Right clicking the user account > Server roles (or user mapping)…
Wrap Up:
The "most difficult" part is the SQL server part, where you have to create the different databases required for the different VMware vSphere components. The scripts that I pointed to in the first part of the serie, provided by VMware documentation page are easy to use, and even a SQL beginner can use them, with easy personalization.
The future might be different. When VMware will develop vCSA with every single functionality which is present in the SQL server based vCenter installation, then the things will be different. Until now, just make your SQL skill better…
If you're not very experienced in SQL, you must find your way through if you want to use standalone SQL server for your installations. Hopefully this post helps some people in their jobs. So just S-H-A-R-E…. -:)