Detailed Informations about Integrity scan.
This is a quick follow up post after explaining how to initiate a manual integrity check in VMware Data Recovery – backup solution provided with vSphere Essentials Plus package. In my last article I showed you that sometimes you have to initiate the manual integrity check to correct an error in your backup job.
With the new release of VDR, released together with vSphere 4 Update 2, there is a nice little feature which shows you the progression, since the integrity verification cant take a quite long time to finish…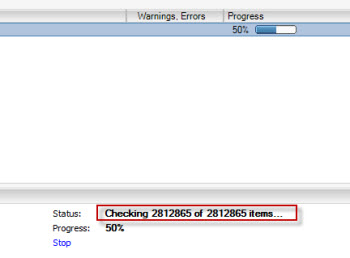 To learn more about VDR and other advanced features inside of VMware vSphere 4, why not trying this excellent training videos made by David Davis, Hal Rottenberg and Rick Scherer?
There are 5 DVDs of high quality video learning courses in the whole package composed of VMware vSphere 4 and the vSphere Pro Vol. 1 Training. Get it for $694! Limited-Time Offer Only $594!.
On which store to store a deduplication store?

As for the storage used for the deduplication store you can use any of the formats, virtual disks (VMDKs) or RDMs are recommended but consistent performance varies for CIFS shares, which are not the ideal solution.
Source: VMware Data Recovery 1.2 Administration Guide
More on Vmware Data Recovery:
[seriesposts name="vdr" title="VDR" listtype=ul]