There is a new book that has been written by a fellow blogger Christian Mohn (@hobbel). The book was published under Packt publishing but is available also through major online stores like Amazon. Printed or Kindle versions are available.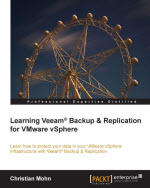 The book is destined for VMware administrators who is looking to protect virtual infrastructure by using one of the leading backup and replication solutions on the market for VMware vSphere and Microsoft Hyper-V.
The book focuses on VMware vSphere and gives useful tips from before, during and after the setup. Describing the prerequisites which needs to be met for successful deployment and after the daily management.
It's an in depth book focusing on the latest Veeam Backup and replication 7.0 which has also tape support, which was a long awaited feature. You'll find on how to configure the basics like a backup repositories, backup transport modes, but also the very advanced functions of Veeam Backup like virtual backup proxy or setting up a replication infrastructure with replica failover and failback. The topics from the book are going further with Quick migration, U-AIR, SureBAckup and SureReplica….. All the good stuff.
Quote from Amazon:
Veeam® Backup & Replication for VMware is a backup and replication solution that provides data protection for virtualized VMware vSphere environments. This powerful and easy-to-use solution helps administrators rest assured that their data is protected, while at the same time retaining the flexibility that virtualization provides.

"Learning Veeam® Backup & Replication for VMware vSphere" starts with an introduction to Veeam® Backup & Replication, describing the prerequisites, requirements, and deployment steps needed to get the required infrastructure in place. It provides a description of its features and capabilities as well as useful tips on doing day-to-day administrative tasks. This book is a practical and hands-on guide to installing, configuring, and managing a backup infrastructure.
Check out the content online at Amazon – Printed or Kindle versions are available.