2011 is almost finished, let's see how it looked like.
The past year was very productive. I was able to kept my posting frequency even if I had too much work for the company I was working for. When I look back at 2011, I can already see several ways that I will be able to improve in 2012.
The first think that I see is that I will have more time to write, since I'm not tighten to any  company and I have more time for me to work in my lab and on other freelancing projects. That's the first positive point. I hate to rush articles and I must admit, I did not have enough time to polish correctly the articles as I would like to.
What can be more grateful than the nice comments from my readers saying that this, or that article has helped them out to progress in the learning Virtualization with VMware? What can brings you more satisfaction than talks during VMworld parties with the readers from different countries saying…. cool, we know your website in our country and it helped us understand on how this or that works. What can be more direct than Twitter interaction with other vExperts, other top bloggers and other VMware users all around the globe? All this brought me some great satisfaction and I'm really glad that one day, back in 2008, I created my first short video post for this website….
Second positive point is the future. The time recovered by leaving the daily job, will give me more time to work on other projects. Which ones? Let's start with the refreshing the VCP exam and pass the VCP 510 at January first !!! -:). Not easy this one. Yesterday I posted VCP resources post – Ressources to prepare your VCP exam – VCP 510 – where I created the base on the preparations towards the VCP 5 exam. I think that I'll be able to study as I wish and pass that exam with success.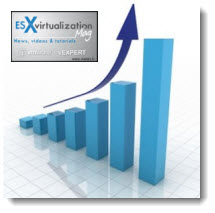 I do have other projects. I would like to write a Free e-book. About what? Virtualization of course…. -:). But it will be a surprise on what you will find in this e-book. There will be some vSphere 5 content, that's for sure…. The book will be distributed through my website as a Free PDF download. Besides that there will be more articles, more how-to's, more videos and more thoughts ….. so stay tuned via RSS -:)
Some of my website stats comparing to 2010 traffic:  There has been 46%  more visitors than in 2010 (Source: Google Analytics)

I think that this says it all, I'm more than glad that the website works well and I was able to successfully recover from the trouble which happened at the beginning of December 2011 and where the site was down for several days.
Most read articles (Top 5):
With this steady traffic coming more and more to my website It can only attract more people, other partners and sponsors….  So I hope that the New year – 2012 – will be even more successful than the past one.
Feel free to give me some ideas on what to write about or if you would like to join the team of authors……. You know where to find me.. -:)
Happy New Year everyone.. -:)
.