In August probably there will be a new book available which from Eric Siebert. Eric, but also Simon Seagrave and Rich Brambley who participated on the book, will bring the best how-to tips on managing, installing, administering or making backups of your virtual infrastructure running under VMware vSphere 4. The book is entitled "Maximum vSphere: Tips, How-Tos, and Best Practices for Working with VMware vSphere 4".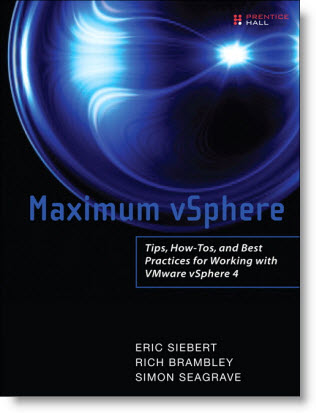 As Simon Seagrave already announced on his blog, he wrote 2 chapters in this book and he really enjoyed writing them. Simon is well know as an expert on HP servers and Hardware. For sure there will be some good tips on home lab desing.
Rich Brambley from VMETC.com is an independent blogger and fellow vExpert. He recently launched Virtumania – a weekly podcast from his website. A real innovation which brings some big plus to his blog.
There is no need to introduce Eric Siebert who is already confirmed author of successful book which covers VI3 , "VMware VI3 Implementation and Administration". His book for Virtual Infrastructure 3 had become one of the references.
Eric is also contributor for several Online publishers like searchvmware.com, or searchservervirtualization.com.. His blog at vsphere-land.com is a crossroad for many VMware resources oriented websites, blogs, and other links. Many how-to's are useful and informative.
In the upcoming book from those 3 authors we can expect some good tips and return from their experiences running VMware vSphere 4. VMware's vSphere 4 it's on the market for nearly a year and the mass adoption and migration process necessarily brings some questions and answers. The answers and return of an experiences from a daily users will certainly make happy more than one.
There are already the chapters designed:
1. Introduction to vSphere
2. ESX and ESXi Hosts
3. Virtual Machines
4. vCenter Server
5. Storage in vSphere
6. Networking in vSphere
7. Performance in vSphere
8. Backups in vSphere
9. vMotion and Storage vMotion
10. HA, DRS, DPM and Fault Tolerance
11. Management of vSphere
12. Installing vSphere
13. Upgrading to vSphere
14. Building Your Own vSphere lab
If you like to be informed what's happening, you should subscribe for Free via RSS.
If you do not know what is RSS, you can have a look at my page which is specially created to explain what is RSS and how it can SAVE you TONS of time through the day.
You can also subscribe by e-mail (via Google's Feedburner)