What if the future of backup products was Data Management as a Service (DMaaS)? Metallic is one of those backup providers that is capable of backup up your environment whenever this might be. It is a DMaaS solution that has a console running in the cloud. From this console, you can configure backups for your on-prem or cloud workloads (VMware, Microsoft or physical), and then configure protection. They can backup and restore pretty much everything. Starting from simple VMs or physical systems up to container workloads or Oracle databases.
You might ask where this company comes from. In fact, It is a Comvault venture, a company division dedicated to providing software-as-a-service data protection, so they have like 20 years of experience when it comes o backing up systems, solutions or large production databases. Metallic is part of Comvault.
Metallic can protect your workloads running Microsoft 365, Kubernetes, Google Kubernetes Engine (GKE), Microsoft Teams, Microsoft OneDrive, Amazon AWS, Microsoft SharePoint, Exchange and SQL, Azure, SAP HANA, Oracle DB, and more. In fact, there are 22 supported workloads already in total and the list grows.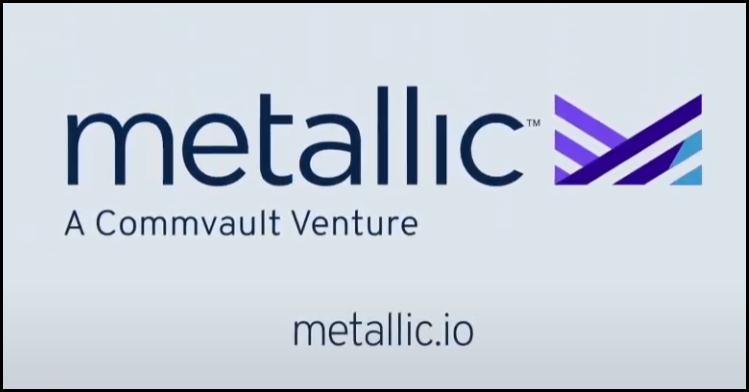 For SaaS app and endpoint protection, Metallic includes unlimited cloud storage built in. For hybrid cloud workloads, customers can choose to either leverage Metallic Recovery Reserve (managed cloud storage target) or HyperScale X (scale-out on-premises storage target) – or bring their own cloud or on-prem storage. You can use Metallic Recovery Reseve for primary backups or secondary backup copies, for short-term or long-term retention.
As you know, cloud providers usually have only basic options for data protection. They have no granularity and you have no guarantee to recover your data if you need to. I always recommend using a separate entity, a separate backup solution, for my clients.
With Metallic Data Management as a Service (DMaaS) you can backup, recover, and have total protection for all your virtualized data, from cloud-native to on-prem.
Secure solution
Metallic uses the same security technology that Commvault has developed over 20 years. It supports secure outbound connections from your networks, encryption of all data and metadata that goes through the wire, encrypting data at rest, and securing access controls to ensure only authorized users have access to data. Metallic is ISO 27001 and SOC2 Type II compliant.
Metallic Architecture
Depending on your own infrastructure, you can deploy Metallic to protect your environment in 3 different types of deployments:
You are an On-prem user only– You'll deploy a gateway VM within your virtual infrastructure (if you are physical only, you can deploy a separate physical server). Then you can configure the backup repository within your existing on-prem infrastructure. The second destination (a backup copy) of your backups can be the cloud but you can restore from either destination. The advantage of storing backup on-prem is speed. You can restore much quicker. Cloud storage from Metallic is an add-on service that allows you to consume cloud storage provided by Metallic. However, you have an option to use Bring your own storage (BYOS) for Azure, Oracle Cloud Infrastructure (OCI) or AWS if you already have an account and be billed separately.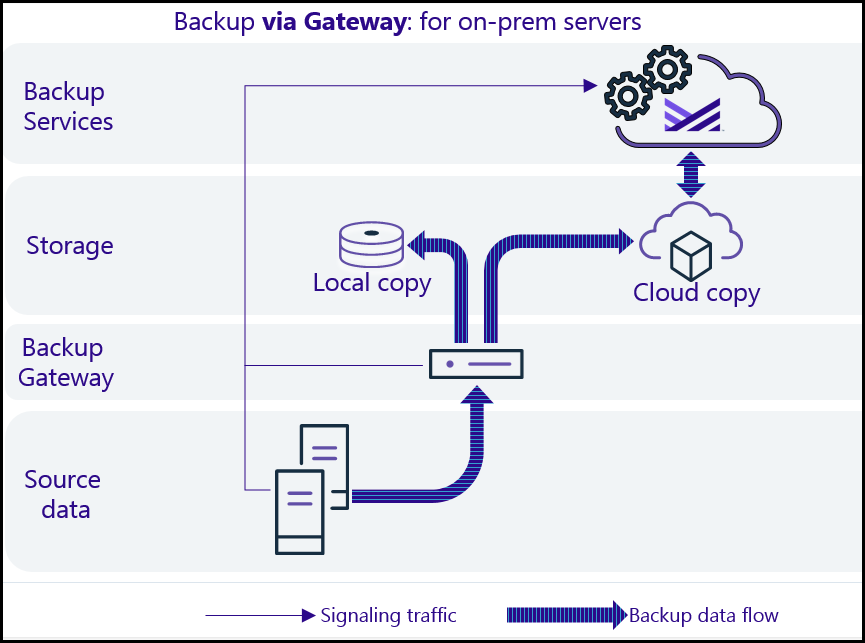 2. You are using a Hybrid cloud and an On-Prem environment – in this case, you can deploy Metallic as in the first case, but you can also use Metallic for archiving On-premises workloads to Oracle Cloud Infrastructure (OCI) for long-term retention. This allows you to have more compliance and governance for your backups, as well as secure them from Ransomware.
You can use your own Azure, AWS or OCI cloud storage as a repository for your backups. With Metallic VM & Kubernetes Backup, Metallic File & Object Backup, and Metallic Database Backup, you can use your own on-premises storage as backup repos.
3. Deploy on Oracle Cloud Infrastructure (OCI) –  your production systems are located on OCI, so you can backup and restore from OCI to OCI. Metallic has datacenters around the world. You can check availability in your region on this page within its documentation that is updated on regular basis.
Metallic Features
On-premises backup and backup copy, including backup, recovery, and total protection for all your virtualized data, from cloud-native to on-prem. Hybrid cloud including VM and container data protection.
Secondary copy to the cloud
Granular recovery for server volumes, files/folders, MS SQL DBs etc
Deduplication and compression (encryption in flight and at rest)
The management of the solution is through a central location wia a web console (a Hub). Metallic Hub gives you quick access to storage usage, running jobs and related information, current data being backed up, throughput speeds, and detailed reporting on backup and recovery jobs.
No upfront cost would be the number one feature. I think that customers like to stay protected without investing thousands into new hardware. Metallic is running on someone else's infrastructure so with monthly billing you do not pay upfront.
No egress or ingress costs – when running the backup or recovery jobs, you don't pay extra for bandwidth. It's included in the price. Billing calculations are based on the amount of data you back up, the number of users in your environment, and the amount of Metallic Cloud storage that you use.
Maintenance Free – As it is BaaS,  it is maintenance-free. No software or hardware updates.
You can try Metallic solutions before you buy, just sign up for a 30 day free trial.
Metallic has achieved 90 industry certifications.
Metallic goes further with cyber threats and extortion of business data protection
It seems that the days that you're hostage with your backups encrypted with some ransomware are pretty common today. Many businesses without backups simply fail and bankrupt. But there is another potential problem on the rise. It is an extortion of business data with data leakage, exfiltration, theft, or damage.
When you think, the bad guys don't want just your data. They go after the money they could make with you post-attack. It's too late after your data has already been compromised. When they enter your environment, they usually stay silent and collect data for days or weeks. It's during this time that is important that your network is secured and actively protected.
There is early access for Metallic ThreatWise solution that is destined for businesses that are looking to enforce their security and ransomware protection.  ThreatWise Early Access Program provides users with advance access to new cyber deception and early warning capabilities coming to Metallic
Wrap Up
It looks like it is an interesting product for enterprises that can have many types of IT architectures and workflows. Metallic can protect on-prem, hybrid, or full cloud environments. The cloud console (the HUB) is accessible via Internet and it is the Main central access point. From there you manage everything. It is pretty much the trend we can see everywhere.
Product page: https://www.metallic.io
Free Trial page: htps://www.metallic.io/trial