Two videos showing the configuration of multiple NICs for vMotion.
In those 2 new videos from VMware KBTB you'll be able to see the new vSphere 5 feature, which enables to use 2 NICs for vMotion.  The first video showing the configuration of standard vSwitch and the second shows the same for vDS (vSphere Distributed Switch).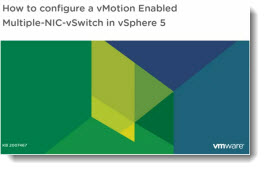 This feature is new in VMware vSphere 5, like many of the others.
Basically what you need to do is to create 2 VMkernel port groups and on those VMkernel port groups select the override the switch fail-over order check box when you're on the NIC teaming TAB.
Then on each of the VMkernel port select one of the vNICs as an active and the other as a standby. (different on each).
This permits to use both NICs for the vMotion traffic at the same time and so the vMotion traffic can flow through the different VMkernel ports used for vMotion.
In the vDS vSwitch the process is basically the same. A very nice done and useful videos indeed.
Enjoy..
The first video:
The second video:

Source:  VMware KBTV
Enjoy.. -:)