As my readers already knows I work and live at Reunion Island (FR). A French overseas department which I ignored that it exists until about a 5 ears ago, where this magnificent island was located and why it's part of France and Europe.
So few weeks ago I make the move and purchased some parts for my new All in one Box. Since not all those parts were purchased at the same online shop, the delivery took much longer for some parts. One of those pieces was this SSD which I'll take for a spin in my future articles.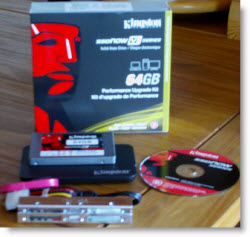 For now, I ended with One box which has 12Gigs of RAM DDR3, some SATA local drives, and this new SSD. The SSD is a Kingston Second generation 64 Gigs "hard disk", which is 2.5′. The pieces has arrived with mounting rack for 3.5′, cables, a nice USB enclosure (do one say that?), and also Acronis HD cloning software on a boot CD for upgrade your system drive (if you want to). That's really cool.
After the mounting all the pieces inside, I formatted a NTFS volume on about half of the SSD. Why? I wanted to do some tests first with Workstation 7 VMs on it. And the other half of the storage I'll be using together with Starwind iSCSI SAN software and create an iSCSI target for my virtual ESX Servers I'll be running with VMware Workstation 7.
Little disappointment came here by the way. I don't know if everyone is aware, the other day on Twitter it was Rick Vanover who asked the confirmation and yes it's true….  The virtual ESX or ESXi does not support nested VMs running 64bits OS….And as I wanted to do some testing on Exchange 2007 with Fault tolerance, I won't be able to use this configuration…-:(.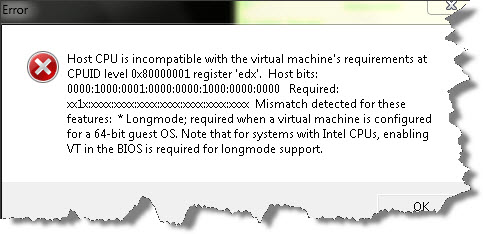 If anyone knows a solution for VMware Workstation 7…. There might be a parameter in the VMX file for the Virtual ESX ….. I'm interested… -:) And I'll post it on one of my future posts…
Anyway, I'll start to build my new vCenter in a VM stored on the SSD. The other day I prepared some First installations VMs, so I'm able to copy-paste them directly to the SSD to see some performance jump… I can see already (or hear….).