Nakivo continues its rapid development with another update – Nakivo 3.2, which adds WAN acceleration support, vCloud Director support and also the possibility to be installed in Linux Suse or Redhat. The Ubuntu installations was supported already in previous releases. Also some enhancements were added when managing the backup repositories, like the possibility to delete recovery points or VMs.

So now the enterprise admin do have a choice which platform would fit the best. Nakivo 3.2 is provided as a virtual appliance, but also as a Windows or Linux application. Nakivo Backup can also be installed on physical server.
Nakivo Backup and Replication 3.2 – What's new?
Network acceleration – WAN acceleration (2x) for backups and replications. The usage of advanced compression techniques and network optimization, where on each side there is an appliance which accelerates not only the backup/replication jobs, but also the recovery process (files and/or VMs).
vCloud Director support – supports backups of vCD vApp with a possibility to recover individual files into VMs or recover full VMs back to vApps.
Enhanced backup management – allows doing more maintenance tasks on the backup repository, like deleting recovery points or delete VM backups.
Support for RHEL and SLES Linux – Ubuntu was already supported in previous releases. Nakivo can now be installed in RHEL and SLES, Windows, or simply deployed from a pre-packaged virtual appliance (running Ubuntu).
For replication scenarios with single vCenter and remote DR site, the replication to the remote site is possible without the need a second vCenter. To take advantage of the WAN acceleration, at each site, a transporter VM is installed. The Transporter gets installed by default together with the "Director" (the main management UI) at the main site. You can then add an additional transporter VM at the remote site to benefit from the WAN acceleration.
The Transporter VM – a "data mover" which performs actual backup, replication and recovery procedures, as well as compression, encryption, and deduplication. You can install multiple Transporters in your environment to distribute the load between them. You can also install Transporters in multiple sites to perform backup, replication, and recovery over WAN.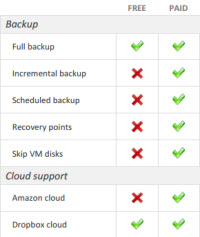 Nakivo has slightly different pricing models than other backup vendors. In fact, clients running one of the Essentials kits of  VMware vSphere, are entitled for Essential version of Nakivo (which has the same functionality than the Pro) which costs half price. ($199/socket). Nakivo also has Free version with limited functions.
Nakivo Backup and replication continues to grow, to possibly soon add more advanced features which would offer a recovery of individual items, like AD objects, or Individual Exchange e-mail messages or automatic backup recovery verifications.
Another useful feature I can think of would probably be a more archiving options (if not saying tape integration).  Options which would allow the system administrator to archive automatically some recovery points for legal purposes. Depending of the countries, you as an administrator may be asked to keep last 10 years of archives for some VMs. Scenarios using GFC (grand father – father – son) would be very useful for that, where we could imagine backing up to different repositories with the same job to optimize storage costs.
I haven't seen an option for importing backups. Imagine that you lose your backup server. A thing that can happen. I would also like to see an option which uses VMware Data Protection (VDP), which is creation automatic checkpoints, and in case the appliance gets corrupted, is possible to simply roll back to the latest good recovery checkpoint. I had few questions from my readers already on how to protect/backup the VDP appliance. The backup of backup appliance…

There is always place for improvements, but it seems that Nakivo with its rapid development release cycles can bring features and functionalities that users needs in their environments.
If you're regular reader of ESX Virtualization, Nakivo's previous releases with all the features, has been covered on our website:
Download 30 days trial here. Get the Free version here.
Source: Press Release Nakivo