Nakivo is releasing a long awaited v7 of their flagship product called Nakivo Backup ad Replication 7 which brings already announced Hyper-V compatibility. In this post, we will detail all new features and enhancements which made it to this release. For those of you who don't know Nakivo, they are on the market since a few years now, so they're not new.
Their product has very fast web-based UI (HTML5) which is fast and responsive without being slowed down when working through the UI. You don't really need to go through the manual in order to start using the product, as it is very intuitive.
Nakivo Backup and Replication can be installed not only on Windows platforms but also deployed as Linux appliance (via OVA file), Installed on some NAS hardware (some WD and Synology). This flexibility with a unified clean UI, including low pricing, has been strong arguments in very competitive data protection market.
The product has full support for VMware vSphere 6.5 and Windows Server 2016/Hyper-V 2016. In addition to for backup of Hyper-V VMs, there is also a possibility to have those VMs to be replicated to another site/datacenter.
But enough wait, let's get some details about the new release of Nakivo Backup and Replication 7.
What's new in Nakivo Backup and Replication 7
Microsoft Hyper-V support.
Hyper-V Backup – Backup of running Hyper-V VMs with application awareness. If you're running, for example, some SQL Databases, Microsoft Exchange servers or other applications which need particular attention when being backed up, you're safe. The product ensures that consistency of applications and DBs are maintained so when restored, the DB won't come up broken or with some data lost. After first full backup, only incrementals are transferred to the backup repository.

The efficiency of storage is something important. All backups are automatically compressed and deduplicated across the whole backup repository not only for traditional VMware or Hyper-V backups but also amazon AWS EC2 backups.
Backup copy job can be setup after your first backups were run. A backup copy job is useful for storing backups at a different location than the main production site for several reasons. One of them might be DR purpose, or you can also have another cheap storage and want to keep some old backups for archiving purposes. That's what the backup copy jobs are for.
Instant recovery of individual items – Nakivo 7 has this for VMware since a long time. But now also Hyper-V users will be able to benefit from those features. You'll be able to recover individual items from Microsoft Exchange, Microsoft Active Directory (AD), Individual files from a file server. This is important as having only traditional restore, today, is not enough, for this very crowdy backup and DR market.
I'm just running a small 2008r2 VM where (so far) nothing has been installed (no SQL, no Exchange etc…). So this screenshot simply shows the possibility to recover individual files within a simple Hyper-V VM. So there is nothing special about this screenshot…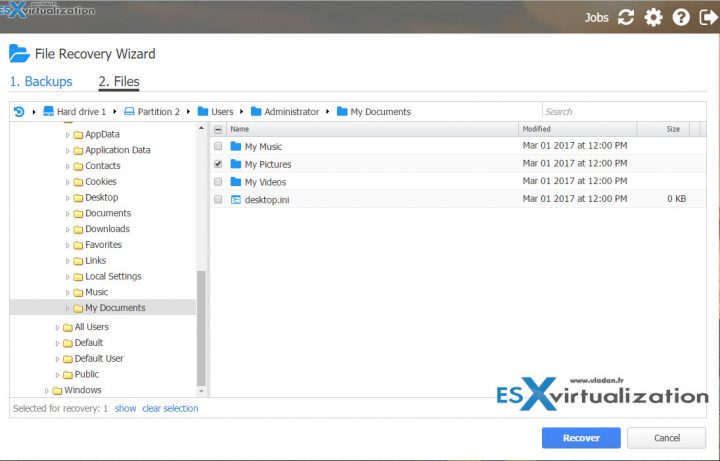 Hyper-V Replication – Replication of running VMs to a remote data center, to the remote site, is something which VMware users were able to benefit since a long time. At the remote site, the VMs are just "waiting" to be powered On at some moment. Usually, when disaster strikes at the main data center. VMs are copied to the remote site, using compression. The replicas are image-based, application-aware, and forever-incremental.
VMware vSphere 6.5 Support
vSphere 6.5 Support – Many VMware shops waited to upgrade to vSphere 6.5 because their backup products were not supporting the latest vSphere 6.5. Nakivo, as well as few other vendors, has come finally to support vSphere 6.5 with the v7 of their product. Worth to note that the support is out of the box for all vSphere 6.5 features including VM attributes or encrypted VMs.
Note: We have tested the beta release. Not only we could backup/restore vSphere 6.5 VMs, but I also tested one use case where I was able to simulate my vCenter Server Appliance (VCSA) 6.5 crash. I previously backed up the appliance via Nakivo and then restored. Know that there is a workaround. Check the detailed post here:
More Efficiency and Microsoft AD Integration
Skip Swap files and Partitions – when VM is running, it creates a swap file within its file system. v7 of Nakivo don't include the swap file in the backup saving additional space on the repository and saves more time when proceeding the backup job.
Microsoft Active Directory (AD) Integration – It's possible to add your AD to nakivo and login to Nakivo backup as domain admin for example. This makes the solution more flexible when it comes to accounts management and account privileges.
Screenshot from the lab showing the recovery possibility of individual items from my AD (the wizard finds the ntds.dit AD database automatically).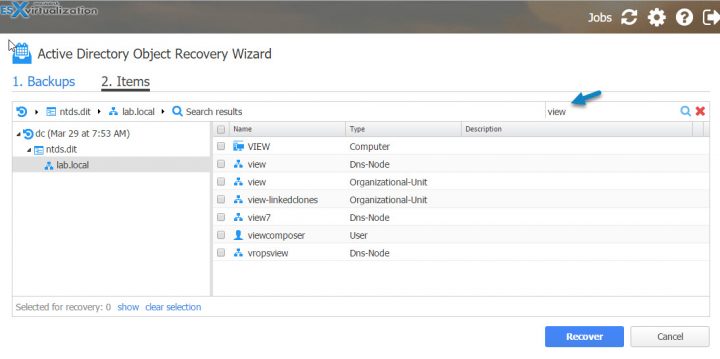 New Activities TAB – This tab is new. It is a single place that displays activities occurring in the product, such as running jobs, file and object recovery sessions, repository maintenance, and so on. Another useful addition to the software IMHO as when the backup infrastructure gets bigger and the number of running jobs/tasks higher, you might lose track what's happening at the same time. So having a dedicated place, via the Activities TAB, you get a bird's eye view of all that happens in the product and can stop the running activities and restart the completed ones.

Bulk Delete Backups – An easy way to delete backups that you no longer need. It is possible to filter backup files (orphaned backups) that do not belong to any backup job or backups that are older than one year and delete them in a single click. This feature allows freeing space within a backup repository.
Screenshot from the lab. You go to Repositories > Select Repository > Manage > Delete backups in bulk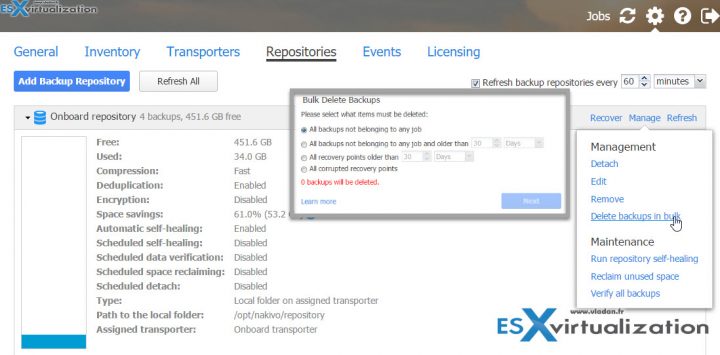 The UI got nicer icons, you can see that the interface has been polished. I also had an impression that the speed of the UI was even faster than before. Is that because It's really fluid and seamless to work with?
You may also want to check our other posts about Nakivo Backup and Replication Software:
Stay tuned through RSS, and social media channels (Twitter, FB, YouTube)
Check more details at Nakivo and Download a Free Trial.