Big news coming from Nakivo today. Their upcoming release will have Hyper-V 2016 support. Nakivo Backup 7 with Hyper-V Support is coming in few weeks time (1st of February). Currently, you can sign up for the beta through this link. Nakivo has announced that v7.0 will add Microsoft Hyper-V 2016 (and also 2012 R2) support. The product will be able to backup Hyper-V VMs and it will also support Application Aware backups for Hyper-V. Other features, such as Instant recovery of individual items (Exchange, AD, files) for Hyper-V VMs is also part of the v7.0 release.
This is interesting as, during a long time, Nakivo has only supported VMware hypervisor. We can see Hyper-V gaining some traction too, so having a Hyper-V support is only a logical step forward for this company which is very dynamic and has fast releasing cycles. Not so long time ago they also added Amazon AWS allowing to back up paid AWS EC2 instances which are sold through the AWS Marketplace.
Nakivo UI is a very fast HTML 5 web-based interface. Love it or hate it, personally, I don't usually like web based UIs with exceptions the ones that are fast and responsive. And that's the case for Nakivo. Their UI is fast so it almost let you forgot that you're navigating through web UI.
Concerning the installation platforms, this product is very flexible, as it allows to be installed not only on Windows platforms but also deployed as Linux appliance (via OVA file), on dedicated Linux hosts or even on sam NAS hardware (some WD and Synology). This flexibility with a unified clean UI, including low pricing, has been strong arguments in very competitive data protection market.
Screenshot from Nakivo.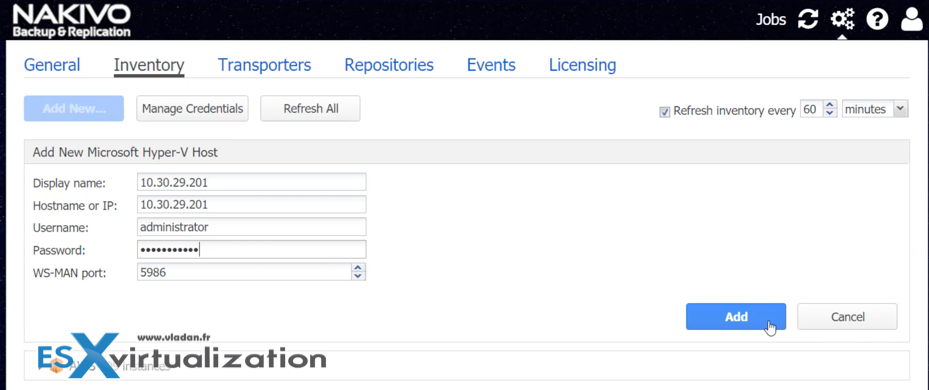 Nakivo Backup and Replication 7.0 What's new?
Support for backing up Hyper-V VMs – the product supports Hyper-v 2016 and 2012R2 of Microsoft's hypervizor.
Forever Incremental support – First full backup is followed by incremental backups which are faster as only what's changed gets backed up.
Application consistent backups – consistency of DB backups, applications using DBs, AD, Exchange….
Compressed, deduplicated – backup files are deduplicated and compressed across the whole repository.
Let's have a look at how the UI manages the Microsoft Hyper-V environment. It is a bit early as the final release has not been out just yet, but it seems that only individual Hyper-V hosts can be added. This might not concern VMware users which has just a couple of individual isolated Hyper-V hosts within their environments, but how can you backup VMs within clustered environment or withing an environment managed via SCVMM?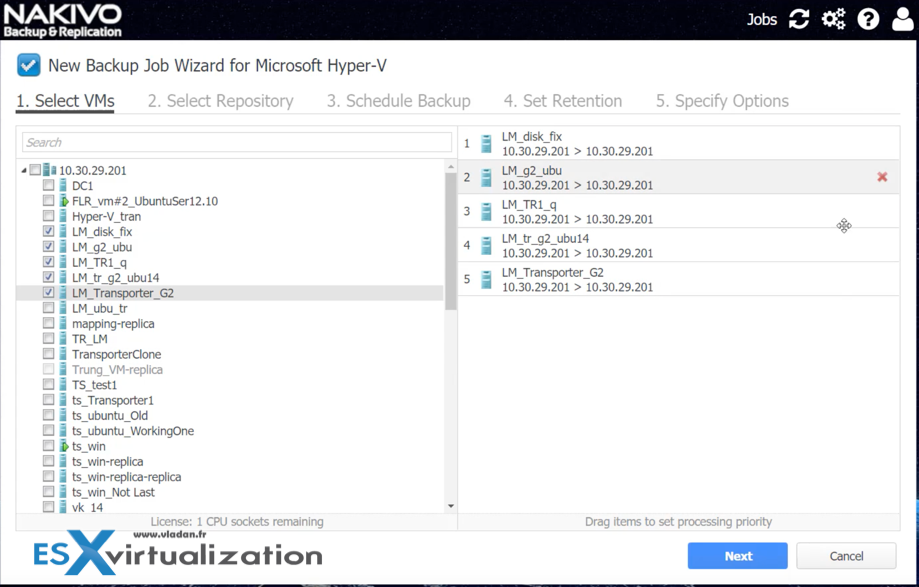 I hope that this will come up in a later stage of the developpement.
Nakivo Recovery
Individual Items (Individual files, Exchange objects, AD objects) can be recovered from within the Hyper-V VMs directly from backups by using Instant recovery. This feature simply mounts the VM directly from the backup repository, and you have the option to browse for those objects and (or) files, then launch a recovery operation. Or, you can recover the whole VM from the backup repository to the production storage.
Backup Copy
A backup copy jobs are also in allowing you to setup a secondary storage where those files are sent. This can be another remote site in another office, remote datacenter, Amazon AWS or Microsoft Azure cloud storage repos.
Backup copy jobs are usually used for archiving, but also DR scenarios where, in case your production backup storage gets corrupted, attacked by virus or malware, you still have another "clean" copy elsewhere.
You may also want to check my other posts about Nakivo Backup and Replication Software:
Nakivo Backup 7 with Hyper-V Support is coming – [This Post]
Stay tuned through RSS, and social media channels (Twitter, FB, YouTube)
Source: Nakivo Blog