After this year's VMworld Barcelona 2016 announce from VMware and Amazon collaboration on native VMware infrastructure running at Amazon AWS, Nakivo is another vendor which expands their product with Release of Nakivo Backup and Replication 6.2 (release notes here) allowing to back up paid AWS EC2 instances, sold through the AWS Marketplace. It seems that many vendors are jumping on the "Amazon wagon" and deliver features which customers wants – hybrid data protection. This hybrid data protection allows you to protect your on-prem and off-prem data within the same product, same UI. Same "single pane of glass".
This post could be a simple copy-paste post from Nakivo about what's new in this release, but let's first try to analyze the Amazon Integration and how that feature works, to give us an idea. Amazon AWS has the same "problem" as Microsoft Azure. They don't provide backup software. So if you need to restore let's say a file or set of files out of your Amazon AWS instance, you need third party backup software providing this option.
Nakivo Backup and Replication 6.2 (NBR) architecture is distributed backup architecture (Check our post: Nakivo Distributed Deployment – How it Works? ) and you'll basically see that each remote site needs a "Transporter VM"  to backup with efficiency. The Transporter is an application, which performs all of the data protection and recovery tasks like data read, compression, deduplication, encryption, transfer, write, verification, granular and full VM recovery, etc.
NBR will look and see if you have a Transporter installed in a particular region of the EC2 instance. If you don't then NBR will prompt you to deploy Transporter automatically in that region. When not backing up, the Transporter will shut down to save costs.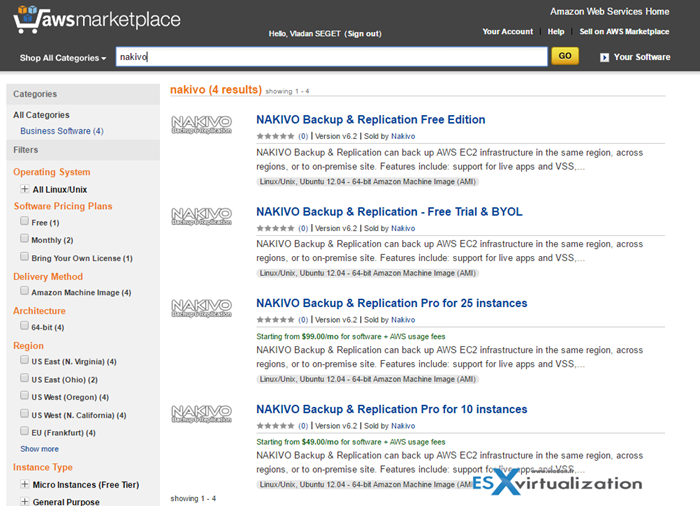 Some highlights of what's new in this release….
What's new in Nakivo Backup and Replication 6.2?
Full support for AWS EC2 instances sold through AWS Marketplace –  simple, reliable, and affordable way to backup or replication of  paid AWS EC2 instances, sold through the AWS Marketplace.
Cross-Region and Cross-account backup – AWS EC2 instances can be backed up to the same AWS region, a different AWS region, or to an on-premises location. Cross-account backup allows backups cross accounts, so if primary account credentials are compromised, a copy of EC2 instance backups remains intact on a different AWS account.
Automated Transporter deployment in AWS Cloud – In order to back up EC2 instances in an AWS region, a Transporter should be deployed in that region. During backup job creation, v6.2 will now suggest and automatically deploy a new Transporter, if it's not available in a particular region.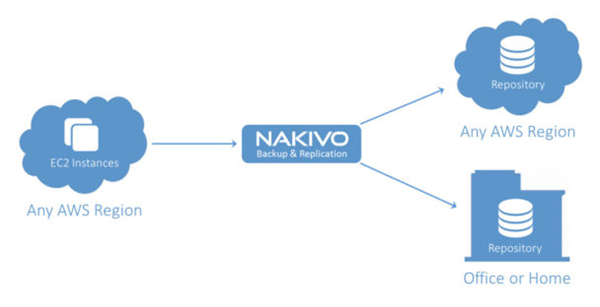 Automated Transporter Instance start and shutdown in AWS – To save costs, Transporter instances in AWS can be automatically powered off if there are no tasks for them. Once a task is available for a particular AWS Transporter, v6.2 will power it on for the duration of the task.
Instant file recovery in AWS – Files and folders of Windows-based and Linux-based AWS EC2 instances can be instantly recovered directly from compressed and deduplicated AWS EC2 instance backups.
Instant application object recovery – Microsoft Exchange objects (such as emails), and Microsoft Active Directory objects (such as users) can be instantly recovered directly from compressed and deduplicated AWS EC2 instance backups.
Application-aware backups – By default, AWS EC2 backups are application-aware and contain consistent data of Windows-based and Linux-based EC2 instances
Global deduplication – AWS EC2 backups are deduplicated and compressed.
Improved display of alarms and notifications: Job and group dashboards now aggregate alarms and notifications in the Info widget for a cleaner and a more consistent look.
If you're our blog reader you know that I cover Nakivo product since the beginning. Their fast UI and good dedupe ratios are well known. All AWS EC2 backups are automatically deduplicated at the block level. The data is further compressed to reduce the amount of used disk space.
The NBR 6.2 can be installed on Linux and Windows, deployed as a pre-configured VMware Virtual Appliance and AWS Amazon Machine Image, and can also be installed directly on Synology NAS (selected models only) to create a high-performance VM backup appliance.
Check at Nakivo.com and download the free trial version or a qualifying NFR license for your lab.
You may also want to check my other posts about Nakivo: