After the possibility to install Nakivo on Synology and WD NAS, the software vendor just launching new update allowing to install the Nakovo Backup and Replication appliance on QNAP NAS. You may wonder whether is it good to have such an environment? Well, there are certainly some advantages and we'll also look at those today.
With the Nakivo Backup appliance, all VM data protection components are together, in a single system. One of the first advantages is fast to deploy and easy to manage. Another advantage might be the fact, that the system does not consume your own resources within your environment.
Also to consider is the fact that you are getting an all-in-one (hardware, backup software, backup storage, and data deduplication) in a single box which means that things work out with more efficiency and with lower bottlenecks other than sending the bits over via the network.
As a result, you'll get zero VMware footprint, less power, and cooling, less maintenance, time, money, with higher performance. Nakivo supports two major virtual infrastructures. VMware vSphere and Microsoft Hyper-V.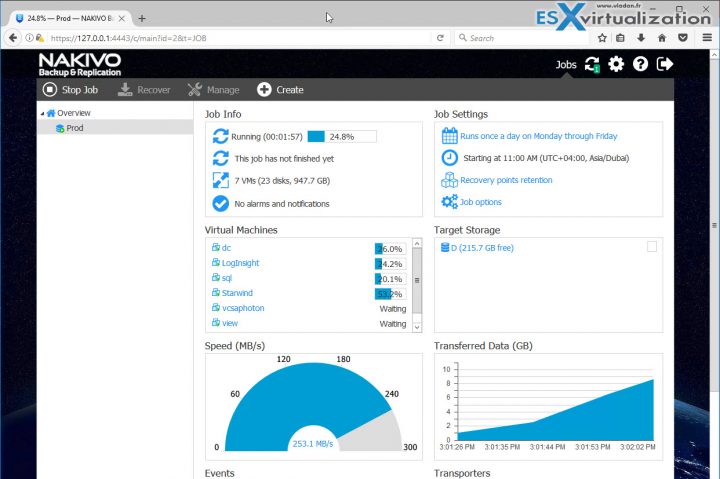 Nakivo Backup and Replication available as an appliance for QNAP NAS
Quote from the announce:
NAKIVO VM backup appliances based on QNAP NAS also deliver higher VM backup speed when compared to VM-based backup solutions. This is because backup data is written directly to the NAS disks, bypassing network protocols such as NFS and CIFS. NAKIVO VM backup appliance based on QNAP NAS can boost VM backup performance by up to 2X.

NAKIVO VM backup appliances based on QNAP NAS can be deployed onsite or offsite – even in locations with no virtual infrastructure – and can be used to store primary and secondary VM backups. NAKIVO VM backup appliances based on QNAP NAS provides all components that are required for operational and disaster recovery: hardware to run restores, backup data, and backup software.
Download
You can download Nakivo package for QNAP NAS here.
Check Nakivo blog post about the QNAP appliance product here.
A screenshot from Nakivo.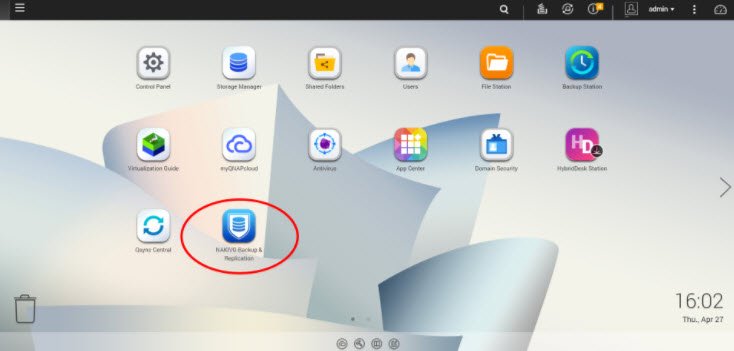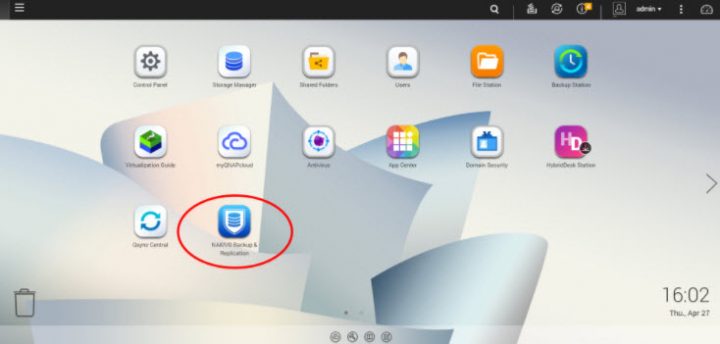 Other interesting features of Nakivo:
Flash VM Boot
Nakivo can recover full VM or Individual files within a VM. If you want to recover a VM quickly, instead of using full VM recovery you can use Flash VM boot feature allowing you to boot a VM directly from the backup file. No need to wait to restore the full VM first. You can recover a VM or individual files from within a VM by allowing to start this VM directly from the backup repository. This function is very popular as it shortens the recovery time when for example you lose a VM due to a Malware attack or corruption, it's much faster to start VM directly from backup and continue working.
How Flash VM Boot Works? When you run the Flash VM Boot job, NAKIVO Backup & Replication creates a new VM without disks on the target ESXi server, then exposes VM disks from the Backup Repository as iSCSI targets, and then mounts the exposed disks to the created VM as RDM disks in virtual compatibility mode.
Nakivo has a fast web-based user interface, which can be accessible from anywhere. We have reported on backup and recovery features from Nakivo on several occasions. One of the features which might interests you, other than backups, is a backup copy.
Backup Copy
Backup copy function provides you with an identical copy of backups in case something is wrong with your hardware at your primary site where you store your backups (for fast restore times), or the whole main site is down. So you can have a synced backup at a remote site where you also can restore them to some host and run your environment there. Backup Copy jobs can copy backups from one Backup Repository to another. The Backup Copy can be stored onsite, offsite and also in the Amazon cloud.
Off Site Backups
Nakivo can also send the backups to offsite, such as Amazon, through AWS Marketplace which is simple, reliable, and affordable way to backup or replication of paid AWS EC2 instances, sold through the AWS Marketplace. There is also a possibility to set up a Cross-Region and Cross-account backup where AWS EC2 instances can be backed up to the same AWS region, a different AWS region, or to an on-premises location.
Their product has very fast web-based UI (HTML5) which is fast and responsive without being slowed down when working through the UI. You don't really need to go through the manual in order to start using the product, as it is very intuitive.
I also tested one use case where I was able to simulate my vCenter Server Appliance (VCSA) 6.5 crash. I previously backed up the appliance via Nakivo and then restored. Know that there is a workaround. Check the detailed post here – How To Recover a vCenter VM if vCenter Is Down – With Nakivo.
Check at Nakivo.com and download the free trial version or a qualifying NFR license for your lab.
More about Nakivo from ESX Virtualization:
Stay tuned through RSS, and social media channels (Twitter, FB, YouTube)