Many new features have been announced today by Nakivo. The Rapidly growing product Nakivo Backup & Replication brings new features that are good for IT admins and Service providers. The Vendor announces another major release not long after recent 3.2 release which brought WAN acceleration capabilities. Today's announcements of Nakivo Backup & Replication 4.0 brings 5 new features plus enhanced packaging and licensing model, including Per-VM backup licensing.
Those new features are especially useful for service providers, with more flexible licensing models and simplified installation (and maintenance) enabling a service provider to deploy single instance of Nakivo Backup & Replication product to provide completely isolated data protection infrastructure for each client tenant..
Nakivo Backup & Replication 4.0 – What's is comming?
Multi Tenancy – Multi tenancy is a useful feature for service providers and enterprises. Without multi tenancy, a service provider has to deploy multiple copies of backup software. Usually one for each customer. So there is no central point of data protection management.
Multi tenancy enables to create isolated tenants within single product deployments. It means that the service provider will deploy single copy of Nakivo, and will be able to deploy self-service for each tenant, where the person who manages the backups, sees only his (hers) isolated environment. The licenses can be distributed from a Single license pool, where each tenant can have different number of licenses based on Per-VM backup licensing or Per socket based licensing.
A screenshot from the Multi Tenancy UI shows a personalizable logo for the service provider (top left), different tenants and their data protection status.  Shows what service provider client can see and do. You can click to enlarge.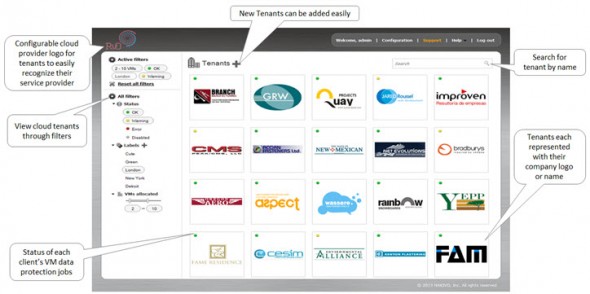 Per VM Licensing – adds more granularity to licensing, where the service provider can sell to their clients backup licenses for 3-4 VMs which would otherwise be too costly if based on per socket licensing. This gives smaller upfront costs for smaller clients. There is also a Pay-as-you-go model, where the cost of backup per VM is additionally time limited (per month, per year …)
Here is a screenshot showing the licensing for service providers.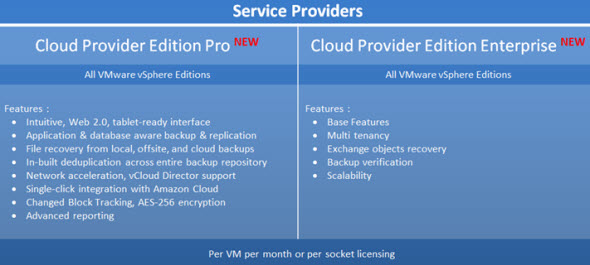 Scalability – with this schema you can see that in the new model, each of the site leverages the Nakivo Transporter, which is an appliance allowing better, faster transportation of backups and replicas over the WAN.  Each client deploys only the Nakivo transporter, which enables VM backup locally and, to the service provider's datacenter. The client can also run backups on VMs which are running at the service provider's DC.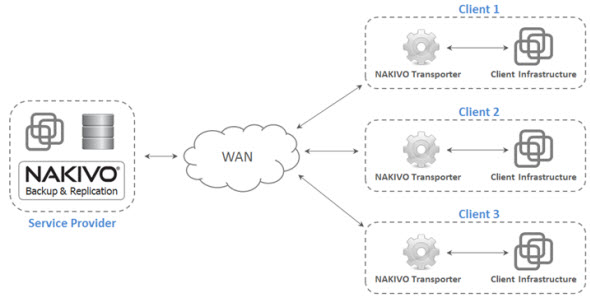 Exchange Objects Recovery – this function enables recovery of individual items from Exchange server backups. Exchange server versions will be supported from version 2003 upwards, and the administrator can use a web based UI similar to MS Outlook. The recovery process will allow to recover objects directly from VM backups, without the need to recover a whole Exchange Server or individual Exchange DB.
Backup Verification – The backup verification function is working at the block-level. Assuring that each block written to the backup repository is identical to the original, and did not get altered during the transport.
New Packaging and Licensing – As you can already see in the licensing for service providers (on the Service provider licensing screenshot ), the licensing model for individual clients and customers has evolved as well. In addition to existing Essentials and Pro editions, there is now an New Enterprise Edition, which has all the base features, plus the Multi-Tenancy, Exchange Objects recovery, Backup verification and scalability features (advance WAN acceleration).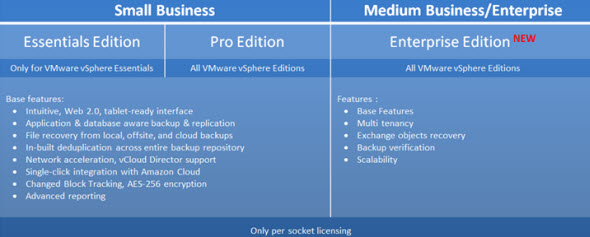 Nakivo Backup and Replication v4.0 should be available in early Q4 2013.
Source: Nakivo PR