If you heard about Nakivo previously, you know that they're in the data protection market since some time now. We have recently reported in details on their v7 release for VMware vSphere 6.5 and Hyper-V 2016 and the fact that the product can be deployed very fast with just a few clicks.
I was somehow ignoring that Nakivo also has a FREE edition, did you know? The free edition can backup 2 running VMs. You can back up locally over LAN, remotely over WAN and keep your important backups offsite. Nakivo has several deployment scenarios such as on a physical server or via preconfigured virtual appliance.
Nakivo can also be deployed directly to certain Western Digital (WD), Synology or QNAP NAS devices. With the Nakivo Backup appliance, all VM data protection components are together, in a single system. When running directly on NAS device, Nakivo does not consume your own resources within your environment. As a result, you'll get zero VMware footprint, less power, and cooling, less maintenance, time, money, with higher performance.
Nakivo is efficient when storing the backup files by using de-duplication and compression. Even the Free Edition automatically de-duplicates backup data across entire repository and keeps only unique blocks of data.
The de-duplicated blocks are compressed to reduce space utilization even further. As a result, you'll get up to a 30X storage space reduction for backup. For backup repositories getting low on space, de-duplication and compression is a must.
In addition, it's now possible to "clean" backup repositories from orphaned backup files. It is possible to filter backup files (orphaned backups) that do not belong to any backup job or backups that are older than one year and delete them in a single click.
Screenshot of Nakivo user interface.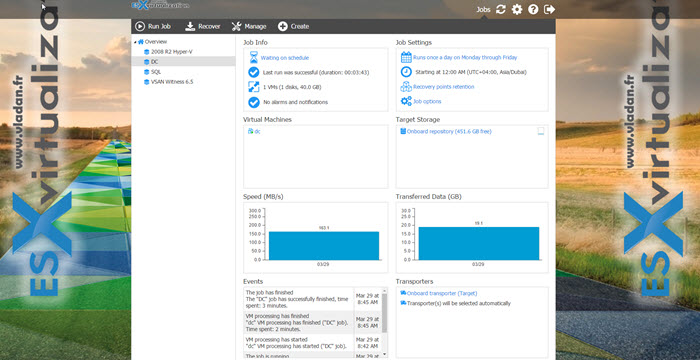 Supported Hypervisors and Clouds
NAKIVO Backup & Replication supports the following hypervisors and clouds:
AWS EC2
Microsoft Hyper-V 2016, 2012(R2), 2012
VMware vSphere v4.1 – v6.5
Nakivo's main features:
1-click installation, easy-to-use web interface
Instant file recovery
Agentless, image-based backup of running VMs
Instant Exchange objects recovery
Application-aware, forever-incremental VM backup
Instant Active Directory objects recovery
Up to 1,000 GFS recovery points per VM backup
Full VM recovery to the same or a new host
Built-in, global data deduplication, and compression
Automated backup verification
Backup copy offsite and to Azure/AWS clouds
Support for Hyper-V Cluster Shared Volumes
Backup Verification
Backup verification might be your interest too. How does it work? Nakivo checks VM backups at the block level. It means that data written to the backup repository is identical to the data that was read from the source VM.
Check at Nakivo.com and download the free trial version or a qualifying NFR license for your lab.
You can download Free Edition of Nakivo Backup and Replication here.
More about Nakivo from ESX Virtualization:
Stay tuned through RSS, and social media channels (Twitter, FB, YouTube)