Networking for VMware Administrators by VMware Press. This must have book is written by Chris Wahl and Steve Pantol. The book as you would expect by the title, focuses on networking, and is destined for VMware admins willing to learn more about networking.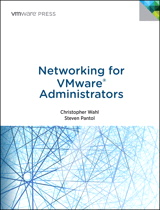 Chris Wahl is one of the bloggers out there which is very active and does killer content. He is datacenter guy with VCDX title and great speaker and teacher. Not by accident he has produced a Trainsignal's (now Pluralsight) course called vCloud Director Essentials training, which I followed and can highly recommend.
The new upcoming book has been released! will allow someone who isn't very strong on networking skills to become VMware admin with networking operational skills capable to talk and work with specialized networking teams in large datacenters.
The content is geared towards someone who has zero experience with networking to help set a level playing field.
The book is currently in pre-order available at Amazon and will have 350 pages!
By the end, you should be able to approach and chat with your network team using lingo they know and understand, while also being able to build out some highly available and tuned vSphere networks within a variety of hardware types, such as converged infrastructure, rackmount, NFS, iSCSI, 1GbE, and 10GbE to name a few.
This kind of book fits me perfectly as my networking skills do miss few bits here and there. I'm looking forward to get a hand on a copy and I also add this book to my dedicated WordPress page for Books on my website.
Congratulation to both authors for this great looking project!
Source: Chris Wahl's blog