A new PowerCLI poster has been released, and it's possible to print on smaller print devices.
That's a good news for people which missed last year's VMworld and where those posters were given to participants. Those posters were very large. There is still this PDF version of this large format too. You can have a look on my article where I reported on that and where you can download the large version too. But to be able to print this you'll need a A0 capable printer at least….
That's why it's a very clever initiative which comes from VMware , that with the updated new PowerCLI poster it's possible to self-print the document and do the assembly at home. You can print the PDF on any A4 color capable printer.
A quick  quote from Virtu-Al's Website, where I spotted the information:
This version is complimentary to the large PowerCLI Poster as it is formatted in a more printable style, it is 8 pages or 4 if you print them in duplex and will allow you to print the PowerCLI goodness and keep it in your bag or save it to your iPad as the formatting is great for that.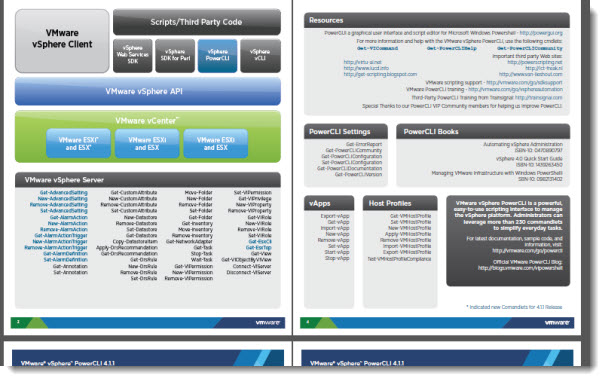 At the end of the document you got an information also about how to assemble the parts as well, even if the individual pages got numbers on the right hand side down the page.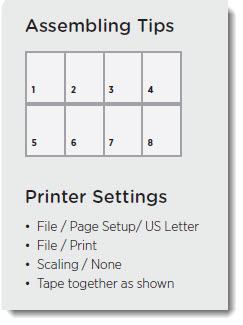 There are also some good links to how-to videos to get you started with PowerCLI:
– Getting Started
– Creating my first PowerCLI Repport
– Managing Host profiles
– Patching ESXi
This PDF is not only helpful to have All the PowerCLI cmdlets in front of you, but also it brings some informations about different PowerCLI learning possibilities.
If you want to go further, there are many links to documentation and learning possibilities. You can try and go the Official VMware Education Path where you can choose directly training by some VMware Certified Instructor.
Or you can also try learning via DVD and here I can recommend a new VMware vSphere PowerCLI training from TrainSignal. I went this way so you can read my review on this training in this article here. This Video Learning course is done by Hal Rottenberg.
Enjoy… 😎
You can download the PowerCLI poster compact size here: PowerCLI 4.1.1 Print-At-Home-Office
Source: Virtu-Al