VUM 4.1 Sizing Estimator.
With a new tool published on VROOM! blog from VMware Performance Team you'll be able to get the necessary informations when you'll be designing you Virtual Infrastructure, and especially the vCenter Update Manager 4.1. In fact, you are able to get the right answer to your question whether to install the VMware vCenter Update Manager database on the same DB as vCenter DB or not. And also if yes or not to install VUM at the same host as the vCenter Server host…
Questions which are essentials in the beginning of the designing process and it all depends what do you already have and where are you planning to go.
With a series of questions (yes/no) the tool gathers the necessary info and does the estimate of the database size, patch store disk space, and temporary disk space needs to be used to store the updates. With that informations you get a certain number of output informations which helps you to take the initial decision about the design. Some of those decisions are touching areas like:
– VMware vCenter Update Manager 4.1 database deployment model recommendations
– VMware vCenter Update Manager 4.1 server deployment model recommendations
– Initial disk space utilization in MB for database, patch store, and temporary space
– Monthly disk space utilization growth in MB for database and patch store
– The upper and lower bounds on the estimation, assuming a 20% variance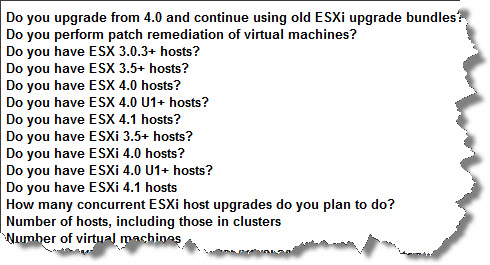 Source:  VMware vCenter Update Manager 4.1 Sizing Estimator: