Recover Individual e-mail with Veeam Backup and Replication.
There is not much videos floating around about Veeam backup and replication and it's a little bit shame since the product deserves to get some more spotlight on features which are affordable, simple to use, and really life savers. So this time I'll present video from YouTube, which has been put on line by Veeam.
This nice video will walks you through the restoration process of Individual Exchange E-mails by using Veeam Backup and Replication. In fact the U-AIR for Exchange is used for the job. U-AIR means Universal Application Item Recovery. Not only you're able to restore individual e-mails for the user but also the other items from Exchange organization, like calendar items, notes, contacts etc….
I specify that since Exchange 2010 user has the possibilities to recover individual e-mails by using the OWA (Outlook Web App), but not the other items…. And also as an IT administrator you might be asked by a user to recover an e-mail deleted more than 14 days ago (which is a default recovery possibility of Exchange 2010).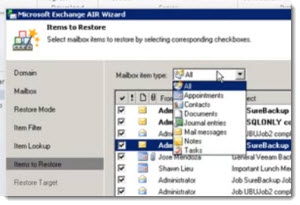 Individual Items Restore Possibilities.
As you can see on the image on the right, there is a possibility to restore different items from your exchange mailbox like Appointments, Contacts, documents, Notes, tasks…..
Veeam Backup and Replication has got some great free whitepapers I'm trying to make in evidence on my blog on the Free Ressources Section. One of them concerning Disaster recovery scenarious really stands out.
Here is a quick quote from the paper:
Restart a failed VM directly from a backup file in under 60 seconds:
Veeam Backup & Replication v5 introduces new vPower technology that allows a VM to be booted directly from a backup file without first restoring the VM to its original form to meet tight RTO requirements.
Instant VM Recovery Benchmark: A VM running Exchange 2010 with 500 mailboxes booted from a backup file it took 36 seconds to begin processing up to 300 transactions per second in Instant VM Recovery mode.
Enjoy the video bellow. And stay tuned by RSS or subsribe by e-mail, since I'm preparing to do a video on my own to demonstrate some features of the product too…. -:)

Source: YouTube