Lightweight model (1.3kg) and low TDP (17W) with over 7 hours of battery life – Samsung NP900X3A-A01FR. I finally made the move and took a new laptop. The choice has been hard to make and I must admin that I spend many hours scratching my head on what laptop I'm going to finaly take. Since I moved to the continent to "fly free" I found myself without laptop. The Fujitsu one I had with Intel i7 was fine, but it was a company laptop. Not mine.
The choice to buy a laptop has never been more difficult than now. Just after the CES 2012 in Las Vegas, where the new laptop models were presented and I saw another wave of ultrabooks there. Those new models which will arive to the consumer market later this year. The ultrabook market will grow even more in 2012, but I did not really wanted to absolutely have a clone of MBA (Macbook Air).
The new models of laptops exposed on this year's CES will probably won't make it to the stores untill April/May 2012, or probbably longer since it will also depends on the new upcoming CPU line from Intel – Ivy Bridge. I could not stay without laptop until then, and I had to make a choice.
But how did I make the choice then? First of all I would like to tell you what was my criteria:
– Weight under 1.5 kg for mobility
– Windows gear to be able to run VMware Workstation with direct connection to ESXi hosts.
– Long battery life
– SSD as a hard drive – for speed
– CPU with lowest TDP ( found this one – Intel 2737M – 17W only )
The Ultra low voltage CPU is a must if your priority is long battery life. As today's batteries don't really making fast progress, the way to get long battery life is to lower the consumption. And that what I was looking for. That's why I excluded an Intel i7 models. I had an i7 first generation CPU in a laptop before and the battery life wasn't of what I expected. Also the heat coming from i7 CPUs don't feel very comfortable when you holding the machine on your knees.
A quick quote from cpu-world.com about the Ultra Low Voltage Intel's CPU models:
The  Core i5-2557M, Core i7-2637M and i7-2677M processors are very close to each other: 2 CPU cores with HyperThreading, support for Turbo Boost technology, AVX and AES instructions, BGA package, and ultra-low 17 Watt Thermal Design Power, that includes power dissipated by the cores and HD graphics. The difference between the CPUs are in the stock and turbo frequencies, and in the size of L3 cache. Core i5-2557M and i7-2637M operate at 1.7 GHz, but the Core i7 processor has larger 4 MB level 3 cache. The Core i7-2677M runs at 1.8 GHz, boosted to 2.9 GHz when only one core is operational. Turbo frequencies of the i5-2557M and i7-2637M SKUs are lower – 2.7 GHz and 2.8 GHz respectively.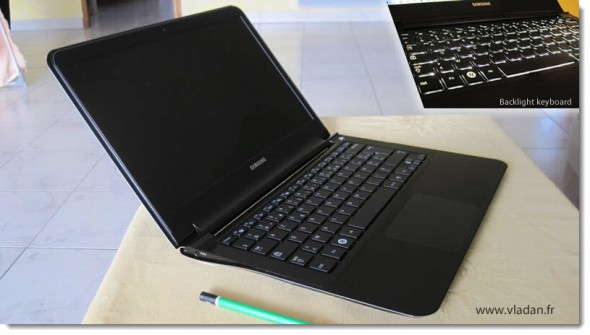 The model comes with large trackpad which might not have the sensitivity of MBA or MBP, but it works pretty well. I will keep using my wireless mouse, since I'm not comfortable with touchpads. The keyboard is backlight, so in darker room it can help you while typing. The keyboard is excellent. I'm actually writing this post and it feels very comfortable.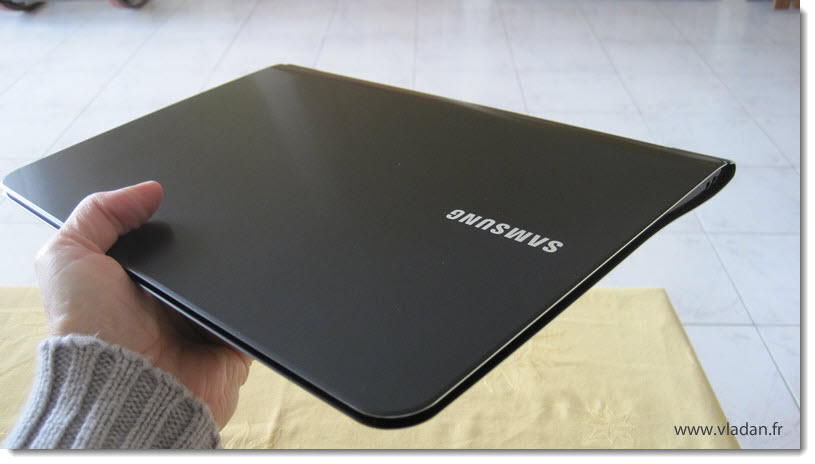 And I finally took the option to upgrade the RAM, because the model come with 4 Gigs only. Even if there was only one slot occupied I took the option to buy a kit 2 x 4 Gigs of RAM. The opening of this model is a bit tricky since one must open the whole case. Fortunately  I took a kit of 2 x 4Gigs of DDR3 G.Skill SO-DIMM PC 10600 for only about €40.
The SSD is an m-SATA Samsung with capacity of 128 Gigs. There is also a recovery partition which takes about 20Gigs, so I might need later to scratch that in order to gain some more place, or, I upgrade to 256 or 512 Gigs later. Or I can even use an external USB 3 SSD drive, since the laptop has one USB3 slot.
Talking external slots, there is not many. One USB2, one USB3, one LAN port (with plug-in adapter included). Then there is an audio jack, mini HDMI and mini Video Output. No optical drive.
It's body is made from duraluminium, which is used for an aircraft construction. Not the bottom, which is made from plastic I suppose. You can find all the detailed specs here at Samsung. Mine came with Win 7 Pro x64.
You can click on the image to make larger view.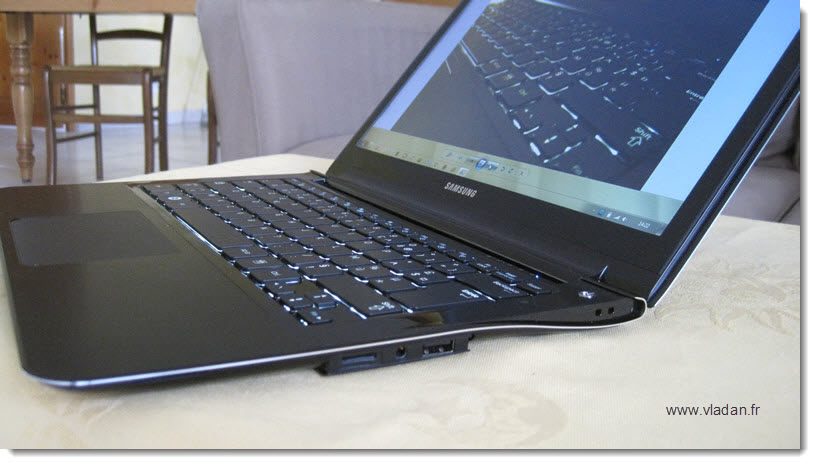 A little particularity of this model is that the ports are hidden by default, and if you want to use them, just push with the end of your fingers to open the slot. On the image above the slot is open.
With both slots closed makes the model very thin. And some awesome specs (USB 3.0, 128GB SSD, Sandy Bridge i5). I've read many blogs and pages saying that this model runs over 7 hours on battery so I'm confident.
And since it's been my priority to have low weight laptop with long battery life I'm satisfied of my choice even If I could go for roughly the same price and buy Macbook Air… -:).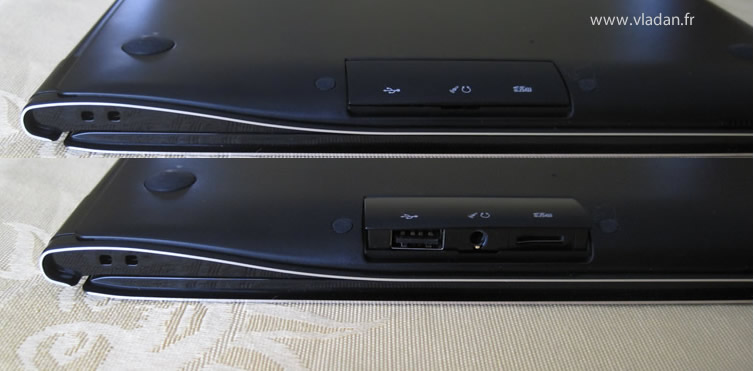 The only think I'm missing is the HDMI to VGA adapter, which was not included and which costs an additional €40 or so. In my lab I will be using it with larger 24′ Screen, I'm going to get one too.
The laptop like this one ain't cheep. It actually costs some real money. I paid almost €1300 at darty.com (Exactly €1245 delivered to my house).
I hope that you liked my little review of my new working toy gear.. -:) and that you'll stay tuned for more at ESX Virtualization. Now I really don't have any excuses to write more.
Here is an view with the placement for the ports closed.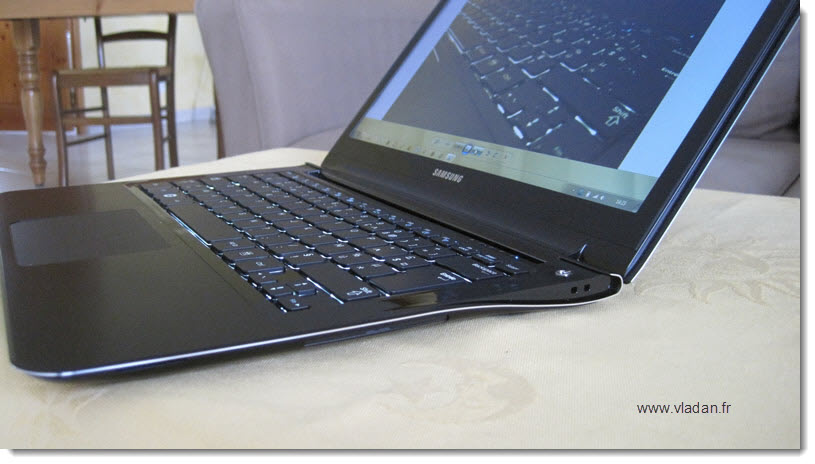 Subscribe for free via RSS or get the latest articles being delivered once weekly directly to your mailbox.