New Features of VMware Workstation 8 detailed. VMware Workstation 8 has been installed on my laptop the day it went out and since then, I find that I need to less juggle between the VMware vSphere client and VMware Workstation 8, since I'm connecting directly to my lab datacenter or at the datacenter at work directly from within the VMware Workstation 8 by using it as a client. Its much easier through the day do some daily administrative tasks from within one single console.
Check out the latest VMware Workstation 10 and VMware Fusion 6 Released!
Check out also the Workstation 9 detailed features in my post here!
New VMware Workstaiton 8 Features:
New Way Working with local Wkst VMs AND vSphere VMs – This is a complete different way that we start working today. With the new view of the datacenter, you're able to connect to your vCenter or to your ESXi host, and manage the VMs which runs there. Your Workstation 8 becomes client. This is something completely new, but the idea was announced already during last year's VMworld 2010.
Sharing VMs – There is 2 way to share VM. One of them consist of making a full clone of your VM to your shared repository. The path is fully modifiable when you go to: Edit > Preferences > Shared VMs. You can share those VMs to have them available for your collegue or friends working in your LAN environment. The other way is to move the VM which you want to share to the shared depository.

Sharing VMs can be used by developers which needs to connect to a development environment which might be installed on more powerful hardware than used by developer itself. Up to 100 remote users can connect to a single shared virtual machine at the same time. You can create a new shared virtual machine, convert a standard virtual machine to a shared virtual machine, or create a shared virtual machine clone of a standard virtual machine. This shared and remote VMs can be configured to start with the host.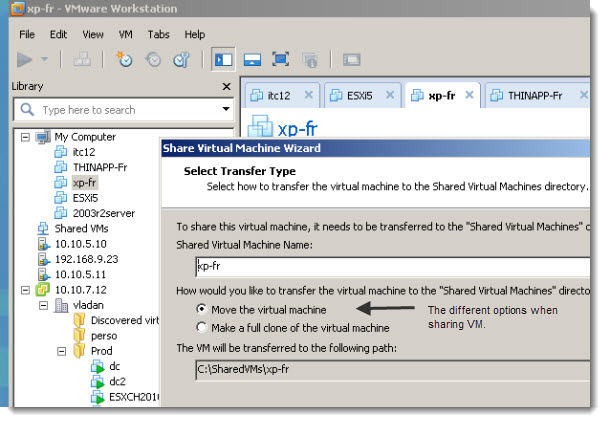 Move your VMs to the Datacenter – with drag and drop like feature, I already blogged about here. Excellent way to prepare and test a VM locally on your laptop before you upload it to your ESXi host or directly to the vCenter. The ESX, ESXi, or vCenter Server 4.1 or later are supported.
You can also upload your VM to another workstation PC. This system must run VMware Workstation 8 in order for this feature to function. By simply going VM > Manage > Upload.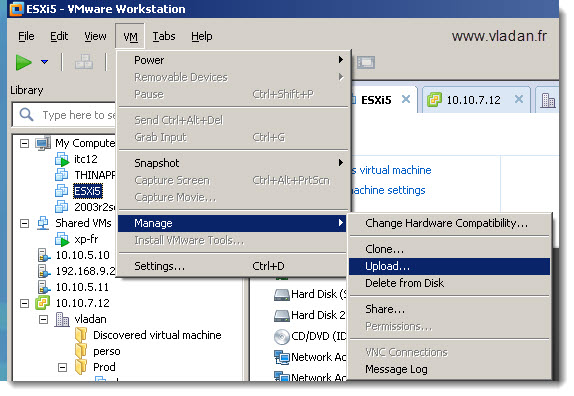 Create Remote VMs – you can now use VMware Workstation 8 while connecting to your vCenter or ESX(i) server to create remote VMs directly there instead of using the VMware vSphere Client. So with the single console you can create VMs running locally on your PC, on remote PCs running VMware Workstation 8, or in your Datacenter running VMware vSphere or ESX(i) server. There is small limitation – you cannot use the Easy install feature which is not supported and so you must install the guest operating system manually.
If you choose vCenter as a remote location, you're prompted to select an inventory location, ESX(i) host, and folder. If the remote host has access to several datastores you are able to select a datastore to store your VM there.
To match compatibility with the remote system, you can choose to use Virtual machine hardware lower version in order to be able to create VM which is compatible with the remote system. For example Virtual machine hardware version 7 is compatible with ESX 4.X. Because if during the creation process you select and choose the Virtual machine hardware version 8 and your remote system is running ESXi 4.1 you'll receive an error.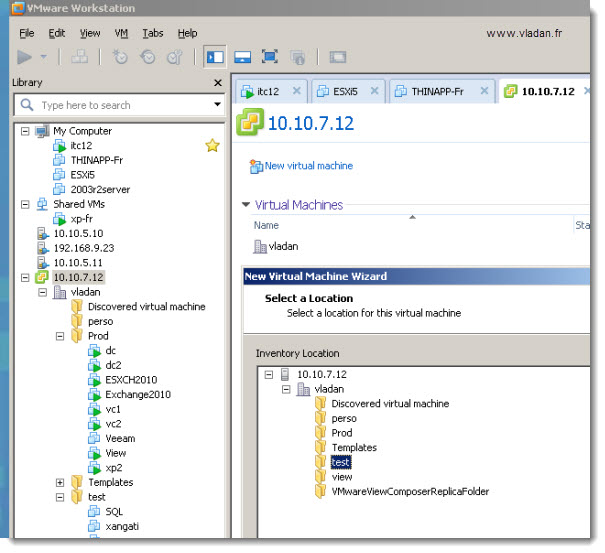 VMware Converter is integrated with VMware Workstation – You might took this for granted, but this feature just gets better and better with every release. You can convert old PCs, servers… Can you imagine? Start the P2V (physic to virtual) conversion process from within the same console of your Workstation, and do other tasks while the conversion process continues etc…
Export to OVF – Another possibility to "transportability". The OVF format is a standard.OVF is a platform-independent, efficient, extensible, and open packaging and distribution format for virtual machines. For example, you can import OVF virtual machines exported from VMware Fusion™ into Workstation.
To package your VM as an OVF go to the menu File > Export to OVF.
A quick quote from what the OVF is:
The OVF format, on the other hand, provides a complete specification of the virtual machine. This includes the full list of required virtual disks plus the required virtual hardware configuration, including CPU, memory, networking, and storage. An administrator can quickly provision this virtual machine into virtual infrastructure with little or no manual intervention. In addition, the OVF is a standards-based, portable format that allows the user to deploy this virtual machine in any hypervisor that supports OVF.
It's easier for the person on the other side who will receive such a pre-packaged VM to deploy it to his(her) virtual infrastructure which does not has to be a VMware Infrastructure.
Mounting virtual disks (VMDK) to the local system as a volume – Yes, you can imagine by your own the possibilities here. You can mount a virtual disk to your local PC as a volume and then easily recover some file by copy – paste. The read/write mounting is supported, but by default the checkbox to mount read only is checked, because most of the time you only mounting VMDK to recover some files from there.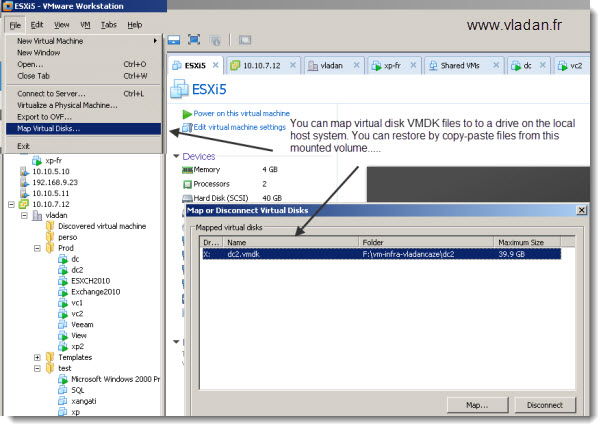 Power on VMs present in a folder – this feature permits you to power on several VMs in once. The pre-configured default time interval between the power on process is 10 seconds.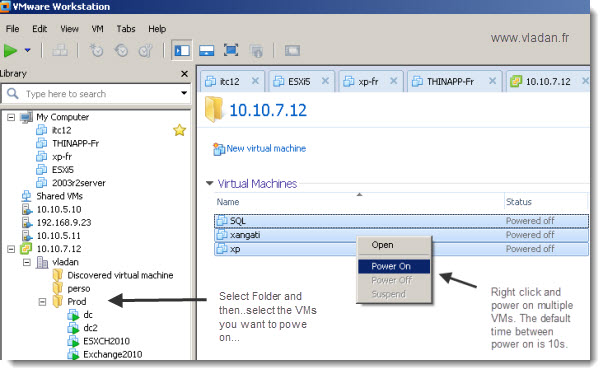 You can also select the folder where your VMs are located, and then click the Green triangle as you can see on the image below: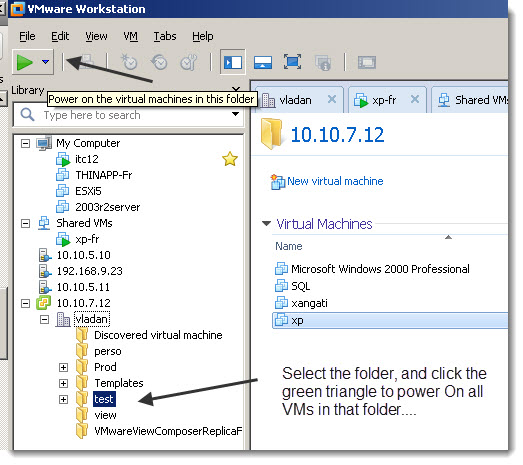 The feature that everyone was waiting for – You can now enable Virtual VT-X/EPT or AMD-V/RVI in the processor settings interface. With this feature, applications running in a guest can take advantage of these virtualization technologies. You can also run 64-bit guest operating systems inside of vSphere running inside Workstation 8. 
Yes, now you can run nested ESXi and inside of that you can run 64 bits VMs.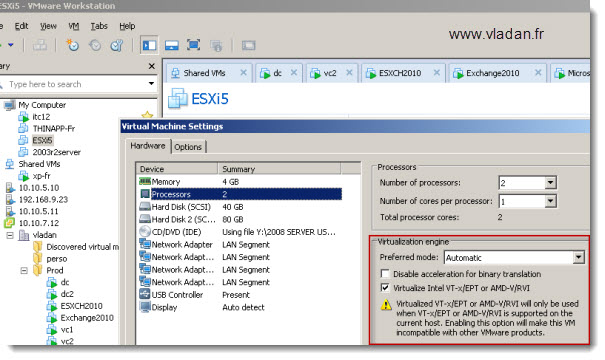 Rewamped Teams – The teams functionality did not disappear, not at all.  It has been enhanced. There is a new possibility to give a team attributes to any VM. For that you can check the networking properties for a VM and you'll see that there has been added new advanced settings dialog box where you can by clicking the Advanced button define bandwidth throttling and generate new MAC address.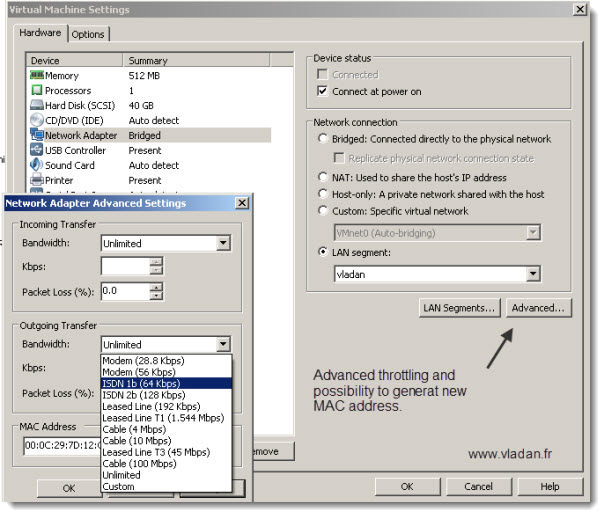 VMware Workstation 8 got a major face lift to became a tool for every IT admin. Not only to play locally on a single PC or server, but to access your VMs located on multiple systems. This is a major change from previous releases. The c-o-l-a-b-o-r-a-t-i-o-n just got a bit easier…..
You can download Free Trial – a 30 days evaluation of VMware Workstation 8 here.
You can buy the full product here.
You can upgrade your existing VMware Workstation here.
Check out Some Free Tools for your vSphere Infrastructure:
VMTurbo Community Edition – This product is not limited in time, no spyware or adware. No number of hosts limitations or VMs limitation. In fact VMturbo has announced a simplified product line with 3 products and the free community edition is one of them.
The product presents itself as a single Virtual Appliance being able to deploy directly into vCenter. Completely agent-less solution. Infrastructure monitoring, Problem detection, Performance reporting, Capacity reporting, Capacity alerting. There is an easy way to upgrade to paid products, since you don't have to reinstall the whole appliance and loose the history… Get this tool From VMturbo's website here.