Paragon Hard Disk Manager 2010 Corporate Line has been released.
I don't have to present Paragon Software to my readers any more, because few week back I held a contest for winning Paragon's Virtualization Manager Personal edition on my website. Personal edition is different from corporate edition of Virtualization Manager 2010, because it's destined for workstation OS only. Thee was 10 lucky people winning a copy.
Few months back I reported on Partition Manager 10 for Virtual Machines, which is a special version of our Linux/DOS bootable environment that contains fully functional Partition Manager 10 Professional. Go and download your free tool too…
Today I want to introduce to new corporate line of Paragon's products. I was kindly given a copy of Paragon's Hard Disk Manager Virtual Server together with Disk Alignment Tool which is part of almost all corporate products:
Hard Disk Manager Workstation, Hard Disk Manager Server and Hard Disk Manager Virtual Server. There is also Paragon Adaptive Restore allowing even more abilities while working with hard disks.
Paragon Hard Disk Manager Virtual Server edition came with PAT (Partition Alignment tool) which is an add on. The tool basically helps you automatically align partitions to physical disk sectors to boost performance of a hard disk up to 3 times.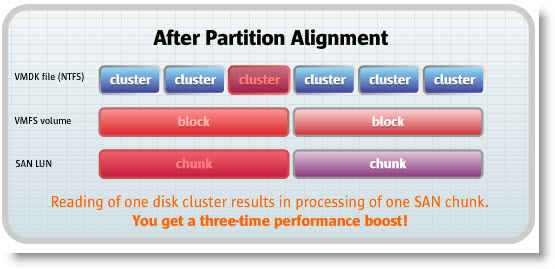 The function works fine, just needs to reboot the VM. The optimization process happens before the boot process starts. When the alignment finishes, just press a key to boot the VM.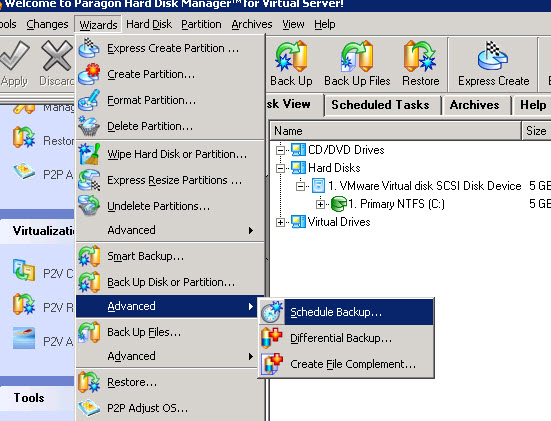 The product has many functions. One of them is Backup tool which can do a backup of the whole partition or individual files. As a destination you can specify another local drive, network share or ftp server. The compressed image file is then transferred to the remote location. Of course you can schedule backups to do daily incremental or full backup.
There is a P2V tool integrated which enables to do a P2V operations and the destinations can be an VMware ESX Server, Microsoft's Hyper-V, Virtual PC or Virtual Server.
There is a recovery media builder wizard too which guides you through the creation of a bootable media which can be used to perform recovery operations on a system which does not boot properly.
Main functions:
Maintenance of virtual machines and the host from one site in MS Hyper-V Server.
Task scheduling and scripting to chain multiple operations into one job and automate execution
Exclusive defragmentation for NTFS and FAT (27 strategies, MFT defragmentation and shrinking, etc.)
There is also a Hard Disk Manager 2010 Suite personal edition. You can get a free trial here.

All the features of Hard Disk Manager 2010 suite personal Edition:
Easily partition your hard drives and keep them optimally sized.
Manage multiple operating systems (up to 16) on a hard drive.
Protect your entire PC, including the operating system, applications, your settings, and all data files with easy-to-use backup tools.
Continue working on your computer while making backups.
Restore the entire disk contents in minutes – no re-installations required!
Start the recovery process when booting your computer, even if your operating system has failed.
Easily migrate an existing drive or partition to a new one – even to different hardware!
Keep your system performing like it was when first installed.
Tune your system for maximum performance with a powerful defragmentation utility.
Maintain the confidentiality of your deleted data forever with a disk wiping utility.
All available Paragon Hard Disk Management technologies are available in one suite.