There is many ways to upgrade or patch ESXi 5.5 to ESXi 6.0. The standalone version of ESXi or one managed by vCenter server can be patched very easy way via CLI and using SSH client like Putty for example. ESXi 5.5 Free version can obviously be upgraded/patched this way as well. The only problem might be if you don't have paid version and in this case you cannot download the ESXi Offline Bundle (VMware-ESXi-6.0.0-2494585-depot.zip file ) which is needed for this upgrade from 5.5 to 6.0.
The ESXi Offline bundle is available for paying customers now, and it's not known when users of free version of ESXi will be able to download it. So in this guide I'll show you two ways of upgrading the existing ESXi hosts. The hosts can be running ESXi Free Version or not. The offline bundle works for both.
Patch ESXi 5.5 to ESXi 6.0 by using VMware Offline Bundle
Patch ESXi 5.5 to ESXi 6.0 by using VMware Free Hypervisor ISO file.
You'll probably want to use vSphere Update manager (VUM) if you're running more than few ESXi hosts. VUM has to be installed on Windows machine and you also need vCenter server. In this article I'm not covering those options, but I'm focusing on patch or upgrade ESXi 5.x to 6.0 via CLI or Via VMware ESXi ISO file. In both scenarios there is a downtime, so you need to shut down all VMs running on that host or vMotion them elsewhere, before you start upgrading.
Patch ESXi 5.x to ESXi 6.0 – via CLI by using the VMware Offline Bundle (VMware-ESXi-6.0.0-2494585-depot.zip) file
01. Download ESXi Offline Bundle (VMware-ESXi-6.0.0-2494585-depot.zip)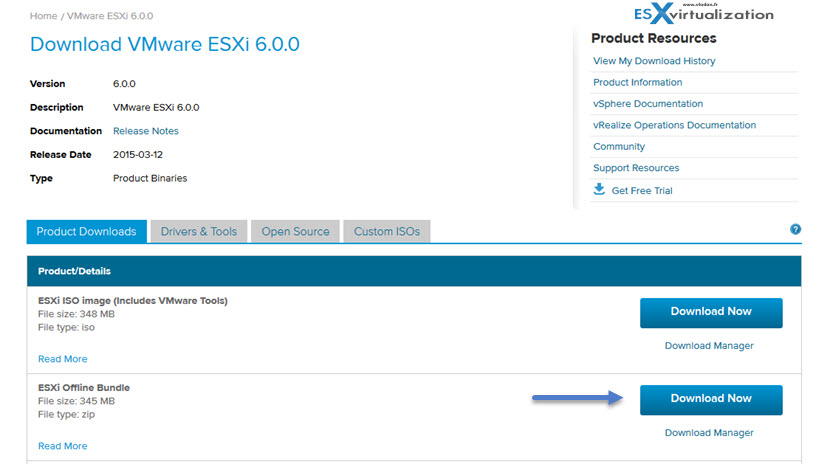 02. Copy VMware-ESXi-6.0.0-2494585-depot.zip to a datastore visible by your ESXi host

03. Put the host in maintenance mode (via vSphere client > right click > enter maintenance mode) and run this command via CLI (connect with Putty client)
esxcli software vib update -d /vmfs/volumes/your_datastore/VMware-ESXi-6.0.0-2494585-depot.zip
In case you don't have SSH access enabled, please enable it via vSphere client by Selecting your host > Configuration TAB > Security Profile > Properties > SSH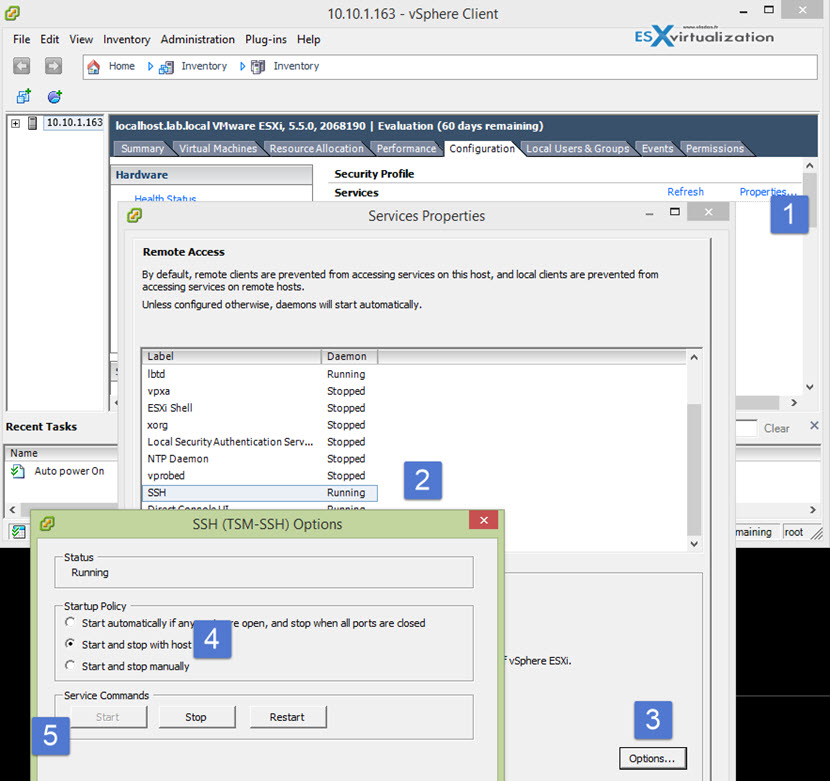 05. Reboot your host and check the build
Check this video which details those steps:

Patch ESXi 5.x to ESXi 6.0 by using ISO file VMware-VMvisor-Installer-6.0.0-2494585.x86_64.iso
In case you are not allowed to download the VMware Offline Bundle yet, you can download the Full ISO of VMware Hypervisor – VMware-VMvisor-Installer-6.0.0-2494585.x86_64.iso. This ISO is not only a full installer which can be used to perform clean ESXi 6.0 installations (including the ESXi 6.0 free), but this file can be used to upgrade (patch) your existing ESXi 5.x version to the ESXi 6.0.
In the past I had many question concerning upgrades via ISO. It seems that this isn't well known scenarios and many people thinks that it can harm their systems or it can overwrite their datastores etc… No it's not true as VMware installer is smart enough not to destroy any underlying ESXi isntallation. I have done a short video detailing the steps as well.
01. Download the Free version of VMware ESXi 6.0 hypervisor here.

It's an ISO file called VMware-VMvisor-Installer-6.0.0-2494585.x86_64.iso which is a full ISO of ESXi and you can do fresh ESXi installation with it. But in our case we want to do an Upgrade, right? So shut down any VMs you're runing and reboot the host.
02. Change boot sequence in BIOS so you're booting via CD-ROM drive.
03. Use the UPGRADE option (default one) to upgrade your ESXi 5.x host.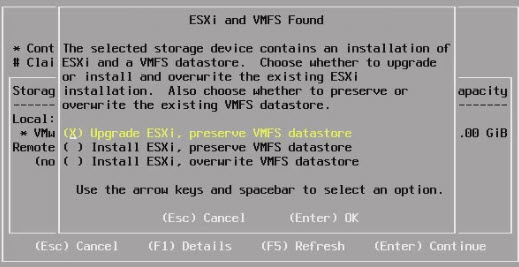 Hit Enter and then wait to see this screen where you'll press F11 key.

The installer will upgrade your existing ESXi 5.x to the latest version
04. Reboot your system and check the results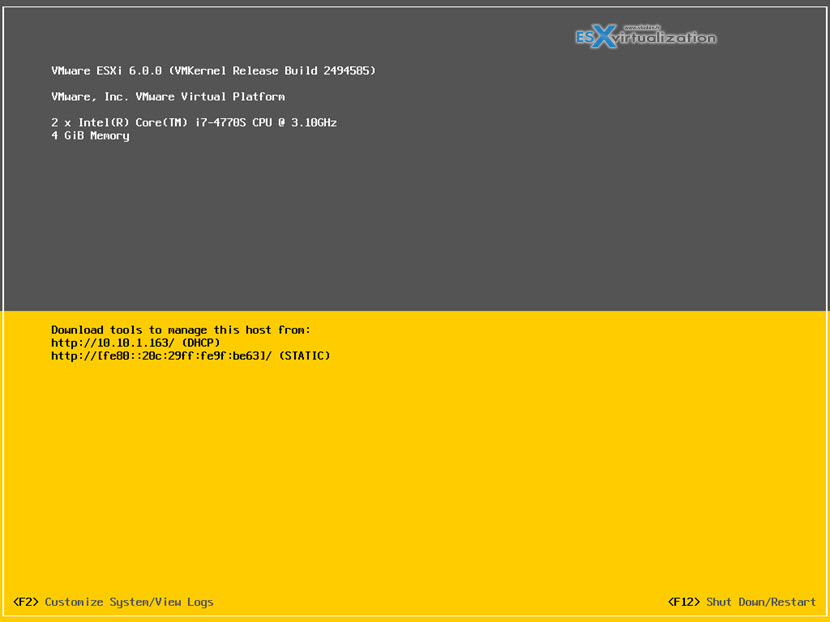 And here I have done a short video detailing the steps.
The second option might involve burning the ISO file to a CD, but it's safe option and you don't have to worry about loosing your datastores, VMs …. It's less known option as many users prefer the VMware Offline bundle, but as for now this bundle isn't available for everyone so I thought that it might be a useful post for those users. If you have found this post useful, please share it with your followers through your media channels.
If anything goes wrong (NIC not recognized after the reboot, purple screen of death – PSOD, or other problems) you can revert back to ESXi 5.5 very easily.  Right after the BIOS sequence you can hit Shift + R (Recovery mode). It can happen if your hardware isn't on VMware HCL.

And then you have the option to validate that you want to go back to the previous version (the version from which you were upgrading). You can hit Y to confirm…

Get your ESXi 6.0 Free License and apply it to your installation
Many folks asked me how to get and apply the ESXi Free License. Sometimes the very obvious is not so obvious for others, so you asked – I share…
The license number is on the download page after you register for the ESXi Free version.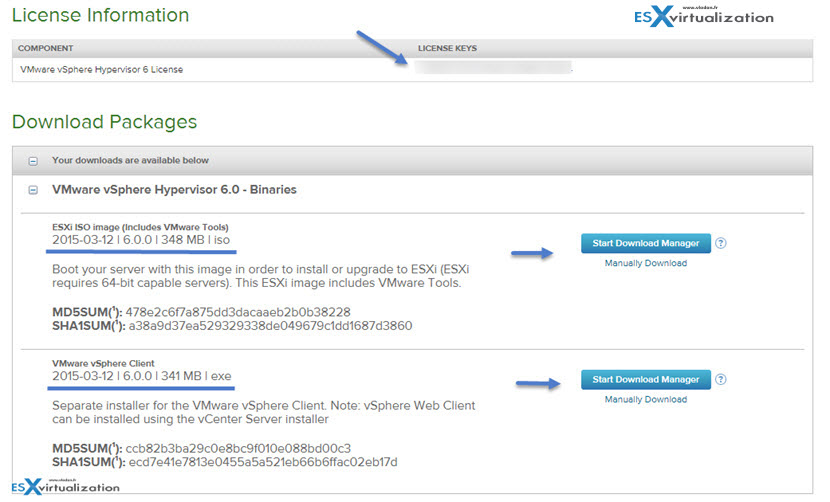 You must apply it to your ESXi 6.0 installation as by default it runs Full 60 days trial. To apply it to your ESXi 6.0 free version just connect via vSphere client (available through the download as well) and Select your host > Licensed features > Edit > Enter Key.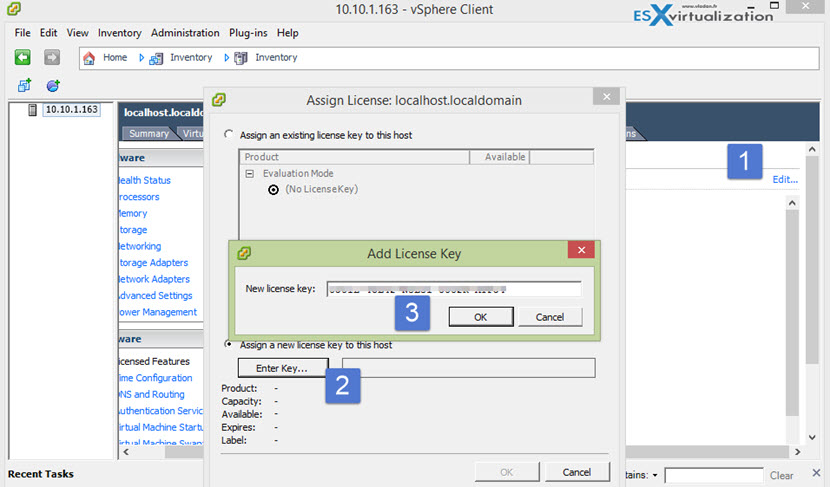 In case you missed the latest news, you can check my vSphere 6.0 page where are all the details about the latest release of VMware vSphere 6.0, ESXi 6.0 and all other products of the VMware vCloud Suite. It's a major VMware upgrade which has been rolled out few days ago.
Stay tuned for more articles, how-to tutorials at ESX Virtualiztion website.