New pdf from VMware available for SRM 4 for performance and best practices.
You can find the whitepaper at the VMware Website on the product page for SRM 4.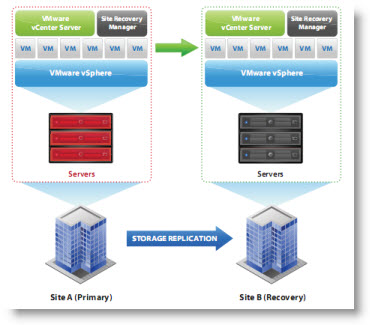 VMware vCenter Site Recovery Manager 4.0 is one of the products beeing used to protect against a disaster of entire datacenter. The product can recover in automated recovery steps to a failback remote site.
The beauty of the product is that you can do a recovery plan and do an actual test of your plan before the disaster actually happens – in non disruptive mode. It means without your production environment beeing affected. You can simulate the fail over to the remote site.
A new white paper, VMware vCenter Site Recovery Manager 4.0 Performance and Best Practices, is now available.
You will find out how to best setup SRM 4 in FC, iSCSI or NFS environments.
Also:
Site Recovery Manager 4.0 also ofers host failure resiliency (i.e. if any ESX host hosting a placeholder virtual
machine does not respond during a recovery because of any reason such as that the ESX host does not have
access to the recovered datastore, then Site Recovery Manager selects other available hosts to recover that
virtual machine on).
Source: VMware