During VMworld, VMware has announced upcoming release of vSphere PowerCLI 5.8 R1 and VMware Site Recovery Manager 5.8 (SRM). The new vCloud Suite 5.8 when available, will also have new PowerCLI 5.8 R1, which will start faster and will have new cmdlets for storage policy.
The new PowerCLI 5.8 U1 will also support the upcoming release of vSphere Site Recovery Manager 5.8 (SRM) which is currently in tech preview, but the release has been announced for Q3 of 2014.
PowerCLI is a free utility (cmd line) which allows by using different cmdlets provided, script many of the repetitive tasks that today's admin has to go through. You don't have to be much scripting guy (I'm not), but for example when learning towards my VCAP-DCA exam I had to learn PowerCLI to create customized images and autodeploy taks. You can check my blog post serie which can get you started here. Autodeploy is really cool.
Here are all the features of PowerCLI 5.8 U1:
Enhanced startup speed
Storage Policy cmdlets
Query an OVF/OVA for deployment properties
OVF/OVA deployment and configuration
Added a filter by tag to more cmdlets
Enhanced error reporting
Added support for RelatedObject to Get-HardDisk
Added filtering support to multiple areas
Support for latest version of vCloud APIs
New-CIVM cmdlet
Support for upcoming version of SRM
VMware SRM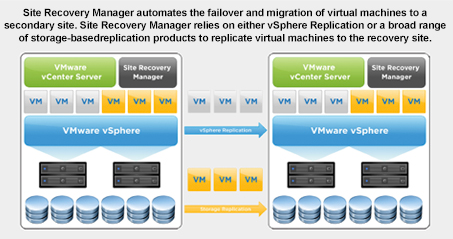 vMware SRM 5.8 will bring those new features
Quote from the source:
5x the scale of protection – IT organizations can set up recovery plans scalable up to 5,000 virtual machines per vCenter Server using array-based replication to enable enterprise-level protection–five times larger than with previous limits.

Enhanced self-service – New integrations will offer customers self-service access to provision predefined disaster recovery protection tiers to new VMs via blueprints in vCloud Automation Center when using array-based replication.
Source: VMware