Saturday's post.
As you already might noticed, I live and work at Reunion Island. You can find out more about me in the About page of this website. This morning I went to the ST Leu market, where I use to go together with my spouse to buy some vegetables and fruits. I took my camera with me and I thought that this might be a good Idea to introduce this place to you, my readers. We do love this place, for it's calm and charm. The local agriculture produces enough to feed the entire island, and they're exporting in fact to the whole Europe (especially litchi fruits (Wiki)are quite popular).
At the same time it's quite enjoyable to have some rest at Saturday, since the whole week is quite demanding, where I come back home quite late after my daily job as a vExpert…. -:)
There are always fresh vegetables and fruits on that market and because we're living quite close to St Leu, it's our Saturday's trip.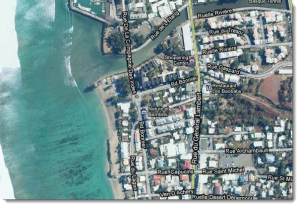 After we're usually goint to take some swim at the beach at St Leu. There is several beaches at St Leu there. One of our preferred is the one close to the ZAT Restaurant. There are coast guards to watch out in case any accident happens and also there are showers to be able clean yourself from the sea salt.
So I hope that you'll enjoy this little video, and this article, which has nothing to do with virtualization and which is just my personal pleasure.
St Leu is situated on the West coast of Reunion Island. The west coast is protected from the windy and rainy East part by it's relief of mountains which culminates by it's highest Piton des Neiges at about 3000 meters. See article at Wikipedia.
You can find quite close-up on St Leu via Google Maps….
Enjoy…
Video on ESX Virtualization YouTube Channel.