After my recent VMworld Barcelona trip, actually when back in the plane I had my head full of souvenirs, new meetings. One of the questions which came out regularly was about Reunion Island (Fr). This part of the France is not well known not only to the French but also to the rest of the worlds population.
Well this is not something to be ashamed of as even me 10 years ago I wasn't aware where exactly Reunion Island is and why I would one day like to live there. I knew it was a french overseas department, but just could not visualize where exactly to look for it.
Well it's usually like this when you travel. You grab a map and check where the place you want to go is. Today's technologies like Google Maps makes that even easier and more precise. You can travel without spending a dime -:). But I'd like to introduces a bit further this "mysterious" Island where pirates did hide a treasure. Oh you don't know the story about the pirate called La Buse?
But let's get back to our Reunion Island. If someone thinks that Reunion is just a beach paradise and trekking playground with one the most active volcano, hes is wrong. It's a french overseas department which is part of Europe, where over 800 000 people lives and work.
And as everywhere, there is and IT which needs to be supported and maintained, there is virtualization, and there is even Microsoft office since over 10 years… 
As you can imagine, the IT and the industry structure is smaller then in the continental France, which is BTW about 11h flight. The IT industry has most likely the same structure than everywhere else with a difference that the proportions of local businesses is much smaller than everywhere else.
How big is Reunion Island?
Imagine that you need the whole day by car to do the trip around the island on the small national road (I've done that, once). Of course you can take bigger 4 lanes road which lays 200 meters higher and which connects the north to the south in 45 min.
One of the most popular events – The Grand Raid. Over 40 different nationalities has participated this year. It's an ultra trail race across the island. This year's length was 173 km.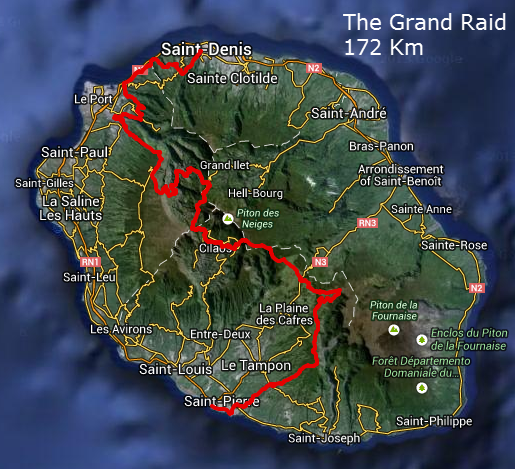 Which kind of Industry there is?
There is many kind of different business here. Banks, Insurance companies, Hospitals, Universities, Petrol companies, ISPs, local TV stations (there are 3-4), but also "food" industry including McDonalds … Those local businesses and local industry needs an IT which remains competitive. And even if the local IT service background is smaller than everywhere else, it still counts about 10 VMware partners.
As you can imagine, the battle of the hypervisors has started at Reunion too and most likely Microsoft will take a large part of the opportunities in small businesses by pushing their offer of Hyper-V based on Windows Server 2012 Datacenter edition with unlimited VMs running W2012.
The Activities and Innovation
Trekking, sightseeing and Nautical activities with some swimming and snorkeling in a lagoon are probably is the main activities to do, but you can also do canyoning, paragliding or do a helicopter tour of the Mafate.

Reunion Island is a touristic destination with daily flights from Paris or Marseilles. Air France, Air Austral, Corsair and other companies flying on daily basis not only to continental France, but also other destinations like Mauritius island, Seychelles, Abu Dhabi, New Zealand, Australia, China….or even US.
The local language currency is of course Euro like in the rest of Europe. Local language is French but a lot of the population speaks also creole which is the local dialect.
BTW there  is also an official Reunion Island app available iPhone or Android plus many resources and websites about Reunion Island. So whenever you're planning for your vacations don't hesitate to get in touch to ask which period of the year is best, what to do or where to stay… -:)