We went for a few days to do some trekking to MAFATE – Reunion Island.
This post is special. As you might noticed, I live in Reunion Island (Fr) – French Overseas Department – which is located about 10 000 Km from France Continental. Reunion Island is part of Europe, the money is Euros like in the rest of Europe. The
During my week of vacation last week me and my spouse, we went to do some trekking here on the island, because it's quite an amazing place to do those kind of things. But be aware, you must be in shape for it….-:) Well, it was not really my case (our case), so we visit only a very small part or Mafate and during only few days. To get back in shape, the last day of the journey we had an appointment at  Thermals in Cilaos and get back in shape with some jacuzzi and massages.
How we started our journey?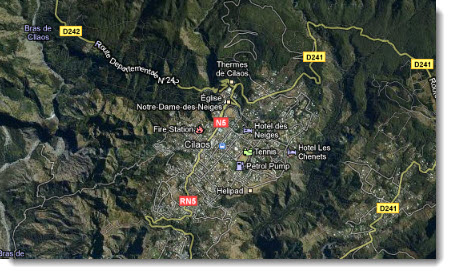 At first night we just slept at Cilaos city at Hotel des Neiges. You can click on the image on the left to situate the City on Google Maps.
Cilaos is a mountain's therms station, which is only about 2 hours drive from St Leu, where we live. After the first night there we took a bus for about 15 min to drop us off a bit before the Ilet a Cordes where the entry to the Mafate is possible.
From there there is (normally) 2h of walk to pass the Mountain called "Col de Taïbit", which culminates at 2000 meters high. So there is like 800 m. of climbing to get to the top. Well it took us about twice of that time….
Mostly because as I said, we don't use to climb and do some trekking every week-en (even if we could), and also we had some backpacks with us which were not too heavy, but still weighting about 6-8 kilos. And this were not use to at all.
At the top of Col de Taïbit there is nice view to Mafate. We took some time there to lunch and rest and then we started to go down to Mafate. The first village where we arrived there is called Marla. Very nice place where there is quite a few places to stay over night.
I haven't precise yet, but for you to imagine, there are no roads there in Mafate  to get there…. The only way to get there faster then walking is through the air – by helicopter. So all the goods and all the food for the local restaurants and B & B's are delivered that way… So that's why also the prices of food are like 2-3 times more expensive than elsewhere. But that is not the point. When you go for a trek, you're usually going to discover new territory and new horizons, relax and forget a bit about everything. And that was clearly the case.
Another point for you to imagine. There is no electricity either. Only individual solar panels on each house there. The water is heated by solar water heaters.
You might ask, what about Mobile phone network….. yes. There is a Mobile phone network coverage there. So if you got 3G card, you can have an Internet Access too. But I didn't and I left my laptop at home too…
The first night we were quite exhausted, because it took us nearly 7 hours of walk with fully charged backpacks. That's why the rest of the stay at Mafate was oriented with just a smaller trips. The next day we did Marla – La Nouvelle, which is another village in Mafate. La Nouvelle is quite bigger than Marla, but the same style of houses and the same kind of life.  To get to La nouvelle took us only about 4-5 hours of walk, but normally you take much less time. It's because we took some pictures, enjoyed the quiet world there, meet some nice tourists (mostly germans, english or swiss).
The walk to La nouvelle was mostly on small and very narrow trails close to the mountain. But those trails are in very good states. We met some animals especially birds which are not scared at all. Waiting for some crumbs to catch when we took a lunch. Actually you don't need to bring any food or tins. We did bring some, not too much, but it's absolutely no necessary, because you can buy some provisions for the day at the local stores in every village there.  Each of us had one and half liter bottle of water to have enough to drink during the day, but here also, you can refill the bottle in a sources along the trails, and there are indications that it's a drinking water.
As for the second night we stayed at La Nouvelle, where we enjoyed the local life and beauty. Every single house has got a solar panels to be able to assure the electrical consumption for lights and for freezers and fridges. Most of the time each of the house or B&B has got a generator too to assure when no more battery power left. But during the stay we had a great weather, only one afternoon was rainy weather for about 2 hours so one could imagine that there is enough sun to recharge the Accumulators during the mornings only,  If in the afternoons there are some clouds.
As I said at the beginning of this post, we discovered only very small part of Mafate. One could stay for months there before going back to the civilization….
For the way back to Marla we took slightly different road where we once went across a small bridge which was moving from side to side. I was not very convinced by the solidity of the construction, but everything went smooth. For the rest of the trek there was not any special adventures to mention, just that we passed some farming facilities and we saw some Deers there.
Once back in Marla we knew that we had just the last night before we leave the Mafate through the "Le Col the Taïbit" …. the same way as we came here. And that it's going to be difficult as well. It was. We new that we'll be able to recover if anything goes wrong the next day anyway.
Once we were over the Col the Taïbit we had one more night at Cilaos city – Hotel des Neiges – and also Cilaos Therms where we could rest and do some treatments to relax.
The next day in the morning we just passed and bought some local wine (yes there is a wine cellar at Cilaos – nldr. not sure about the traduction..) and some local souvenirs. The week passed very quickly and the rest of the week end as well. The holidays are finished and tomorrow back to work…
I hope that you enjoyed this little Off Topic post which I hope was enjoyable to read with not too much grammatical errors…. -:).
Some more photos here. Enjoy..
The Mafate and area are protected Unesco's recognized sites.
A quick quote from UNESCO's article about Reunion Island:
The Pitons, cirques and remparts of Reunion Island site coincides with the core zone of La Réunion National Park. The property covers more than 100,000 ha or 40 % of La Réunion, an island comprising two adjoining volcanic massifs located in the south-west of the Indian Ocean. Dominated by two towering volcanic peaks, massive walls and three cliff-rimmed cirques, the property includes a great variety of rugged terrain and impressive escarpments, forested gorges and basins creating a visually striking landscape.