Runecast Analyzer 3.0 has been released a couple of weeks back with new enhancements and new features. The product is maturing and becomes one of the "must-have" software products when it comes to maintaining security and in compliance with VMware vSphere infrastructure.
Note: We have written a detailed review while still in beta so if you want to read an in-depth article about the product to see if you're missing out, please use this link – Runecast Analyzer Product Review 2019
The latest release has brought long-awaited VMware HCL function allowing you to simulate upgrades and see whether you'll encounter problems if you're going for an upgrade. This now includes a VMware VSAN product which is always tricky on firmware model and driver, as well as supported hardware of course.
Runecast analyzer is in its 3rd release already the number of VMware products you can analyze with is growing. After vSphere, there has been Horizon View added where you can scan and analyze your Horizon infrastructure to have a complete analysis of the deployment status and health. Also, NSX-V is now a possibility if you have it in your environment. (Perhaps NSX-T is already in the works?).
VMware VSAN and it's the complexity of setup (from the hardware standpoint by respecting strictly the storage controllers/firmware/drivers) can be a good help for upgrades and monitoring as well. There is quite a lot of parameters to look after within a VSAN environment. As you don't have hardware SAN but software-defined storage, you have more variables to play with and to look after.
VMware VSAN must be configured and used by following VMware best practices. Runecast Analyzer takes care of this and gives you the best practice recommendations. It shows problems, issues and best practices for VMware vSAN clusters. Including VM running on the vSAN datastore.
Let's have a look what's new in Runecast latest release.
Note: The latest release of Runecast 3.0.1.0 has support for vSphere 6.7 Update 3.
Runecast Analyzer 3.0 – What's new?
Increased visibility & transparency of how your environment is set up – the product has a view into VMware VSAN disk info so you are able to see the firmware level, tier, model number etc…, and also to which controller the disk is connected. You can export all the info via a CSV file.
Enhanced predictive analysis with expanded HCL upgrade simulations – To save time Runecast Analyzer 3.0 is able to check compatibility against the VMware Hardware Compatibility List (HCL) with the addition of vSAN checks. The combination of vSAN and ESXi upgradeability simulations gives admins a significant advantage in terms of reliability of their environment and issue prediction.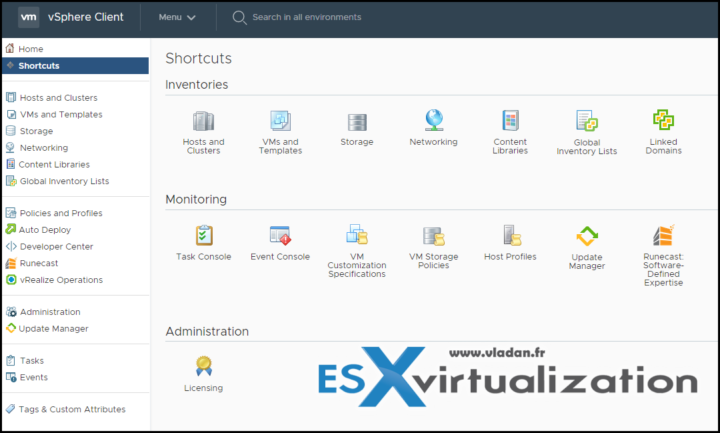 VMware HW Compatibility Checks – Runecast Hardware Compatibility feature shows you the compliance status of your hardware against the VMware HCL. You might have aging hardware which falls out of VMware HCL or simply hardware which needs a bios/firmware update. The system gives quite a lot of details concerning drivers, firmware and device type.
Upgrade Simulations that now include vSAN as well.

When you click on a specific host it shows you the details concerned. It shows a summary of what's been reported by your host and compares that with what was found at VMware HCL.
New Web Client plug-in – Runecast Analyzer 3.0 has a new and improved vSphere Web Client. It is one of the first plugins to work with Dark Theme mode. There is also a new Summary widget and performance optimizations.

HTML 5 based UI does not need any additional plugins to be installed in your browser, however vCenter plugins allows the detection of problems directly from within vSphere HTML 5 client. The system is fast, responsive and easy to work with.
HIPAA and other security compliance – automated security compliance analysis for PCI-DSS, HIPAA, DISA STIG, and GDPR compliance audit for you.
Runecast Analyzer 3.0 provides security audit logs, which can be forwarded to the external parties involved. DISA STIG 6.5, updated DISA STIG URLs, and additional files collected for analysis also provided with this release.
Runecast Analyzer 3.0 can also do an editable PCI-DSS security check. Together with a faster configuration analysis and testing against compliance regulations specific to your virtual environment, the product is getting better in every release.
You are also able to customize criteria (ex. password policies, session timeouts, the maximum number of login attempts, or NTP server).
Final Words
When you want to follow VMware best practices, hardening guidelines and also VMware hardware compatibility list (HCL) concerning compatible hardware, firmware or drivers and you don't want to spend hours on VMware HCL website, you have Runecast which can do the heavy work for you. It can notify you about the differences in your configuration and what's recommended in all those KBs so you just need to apply them to your infrastructure.
Check In-Depth Review of Runecast Analyzer 3.0 here.
Download 14 Days trial of Runecast here..
More from ESX Virtualization
Stay tuned through RSS, and social media channels (Twitter, FB, YouTube)