Runecast analyzer continues its rapid development with fast update cycles. Today we'll report on their latest update of Runecast Analyzer 1.8 which brings VMware NSX-V support allowing to detect misconfiguration and problems within your NSX-V environment.
One of the previous releases of Runecast brought much-awaited VMware vSAN support and we have reported on it in details in our blog post here – Runecast Analyzer 1.7 Adds VMware vSAN Support and More Visibility into Virtual Infrastructures.
VMware vSphere 6.7 adoption is pretty slow and one of the reason is compatibility of other products with this release. Whether it is a monitoring/configuration/backup product, the compatibility is simply crucial for every admin willing to upgrade. The release just before the 1.8 was a release which was a new step forward for Runecast- A vSphere 6.7 Compatibility. Our detailed post about this release – Runecast Analyzer Compatible with vSphere 6.7.
Quote:
Runecast Solutions is thrilled to announce the General Availability of Runecast Analyzer v1.8. This major update brings demanding support for VMware NSX-V product. We have heard a lot from our user base about adding NSX vSphere (NSX-V) support in the Analyzer.
NSX-V is different from NSX-T (vCenter independent). I won't go into many details, but the requirements of NSX-T isn't the same as requirements for NSX-V (destined for vSphere deployments only). NSX-T is multi-hypervisor aware (vSphere, OpenStack, KVM, Kubernetes and Docker). Yes, NSX-T is "containers-ready".
For pure vSphere installations, you'll only use NSX-V which has been out since several years now and which has also regular updates from VMware. The latest release of NSX-V is the 6.4.1 release.
Runecast Analyzer quote:
The product checks for thousands of the configuration combinations which lead to known NSX problems. It will help you to be very quick in the post-troubleshooting by pointing out to the config that needs to be changed or it can give you a tactical advantage and tell you what issues you may run into so you have a chance to fix it before it actually happens.
Let's have a look at the product and see what's been added in this release.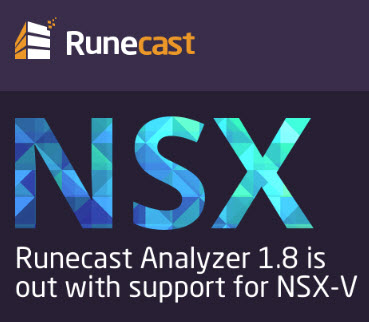 Runecast Analyzer 1.8 New Features:
The Analyzer now detects NSX issues on VMware NSX-V versions 6.2 – 6.4.x
Automated scan and evaluation of the NSX-V Best Practices violations.
Automatic NSX-V VMware Security Hardening profile analysis and reporting
NSX-V DISA-STIG profile analysis and reporting
Automatic discovery of the NSX Managers linked to VMware vCenters
Web-console performance improvements for bigger environments (dozens of ESXi hosts).
vSphere web console Runecast plugin NSX update with a new issue summary widget.
How to get started with Runecast?
Runecast has a trial you can download. It's distributed as a virtual appliance. It's very easy to set up. To recap those steps, after the deployment via vSphere web client, you only need to know the Runecast Appliance login/password combination.
The admin interface is available at https://applianceIP:5480
default user: rcadmin
password: admin
And once there you can configure networking, Time zone, change the admin password or update the appliance.
Once done, you login into the web UI of Runecast by going to https://applianceIP/rc2/
But here the default login/password is different than the one via VAMI through the port 5480. For newcomers perhaps a bit confusing, but quickly adopted.
Username: rcuser
Password: Runecast!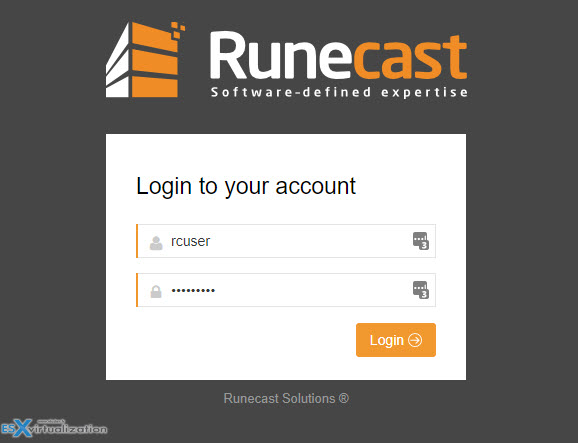 Once logged in, you'll need to look at the top-right "gear" icon and start the configuration and one of the first steps is adding your vCenter(s) and changing the default password. To do that, you can go to Settings > User Profile > under Actions click the Gear icon to change rcuser's password.
You can also Add a New user and chose an "Admin" role.

Runecast Analyzer provides VMware knowledge base articles, best practices, and security hardening recommendations that are constantly updated and centralized, and present them within the dashboard showing you whether your environment is compliant or not. The large majority of incidents could be avoided if you have had the right information about the problem at the right moment before the incident happens.
The new release has also introduced a new version of the plugin which now allows checking the environment without leaving vSphere client. Both, flash-based and HTML 5 based vSphere clients are supported. You can initiate scans directly within the UI.
The product constantly adapts to still evolving VMware environments. Being able to surface issues for vSphere, vSAN, and NSX-V makes this product suitable for a variety of different environments based on vSphere.
Download 14 Days trial of Runecast here.
More posts from ESX Virtualization about Runecast:
More from ESX Virtualization
Stay tuned through RSS, and social media channels (Twitter, FB, YouTube)