VMware Horizon session recording tool is a Free VMware Application allowing system admins to record VMware Horizon session. This allows you to verify what contractors, vendors and remote admins are doing on your servers, but also find out what your employees are doing while logged in remotely.
With Session Recording, the admin can choose to record local or remote sessions. The recording is stored in a central recording Server where the admin can connect and watch the recordings via a HTML 5 web console integrated into the server.
The Horizon Session Recording files are stored as MP4 and allow to be watched via the web console.
You can obviously download those files and watch them via your local player on your workstation or laptop.
VMware Horizon Session Recording Tool Features:
View selected recordings for a specific user, during a specific time period.
Track users actions that might have caused problems on a server.
Track who is connected to the server and see what they do.
Save recorded sessions to the Server, where you can watch them afterward.
VMware Horizon Session Recording Architecture
VMware Horizon Session Recording tool has two main components:
Server – Central Recording Repository with a web server allowing you to watch the recordings from a remote location.
Agent – an agent which needs to be installed in the virtual desktop or RDSH host template which facilitates the recording.
You'll download two MSI packages, one for the server and one for the agent.
VMware Horizon Session Recording (screenshot from VMware Flings site)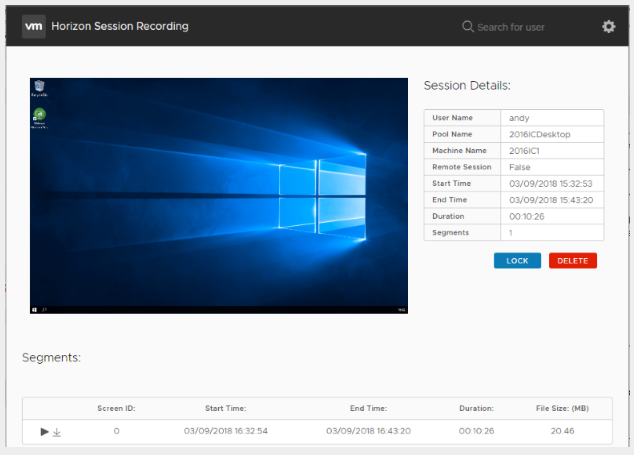 System Requirements
You'll need a Windows Server 2016 as the Central Server in order to use this tool. (with PowerShell version 5.1).
For the agent's requirements, you can have Windows 7, 10, Server 2012 and Server 2016 as your VDI Virtual machines.
Note: the VMs for the agent must be x64.
The latest version has added:
Added support for horizon 7.8 and above
Added support for recording based on group memberships
Many bug fixes in agent
Bug fixes in server
The tool is created and maintained by Andrew Morgan EUC OCTO.
VMware Horizon Session Recording Server is an ASP.Net Core Web service has three components. It is an SQLite Database, ASP.Net Core API and ASP.Net Core MVC web application.
The MP4 Recording files are by default stored in a "recordings" folder in the installation directory of the Server.
The installation of the utility is done via MSI files. There are 2 MSI files (One for the server and one for the Agent). You can download them from the VMware Flings website along with the Install/configure PDF there.
We won't be going into many details but the installation is fairly simple when after installing the MSI, you'll execute a PowerShell script stored in the installation directory. After that, you'll need to import a trusted certificate to web service certificate to host the web service.
Browse to the server address, with this as a number of port –  https://9443.
A very good job done by VMware.
Session recording software is often paid product, which is important for a company. To prove what has happened. It can be useful and confirm that company protocols are being met and review installations, upgrades, maintenance procedures.
You can also use VMware Horizon Session Recording Tool to record user actions for playback for training purposes. Also useful for proctoring exams.
It can also provide evidence and root causes during investigations of security breaches. Session recording tool capable of recording into an MP4 files which you can also backup and send those backups to the tape as archiving media. This is also possible.
Source: VMware Flings website
More from ESX Virtualization
Stay tuned through RSS, and social media channels (Twitter, FB, YouTube)