VMware vSphere Essentials Kit (Term License) delivers the industry-leading virtualization platform for small businesses at an affordable price. Small businesses can virtualize their physical servers and centrally manage these servers, reducing hardware costs and increasing operating efficiency with a low upfront investment.
Term license offers an additional option for customers with smaller IT budgets. The price includes the product license valid for 1 year. VMware Per Incident Support is sold separately. This is the lowest cost VMware license which unlocks the ESXi hypervisor and allows backup product provide you with incremental backups.
In fact, the "Term" license is available for Essentials, but also for Essentials plus. So where is the hic? While the license costs is a bit over 200€ (in Europe), this license is not permanent. So basically by buying this license, you agree that one year later the license will expire and you'll have to buy another one.
Term kits are good for:
Time limited virtualization project – it might fit for some time-limited projects where you have a deadline, and after 12 months the hardware is decommissioned. It may be a case when you rent hardware via contract. So you have a choice to pick the Essentials Term or the Essentials Plus Term (vMotion, HA, etc….). Fair enough.
A Project which is low on a budget – projects low on a budget which doesn't have a visibility over their business. The folks do not know if their business will work or not. They have 12 months to try, then they must buy another license (or stop their business). Fair enough too.
Shop for Essentials Term Kit at VMware Store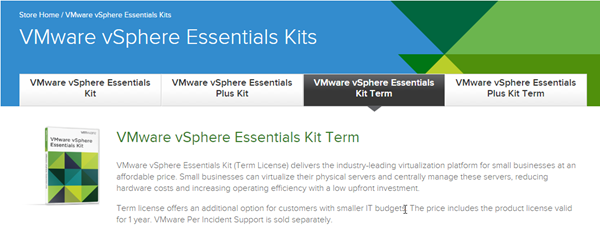 Otherwise, it's wiser to choose Essentials or Essentials Plus as those do not expire.
More from ESX Virtualization: