Runecast 1.7.5 recently released is a release which is now compatible with VMware vSphere 6.7. While there is not many customers which jumped into the upgrade of vSphere and upgraded their environment to vSphere 6.7, the whole ecosystem is starting to push news about the compatibility for vSphere 6.7. Runecast is announcing Runecast Analyzer 1.7.5, which brings full support of the automated knowledge base and best practice checks for vSphere 6.7.
Runecast Analyzer provides VMware knowledge base articles, best practices, and security hardening recommendations that are constantly updated and centralized, and present them within the dashboard showing you whether your environment is compliant or not.
The large majority of incidents could be avoided if you have had the right information about the problem at the right moment before the incident happens.
The data are analyzed within the appliance. However, the product needs to fetch new updates from the internet, where it downloads the KB definition updates, application and OS updates.
Runecast analyzer is able to detect what's wrong with your environment within seconds and provide you with a solution pulled from corresponding VMware KB articles. With a quick view, you can easily drill down to any part of the environment which needs attention and correct it in order to prevent failures or downtimes. You would spend a lot of time by checking manually each part of your virtual infrastructure.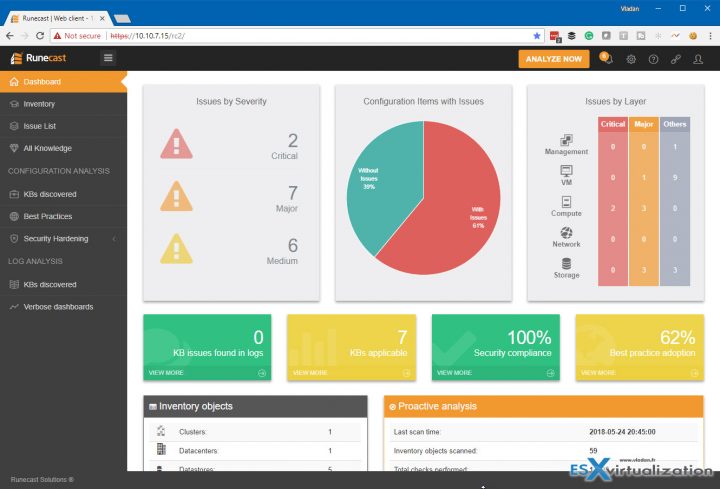 Runecast Analyzer categorizes its knowledge base and uses the same system than VMware for their Knowledge Base (KB):
Critical
Major
Medium
Low
Runecast Analyzer 1.7.5 What's New?
vSphere 6.7 support.
Applying filter to parents will now auto-select child objects as well
Enhanced security for SSL Server Authentication.
Applying "Ignore" button on Inventory view will auto-select the related object.
After the installation, you'll be able to log in by using the predefined user login and password:
rcuser
Runecast!
You can also configure connection via Microsoft AD as well.
Runecast can analyzer configuration and log analysis if you set the Runecast appliance IP as ESXi syslog destination. We have detailed that in our post here – Runecast Analyzer Keeps vSphere Infrastructure Problems-Free.
Recently, Runecast has also announced integration with VMware NSX or Solarwind VMAN
Where to check for updates?
You can check for updates of the appliance by connecting directly to the admin interface of the appliance via well-known port 5480.
The URL in my case is:
https://10.10.7.15:5480
and the username and pass for the admin UI are:
rcadmin
admin
You have a possibility to download the update automatically or do an offline update by downloading the ISO and KB definitions from your Runecast customer portal.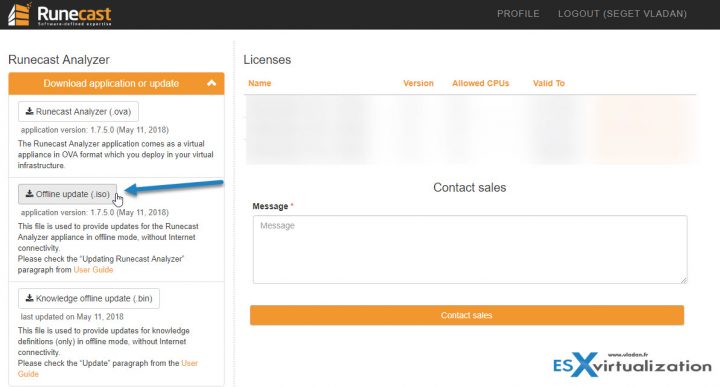 The new update is now available for download and update to all users with an active subscription through the Runecast customer portal. The upgrade can be done manually or automatically if Runecast Analyzer is set up for "scheduled updates".
But the best is to have automatic updates. The updates are very frequent and as soon as new VMware KB articles are updated, the product takes it into consideration and matches this update with your environment. So your environment's vulnerabilities, best practices or misconfigurations are detected immediately. You have always up to date information about your environment without going to seek if you're impacted and if a solution exists.
As always, the latest version is available for a free 14-day trial.
If you don't know Runecast analyzer, you might want to check one of our previous articles about the product:
More from ESX Virtualization
Subscribe to RSS, and social media channels (Twitter, FB, YouTube)