Runecast just released a new version of their flagship product – Runecast Analyzer 1.7. An interesting new vSAN support and new widget in the dashboard which allows you to see the issues by different layers (Management, VM, Compute, network or storage).
The product runs in a lab, where I'm running a 2-Node vSAN cluster. Third ESXi runs the Witness Node (as a VM) and a couple of other VMs on local datastore, which aren't HA proteced. Runecast updated itself automatically so I haven't even noticed. It's because I enabled automatic upgrades on the product.
For those of you who do not know Runecast Analyzer, you might want to know what the product does. It uses always up-to-date VMware Knowledge Base articles and Runecast expertise to analyze your virtual infrastructure and show you potential issues and best practice violations. You can see the issues within your infrastructure before they cause you some major problems or outages.
With a quick view, you can easily drill down to any part of the environment which needs attention and correct it in order to prevent failures or downtimes. You would spend a lot of time by checking manually each part of your virtual infrastructure.
What's new in Runecast Analyzer 1.7?
VMware vSAN Support – shows problems, issues and best practices for VMware vSAN clusters. Including VM running on the vSAN datastore.
New Widget with Layered Visualization – this is an interactive widget which shows issues in 5 different categories (Management, VM, Compute, network or storage).
Web Client Plugin Improvements – with a simple API connection, the plugin easily integrates with vCenter and allows checking the vSphere environment without even leaving the vSphere web client.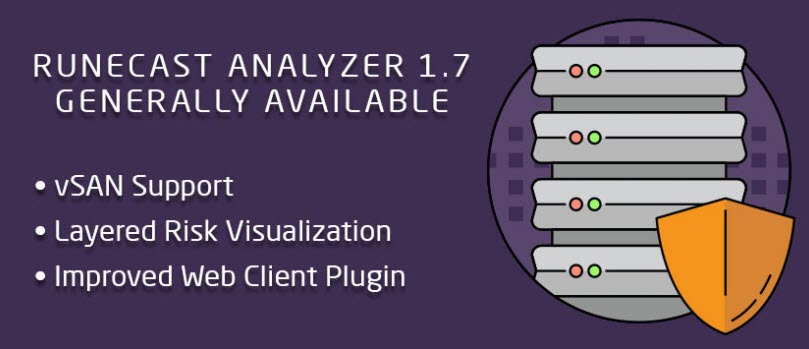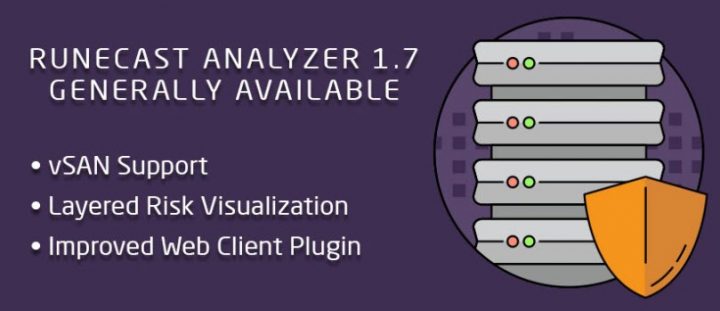 Quote:
Runecast Analyzer finds, prioritizes and sorts all detected problems into those five categories. The purpose here is to make it easier for admins to identify critical issues and assess risk. For example, several medium-level VM issues may affect a limited number of specific machines, whereas a critical storage problem can affect all of them.

This VMware stack widget is fully interactive and the user can select, click and drill-down to see the specific issue(s).
vSAN Related Issues, security and best practices
The product detects issues related to vSAN. It can be problems from the hardware perspective (number of disks not equal, RAM not equal) or software perspective (firmware, drivers). Runecast scans vSAN clusters and tests their configurations against a large database of VMware Knowledge Base and Best Practice rules. Then shows you the results.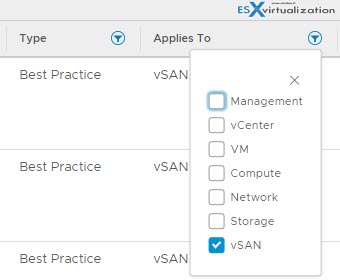 New Widget showing Issues by Layer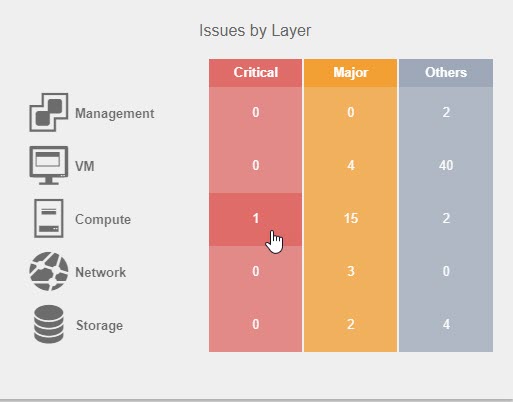 The new widget is located on the main dashboard, on the right. It makes it really easy to look just into a particular category for a particular issue. In my example we can see one critical issue so by clicking that number we're taken directly to the explication and guide for fixing it.
Here is a screenshot from the lab.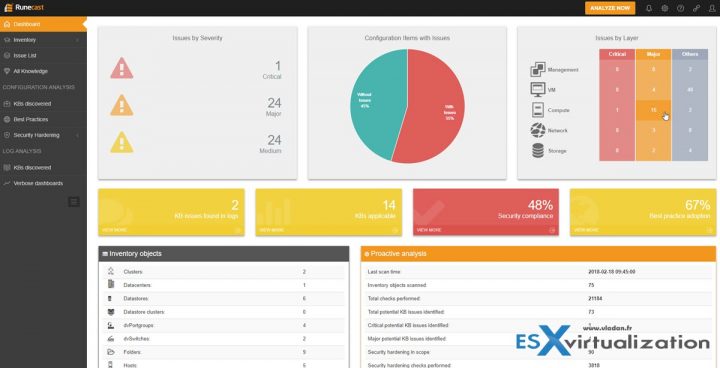 Runecast 1.7 and vCenter Plugin
The new release has also introduced a new version of the plugin which now allows checking the environment without leaving vSphere client. Both, flash based and HTML 5 based vSphere clients are supported.
You can initiate scans directly within the UI.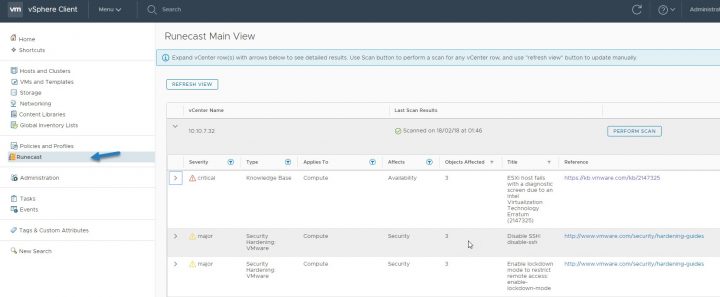 You can then apply filters in order to display only critical or major issues.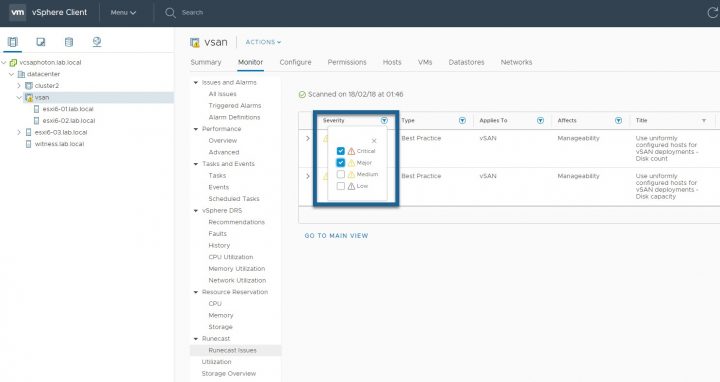 You can download the latest version as a free 14-day trial.
If you're on the active subscription, you can set up automatic upgrades. If you're running a sensitive environment or environment without internet access, Runecast can provide you with an Offline bundle upgrade.
Runecast Analyzer continues to pack more features into the product to make it more valuable. Whether you 're managing a small, medium or a large environment, a product like Runecast analyzer is always up to date with the latest VMware KB articles, hardening guides and shows the current issues or misconfigurations you actually have within your environment.
If you're not aware of a misconfiguration, you cannot fix it. But with Runecast, even the latest Spectre and Meltdown vulnerabilities within VMware clusters can be found so a solution is just a click away. (Note that Spectre and Meltdown aren't solved just yet within VMware who works hand in hand with Intel to provide a patch).
Check it out.  Go to Runecast website: https://www.runecast.biz/.
More posts from ESX Virtualization about Runecast:
More from ESX Virtualization
Stay tuned through RSS, and social media channels (Twitter, FB, YouTube)