Simplivity has announced Omnistack 3.0 Data Virtualization Platform. The third version of their hyperconverged architecture brings up to 30% more IO performance for real world workloads, new hardware nodes targets ROBO deployments and they also adds significant enhancements to data protection (backup and recovery) and global unified management capabilities.
New nodes are discovered automatically without user's input by using new Deployment Manager, which is also 5 times faster in deploying the nodes in parallel than in the previous release. Deployment manager orchestrates everything, the base informations can be supplied via Deployment process can be pre-scripted, pre-defined and loaded to the deployment manager. Since there it's all automated.
Simplivity is also first company I'm aware of that guarantee the capacity savings, performance on backups/recovery…
Update: You might want to check the latest Simplivity Omnistack 3.5 – Intelligent Workload Optimizer, Stretched Cluster support, Rest API
Simplivity Omnistack 3.0 Features
New hardware for smaller ROBO environments
ROBO Deployments Enhancements
Built-in VM backups now with File level restore
New Backup Policy enhancements
New Simplivity Hardware offerings with Lenovo
Simplivity HyperGuarantee
New hardware for smaller ROBO environments
New hardware device which brings the cost for ROBO deployments even more affordable. The CN-1200 is designed to run less VMs at remote site where there is usually no high demand workload needed anyway. So depending on the workloads you can run approximately 20 VM (note that "it depends" on the size of those VMs…..)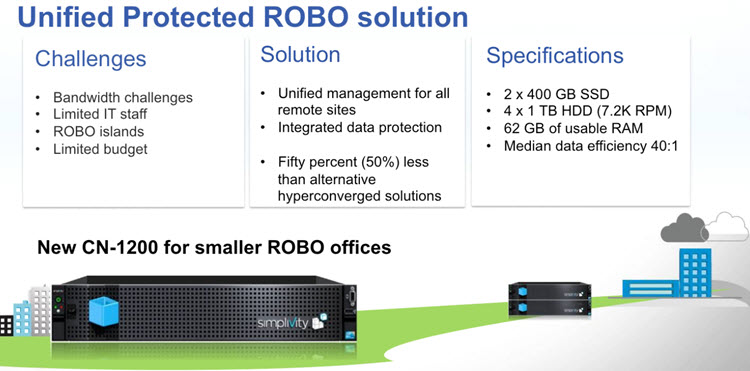 ROBO deployments Enhancements
SPOKE architecture allows dynamic network discovery for network configurations like hub and spoke. (Note that Hub and spoke architecture makes the management simple simple from the    hub).
The software will automatically detect the network and joins a hub and spoke federation with no user input. Automatically. Hub connects to spokes for management, backup and restore. The Data
management deduplicates, compresses and optimizes data at inception, once and forever so  the movement of data over WAN is never a bottleneck so no need for any WAN accelerators.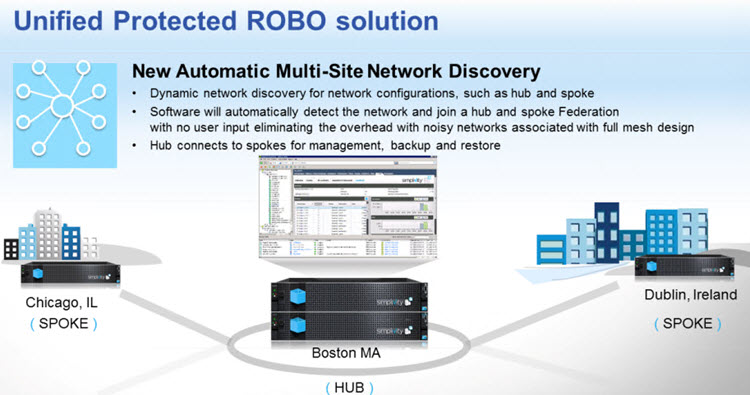 Simplivity's hyperconverged solution for VMware vSphere and KVM (soon Hyper-V) is offering global deduplication by using a hardware acceleration card. This solution maximizes efficiency for dedupe processing.
The OmniStack accelerator card is a built-in PCIe card that offloads global inline deduplication, compression, and optimization processes to ensure primary CPU resources are available to serve business applications. SimpliVity deduplicates, compresses and optimizes data at ingest, once and forever, across all tiers globally, whereas other solutions apply deduplication only after data is created.
Buit-in Backups and Replication with File-Level Restore
Very popular these days is to provide backup together with hyper-converged solution. OmniStack natively includes policy-based, virtual machine-centric backup and WAN-optimized replication for disaster recovery, reducing recovery time objectives (RTOs) and recovery point objectives (RPOs) from hours to minutes.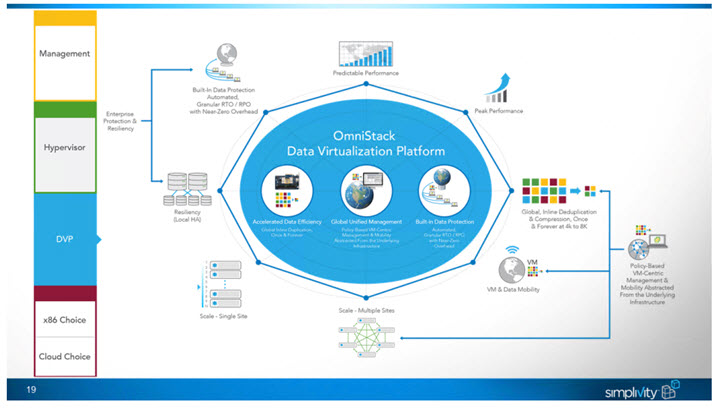 To restore a file > do a right click… and chose the restore option.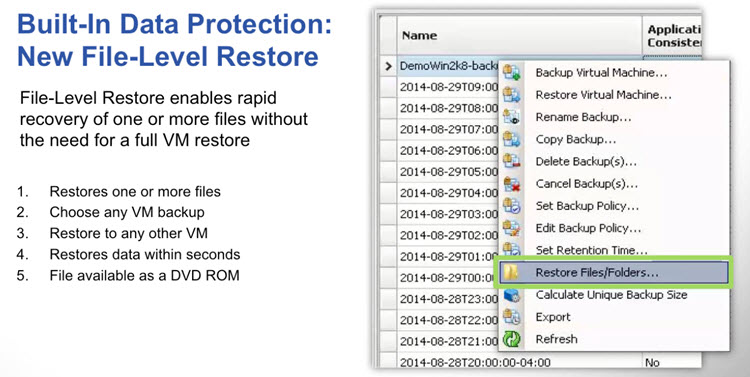 To restore application objects like AD objects, MS Exchange, SQL or SharePoint, many of the folks in the industry is using third party tools. Those third party tools are from Kroll Ontrack which specialize on application recovery tools. Note that I have recently reported on Rubrik's converged backup architecture which uses Kroll Ontrack as individual item recovery as well. Replication allows to have copies on local or remote Simplivity instances, or cloud repo at Amazon Web services.
New Backup Policy Enhancements
When it comes to backup policies, those now can be edited by admin, which can personalize the defaults, to fit depending of the use case. Previously the retention time had fixed value. Now in addition to automatic backups, a manual backups can be created and the future deletion of those backups is also manual.
Bulk Policy selection – allows to assign a policy to VMs in bulk across multiple VMs. It's possible to see the impact on how storage will increase/decrease before actually hit the apply button.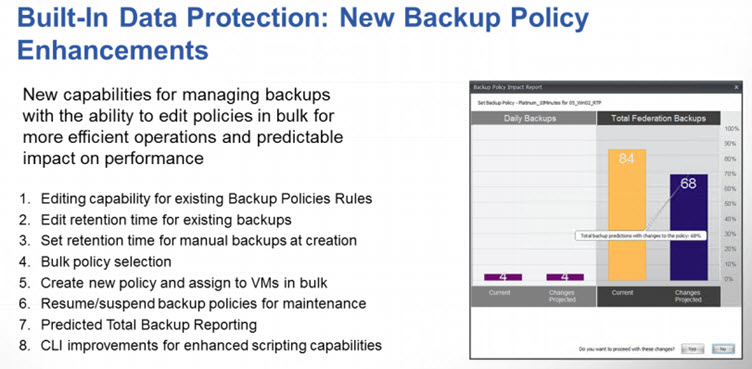 There are new enhancements that has been done allowing to obtain more efficient operations.
Simplivity Global Unified Management
The Simplivity solution integrates into vSphere client and allows quickly show TOP 10 most busy VMs. Check the screenshot from the presentation…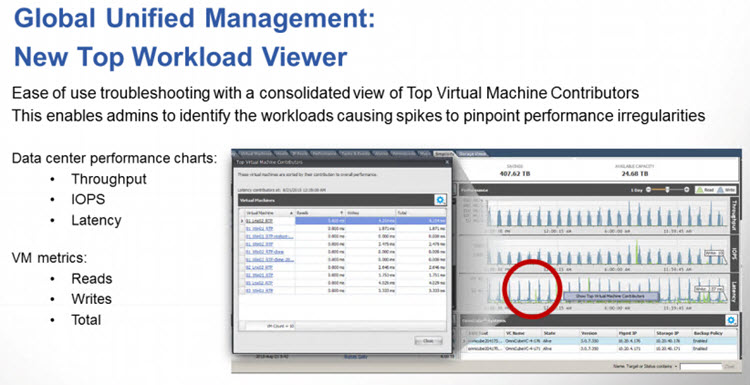 Simplivity Hardware Offerings
Here is the view on Simplivity's offering. Depending of your needs you can size the hardware for small, medium or large deployments. Now together with Simplivity (Dell) hardware, there is also Cisco UCS and Lenovo as hardware partner so the clients have more choice when it comes to hardware preference.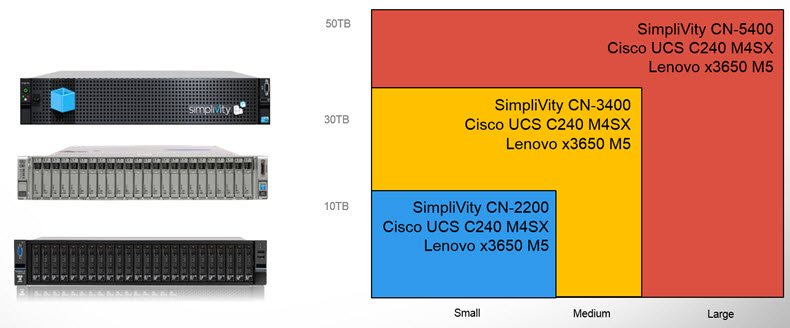 Simplivity Guarantee
As I mentioned in the beginning of this post, Simplivity also go beyond in terms of guarantee and is able to provide a performance guarantee, as well as capacity savings across all the storage (including backups) and also restore times!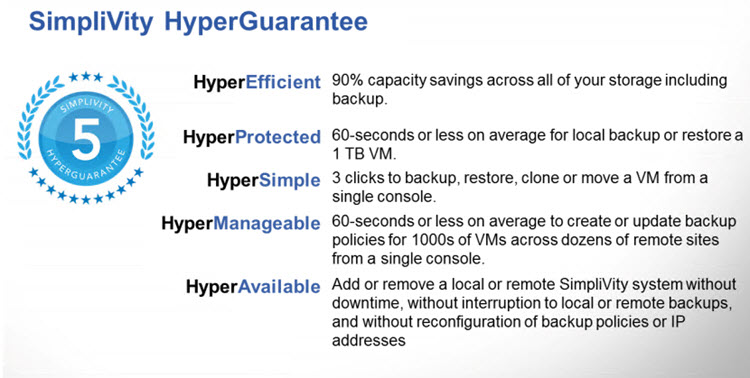 Check out Simplivity website for further details.
Press Release
Simplivity Guarantee page details or detailed technical blog post.
Video