Snapwatcher for VMware is a product from Opvizor destined for VMware admins and which allows to monitor, fix and delete VM's snapshots within single console. Snapshots at the VM level are something that's really something cool to have, but VMware's best practices concerning snapshots says don't use snapshots, or use them sparingly.
VMware says that If you need/want to use snapshots, just use them sparingly and don't keep them for long periods. Snapshots can go wild and you might end-up in a situation when you are unable to delete the virtual machine snapshot due to locked files.
Backup products are using snapshots to backup VMs. vStorage API for Data Protection (VADP) is used allowing to create differential, incremental of full backups without the need to install an agent inside a VM. However the usage of the VADP and the mechanism used causes most of the broken/inconsistent snapshots. Over time you might end-up with orphaned or inconsistent snapshots in your environment if you're simply using backup software that uses the VMware API for backup. Orphaned snapshots doesn't show through vSphere client so using a software product like Snapwatcher, which detects broken or inconsistent snapshots and allows you to fix them, just makes a perfect sense.
Snapwatcher Features:
Monitor snapshots across VMware infrastructure – can connect to multiple vCenters at a time to give you an overview on snapshots usage, size, history
Gain precious space on your storage systems – Provides Top 5 by size, to find the most space taking snapshots from within your infrastructure.
Fixing Broken Snapshots – deletes broken, old and invalid snapshots with single click to gain space.
Delete VM Snapshots within the main console – several vCenter servers or individual ESXi hosts can be manage with single pane of glass.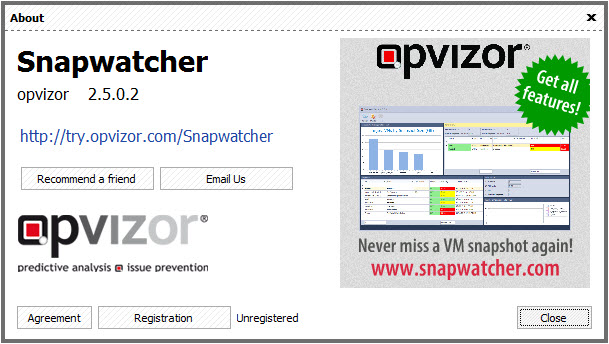 Snapwatcher from Opvizor can help in a situation where problematic snapshots prevent boot a VM or there are invalid snapshots by fixing them. It also allows monitoring how much valuable space snapshots are taking in your infrastructure with historical data.
A snapshot preserves the state and data of a virtual machine at a specific point in time.
Snapshots adds also additional files to the VM's directory. There are <vm>.vmsd and <vm>Snapshot<number>.vmsn files within the same directory.
<vm>.vmsd – database of the virtual machine's snapshot information and the primary source of information for the Snapshot Manager. The file contains line entries which define the relationships between snapshots as well as the child disks for each snapshot.
<vm>Snapshot<number>.vmsn – includes the current configuration and optionally the active state of the virtual machine. Capturing the memory state of the virtual machine lets you revert to a turned on virtual machine state. But those snapshots takes longer to create and takes more space.
To illustrate the architecture of VMware snapshot technology, probably the best way is provide an image (Img. courtesy of VMware):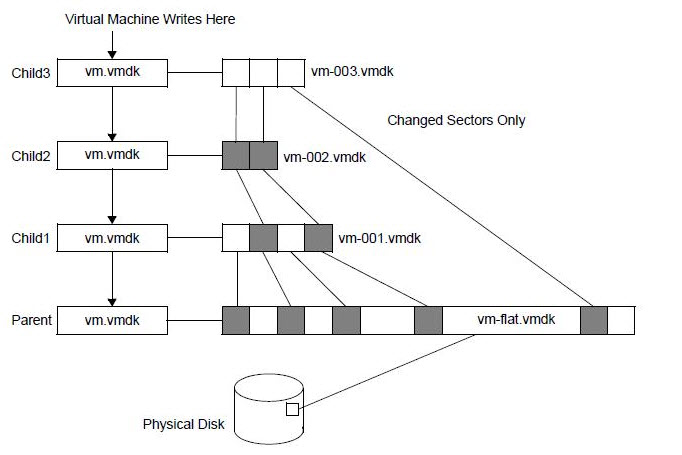 When you look at snapshots from the average admin's perspective, it's something that is cool as a technology. Snapshots allows to use that point-in-time recovery technology to:
Go back to the point before you have patched your OS or your application
Go back to the point before you were affected by incompatibility with another product
Go back to the point before you installed new testing version of custom in-house built app
I guess you got the point. VMs snapshots are good, but can go out of control from the size perspective…. and can broke down.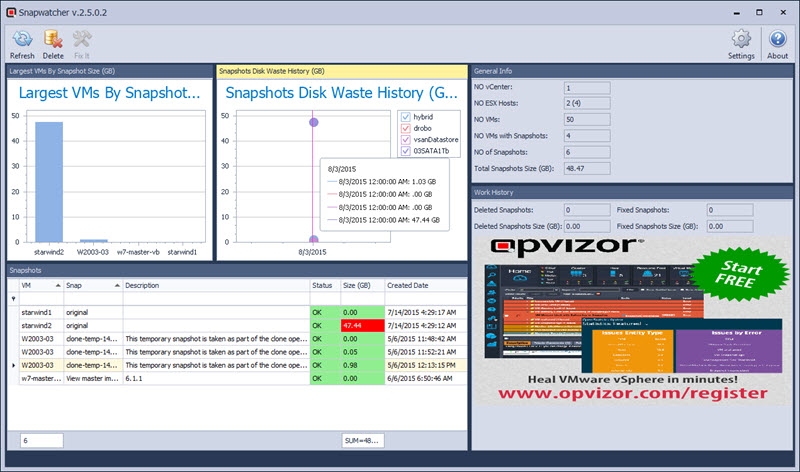 That's why Opvizor's Snapwatcher is something interesting to look at as it takes away the pain of snapshots. The fixing mechanism allows to fix broken and invalid snapshots. The product can be downloaded from Opvizor's website here and it installs as 14 day's trial.
System Requirements:
You'll need a Windows machine where you'll install the product. It can be a monitoring station you're already using for your virtual infrastructure or any other Windows system.
Windows Installer 4.5
Microsoft .NET Framework 4 (x86 and x64)
VMware vCenter 4.1 or higher
Installation and Configuration
The installer is small .NET file which launch the download in the background.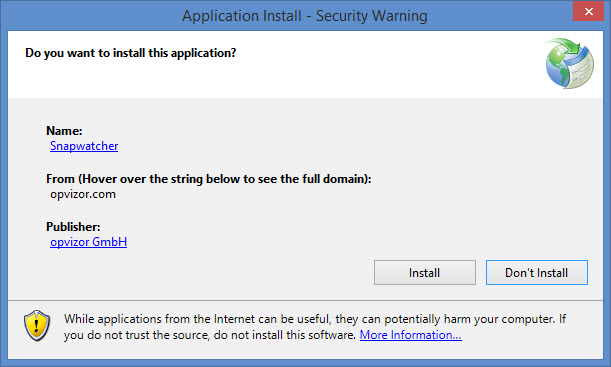 Once installed, you can hook your vCenter(s) server(s) to it by providing the IP address (or DNS name), login and password informations. You can test the connection before going forward, which avoids any mistakes to typos for the password field.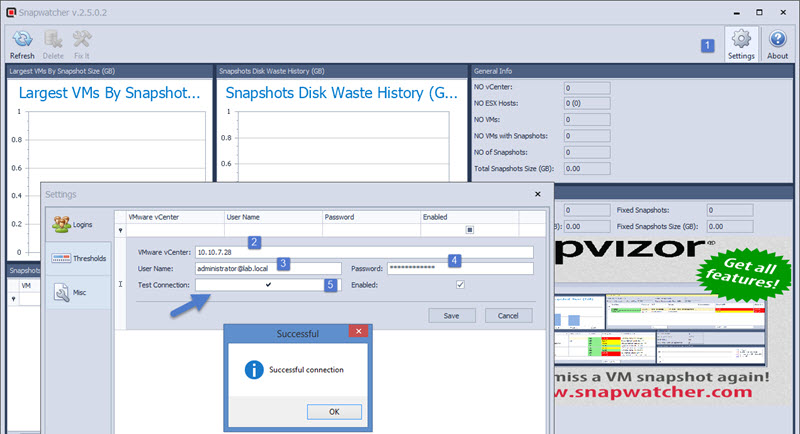 All in one Dashboard with modules that can be moved around
Once done click save button. This triggers the initial connection to the vCenter and after few seconds you'll get the main screen. The main dashboard can be fully personalized.
You can drag and drop the individual sections arround to snap them where you like.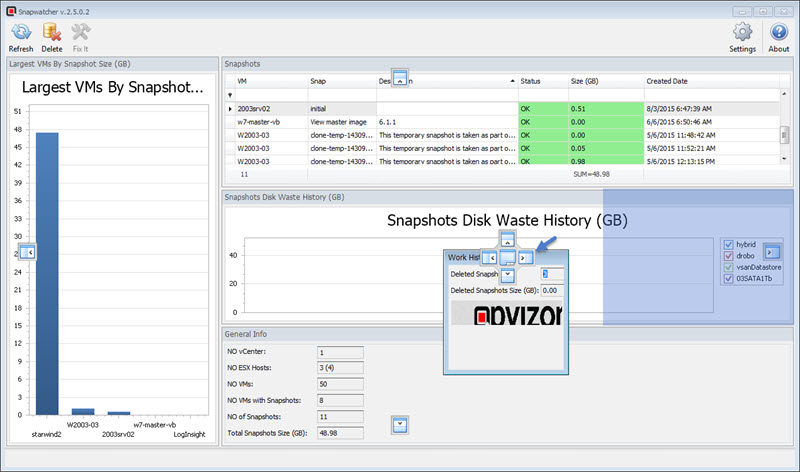 You can also resize the different sections by dragging the border by left-click your mouse and hold while dragging.
Grouping, Change order columns or filtering options
When larger infrastructures monitored, it is probably good idea to group some elements.
When you click and hold column > you drag-and-drop from right to left (or the other way around) to change place of the whole column.

You can filter what you want to. In my opinion the more useful way is to filter by host or by size the snapshot. You right click the column > and select Group by this column.

This gives you the group by host view….

To go back and get the default view Right click the group button (not the column) > Ungroup

It's possible to to even add Sub-group and add additional grouping there….
Which columns to show?
You can chose which columns will be in a subsection by clicking the Column's Header > and then Column Chooser.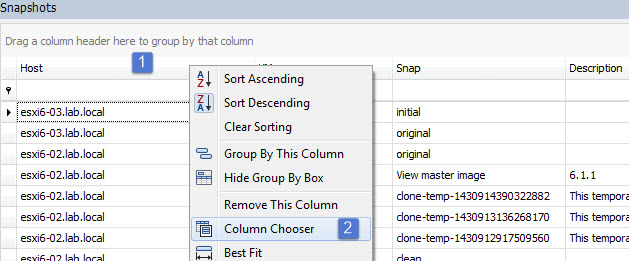 This brings on a small window from which you can chose a column which is currently not showing…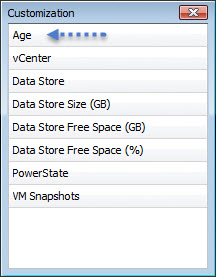 From there let's chose the Age for example. We will get a nice view of the new Age column here…

Settings, options, miscellaneous
Snapwatcher is bundled with many themes and you can change the defaults by going to Settings > Misc > Skins.
Within the settings you can also add another vCenter server(s) by going to the Logins tab. Really simple UI giving you just the essentials.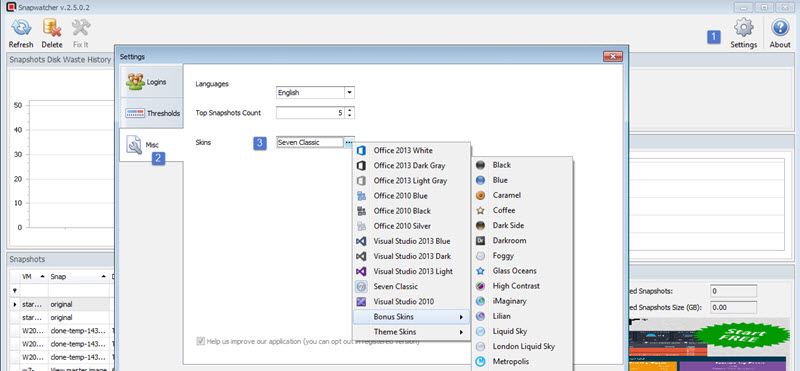 Working with snapshots
Snapwatcher's main part of the UI is probably the Snapshots section where you can see:
VM's Name – name of the VM carrying the snapshot
Snapshot's Name – usually if there are invalid or orphaned snapshots left behind some backup software, you can know which product's fault it is.
Description – What the snapshot was taken for, description field is useful to fill!
Status (Good, bad..)
Size – depending of the size the color goes fro Green (small) > Yellow (medium) > Red (big). This is triggered by the thresholds, which are configurable if ou go and have a look in Settings > Thresholds.
Then there is an easy way to delete a snapshot or fix broken or invalid ones. The right click is your friend….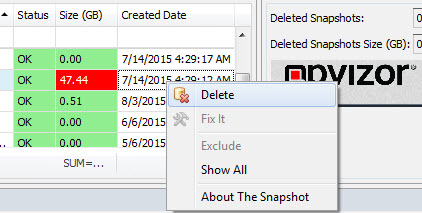 After deleting a snapshot, the statistics will show automatically in the Work History section so you're able to track the deleted snapshots.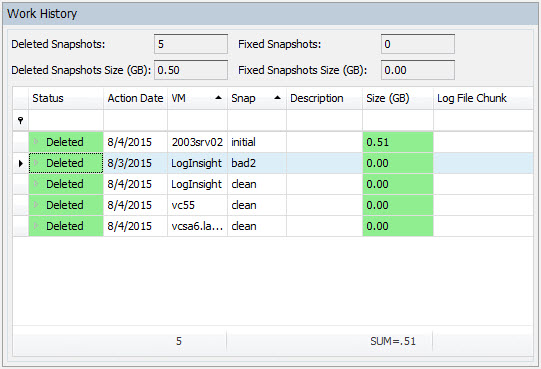 In my demo environment I did the test with the fixing snapshot option too. The option can be found when Right click the snapshot > Fix it

Then you got an assistant which starts up…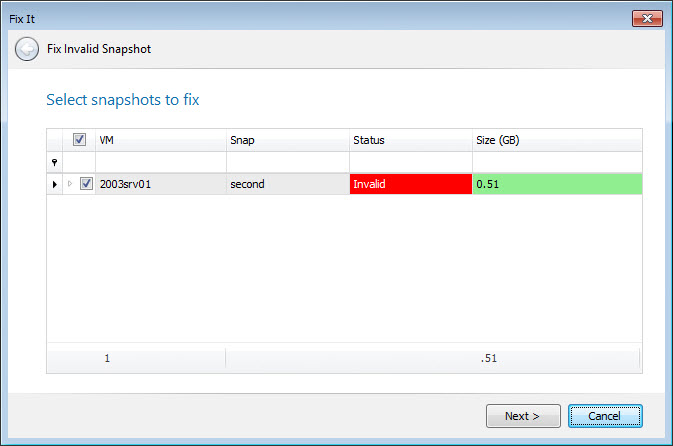 And the final screen informing you how it went.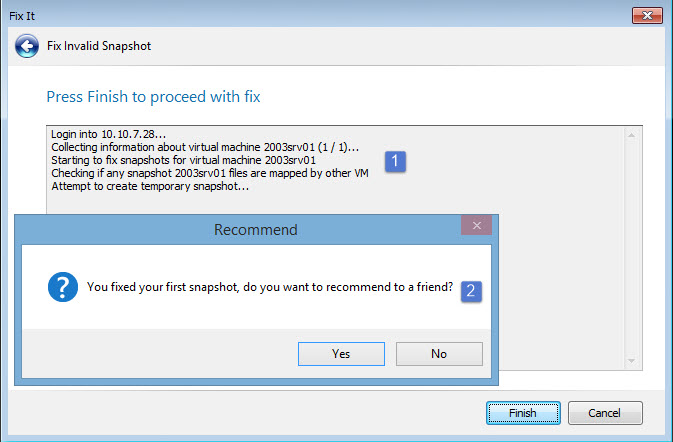 Snapwatcher Invalid snapshot fix – How it works?
Few words about what is happening in behind the screen when the product is used for fixing invalid snapshots  (I asked Dennis Zimmer from Opvizor).
We check that no backup VM is owning any of the vmdk files that are recognized having snapshots.
We try first to use the standard remove snapshot functions of vSphere.
We try then using standard snapshot consolidation function of vSphere.
If none of these work, we try to find out if any of the files of the VM is locked (via ssh).
We find the host that is locking the files, connect to the host via ssh  to release the files.
The locked files are never data files!
We copy the files after releasing the lock.
Run a standard snapshot consolidation function of vSphere.
If none of these helps we give up before any data loss can happen and inform you to open a VMware support ticket.
Wrap UP
Snapwatcher is one of the products which is new to the market, as in my knowledge there is nobody else having product like this. Small, but efficient, fast on usage and learning curve. There is also a video on Opvizor's website showing the work with Snapwatcher
As I said in the beginning, snapshot technology is something cool to have as it can save you tons of time when upgrading your VMs from OS or applications perspective. The option to go back (revert to latest snapshot) is great function within the VMware console. But to keep snapshots longer is risky business. Snapwatcher can help to track unused snapshots, delete them or fix broken or invalid snapshots.
Please note that this review was sponsored by Opvizor